The upcoming Teamfight Tactics 9.15 patch update is coming soon, and we've gotten a peek at what might be in store for us. This update is scheduled to take place on Wednesday, July 31, 2019. It looks like they have quite a few things lined up, including buffs for Ashe, Karthus, Kindred, and Yasuo! These buffs will possibly include a buff to the Streak System. This could be wins, losses, or both! Both Guardian and Pirate are slated for some upgrades as well.
In the nerfs deparment, it looks like Kennen is under the gun again. He was recently nerfed a bit in the 9.14b patch, but it appears that it wasn't enough. Player Damage is also going to be nerfed, that could mean longer games, which is good or bad depending on how you feel about that. Both Demon and Dragon are also looking to be nerfed.
Keep in mind that these are TENTATIVE changes, and are subject to change.
Tentative 9.15 changes for TFT. As always, subject to change based on what we see over the weekend. Also worth noting we're looking at Glacial/Demon, but wouldn't ship anything until 9.16. - Source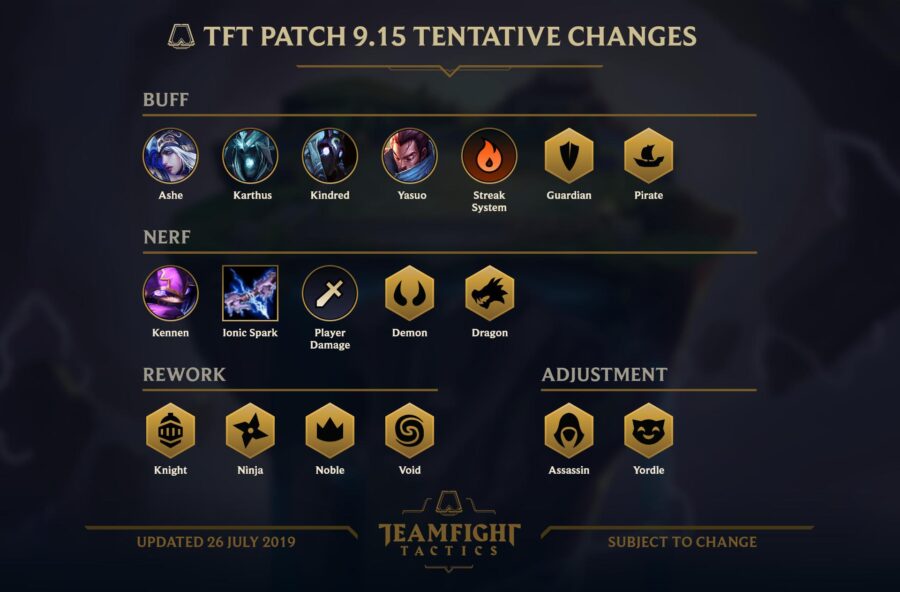 Buff
Ashe
Karthus
Kindred
Yasuo
Streak System
Guardian
Pirate
Nerfs
Kennen
Ionic Spark
Player Damage
Demon
Dragon
Rework
Adjustment