Providing more than one character with the same job is one strategy you can adopt if you want to win your battles in Octopath Traveler 2. A useful class in the game is the Thief, a job that has skills that can double as support and offense. Plus, the job boosts a character's speed by an insane percentage, allowing them to take first turns. To get the last Thief license in the game, you need to find an item called a Master Thief's Sapphire Stone. Here's where to get it.
Octopath Traveler 2 - Master Thief's Sapphire Stone location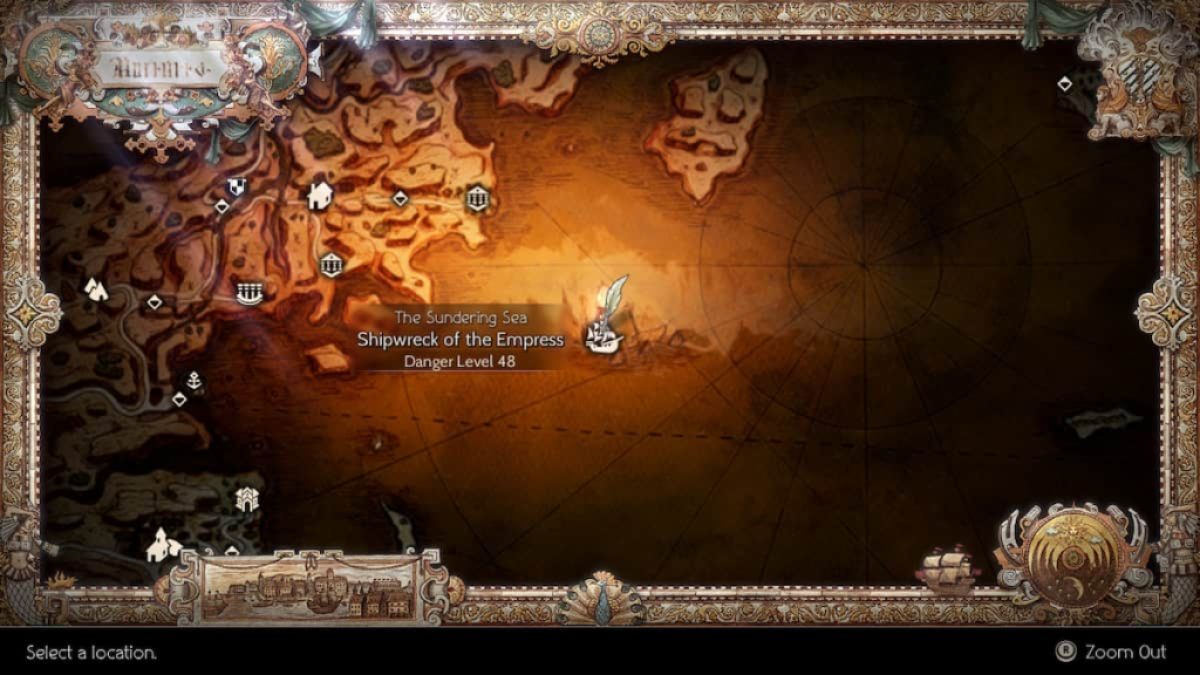 The Master Thief's Sapphire Stone can be found in a treasure chest inside one of the cargo rooms in the Shipwreck of the Empress. Teleport to Crackridge Harbor: Anchorage and ride your boat east to the location pinpointed above. There's no boss to go through, but the Danger Level is very high.
Related: Octopath Traveler 2 – Sword Hunter in the Decaying Temple Walkthrough
Then again, this just means that you can get the item early by fleeing your battles! Bring a character with you that knows the Cleric support skill Evasive Maneuvers to increase your chances of fleeing. The ship has a very small area, so getting to the "end" isn't that hard. However, if you wish to take on the monsters in the area, a level of 42+ should be more than enough.
If you don't have a boat yet, you can get one by completing the Scent of Commerce side story in Tropu'Hopu early into the game. Bring Partitio with you.
For more help with Octopath Traveler 2, take a look at All Battle-Tested Weapons & how to get them in Octopath Traveler 2 and Best build for Osvald in Octopath Traveler 2 here at Pro Game Guides.