To complete the quest Spies Amidst our Ranks in Pathfinder: Wrath of the Righteous, players will need to head to the Tower of Estrod and clear it completely of all demonic forces.
You can find the Tower location to the south on your map past the market square, but before you go to this location, make sure to level up a few times and complete some of the other quests.
The reason why is that this quest may prove a little tricky to complete for those under level, and there are also multiple ways in which you can complete it.
These multiple paths will require mobility, athletics, trickery, sneak, intimidation, and diplomacy checks, so make sure to bring characters with at least one of these abilities and high levels in it as well.
That said, when you arrive at the Tower, you will be met a few ghost-like entities. These memory ghosts are pretty much harmless, so you can ignore or talk to them if you like.
Related: Where To Find Ramien In Pathfinder: Wrath Of The Righteous?
When you are done, head straight up, and in the next room, you will find all of the cultists and demons you need to kill to complete the quest.
There are multiple ways you can go about killing the demon forces in the Tower. The first and our favorite is to intimidate the cultists and demons into lessening their numbers.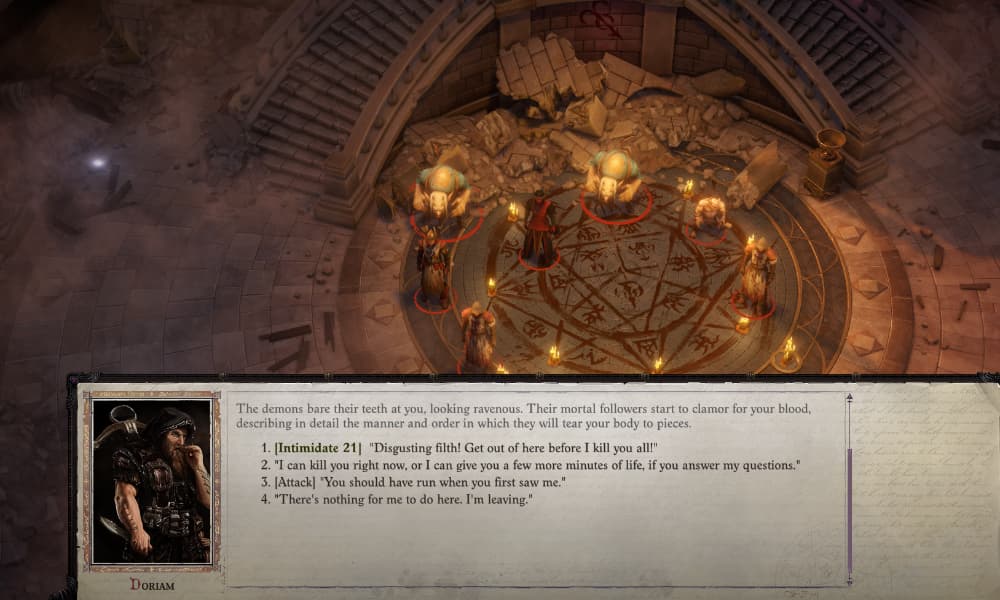 Doing this will make the fight easier and gain you some nice XP for completing the skill check. However, you will need to pass an Intimidation check for 21. We had at least 16 in persuasion and were able to do it.
Along with intimidation, you can also pass a mobility check to and sneak around to push a pillar on top of the demons to kill a few of them to make the fight easier.
Once the pillar falls, you will be able to mop up the rest of the demons with little to no issue, but this method requires good sneak, mobility, and athletics. If you don't have any of that, you won't be able to get past unnoticed - using an invisibility potion/spell may help with the lack of sneak.
There are also two pillars that can be found on both sides of the room. If you are lucky, you can possibly get both pillars to hit the cultists in the middle of the room.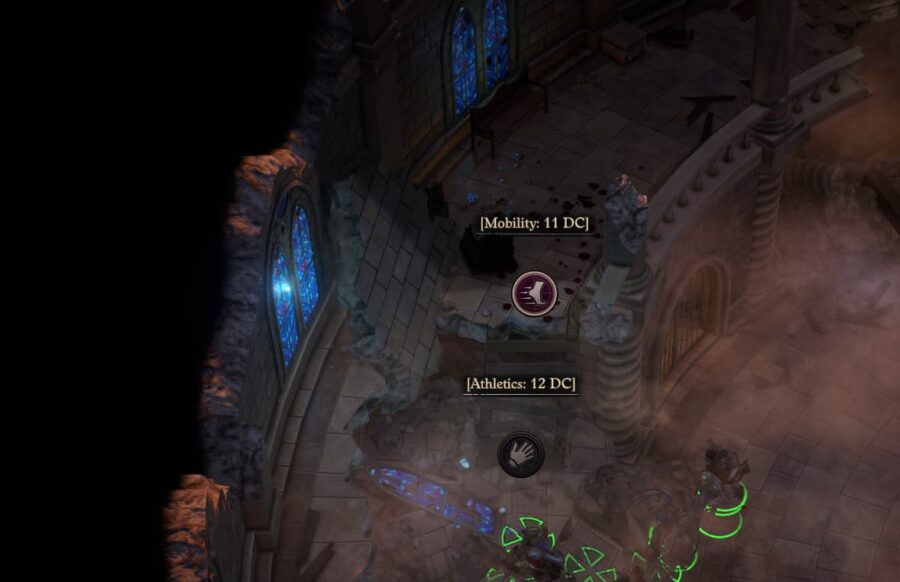 Most likely, you won't be able to do this due to level restrictions, so the best thing is to just stick with one. If you manage to kill some of the enemies with a pillar, finish the rest, and you will be able to complete this quest after you speak to Irabeth back at the Inn.
However, before you leave the area, make sure to search the basement as you can gain quite a bit of loot, and even more so if you manage to get a key from the old man by passing a skill check for either trickery or diplomacy.
Check out our other Pathfinder guides for more help with the Pathfinder series!