Pixel Car Racer is a thrilling racing arcade game designed for Android and iOS that allows players to utilize real model cars from around the world (in pixel form) in high-speed competitive races. To keep up with the competition, you're going to want the fastest cars possible, but that doesn't necessarily mean just the vehicles that have higher speed stats. Despite its base level, players can gear up their vehicles with other parts and equipment that can significantly boost a car's skills. However, it doesn't hurt to start with a car that already has potential. Here's a list of some great choices!
EU Cars
BMW M4 (F82)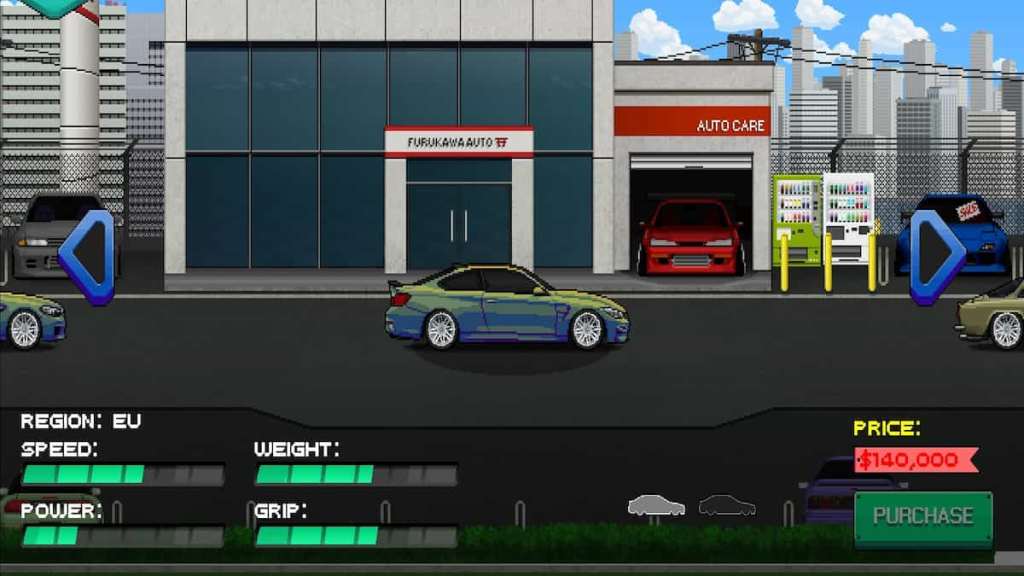 This European BMW M4 for $140,000 may not have the most power, but this little compact car is super balanced when it comes to other stats. With this relatively lower price, you're getting one of the very highest base top speeds in the game and equal weight and grip.
Top Speed: 285 KM/H or 178 M/H
Peak Horse Power: 416 HP
Peak Torque: 277 TQ
Redline: 7,900 RPM
Weight: 1,572 KG or 3,466 LBS
Grip: 1,200
Audi RS7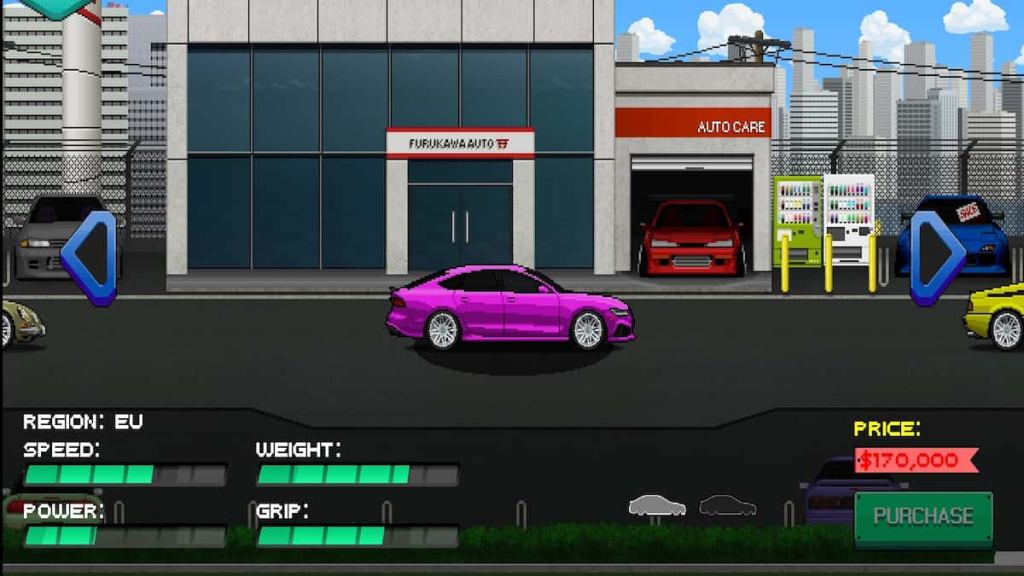 The Audi RS7 may look underwhelming, but this solid vehicle has a higher speed stat than most of the others in its category. Its weight and grip come with an advantage, allowing it to stay on course at full speed and not easily get pushed around.
Top Speed: 279 KM/H or 173 M/H
Peak Horse Power: 534 HP
Peak Torque: 372 TQ
Redline: 7,700 RPM
Weight: 2,041 KG or 4,500 LBS
Grip: 1,250
Mercedes-Benz AM6 GT S
The sleek Mercedes-Benz AM6 GT S is a great new European option for players looking for the fastest cars. With an increased base speed and balanced weight and grip, it will blast across that finish line with ease.
Top Speed: 272 KM/H or 169 M/H
Peak Horse Power: 479 HP
Peak Torque: 348 TQ
Redline: 7,500 RPM
Weight: 3,560 KG or 7,848 LBS
Grip: 1,150
Related: Best Racing Games on PC
Audi R8 V10 Coupe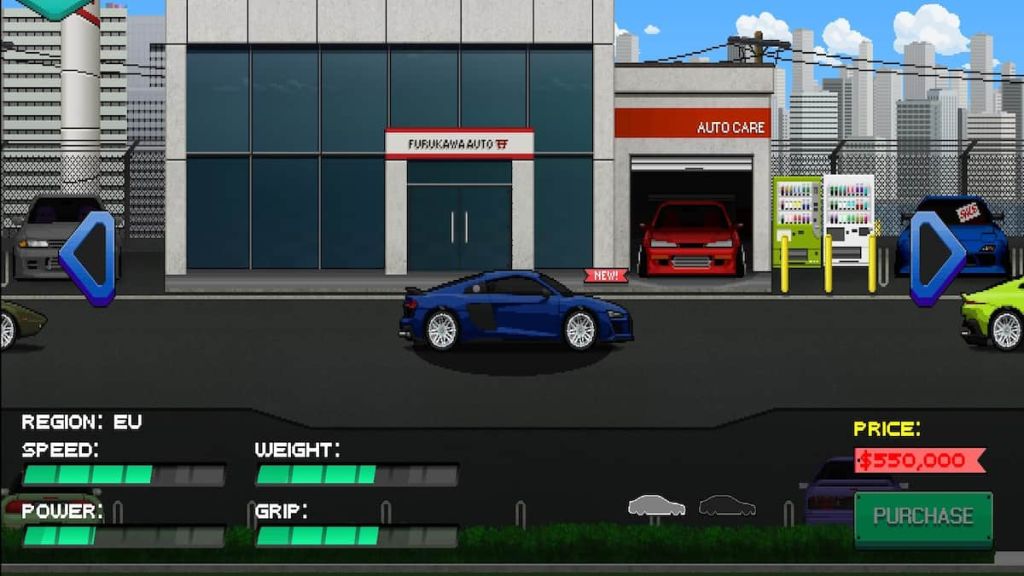 We can not leave out the beautiful Audi R8, which happens to be the second most expensive car available in the EU shop. This model has some crazy horsepower and ranks highest when it comes to base speed. You won't find any faster European options!
Top Speed: 289 KM/H or 180 M/H
Peak Horse Power: 557 HP
Peak Torque: 364 TQ
Redline: N/A
Weight: 3,696 KG or 8,148 LBS
Grip: 1,200
Aston Martin Vantage AMR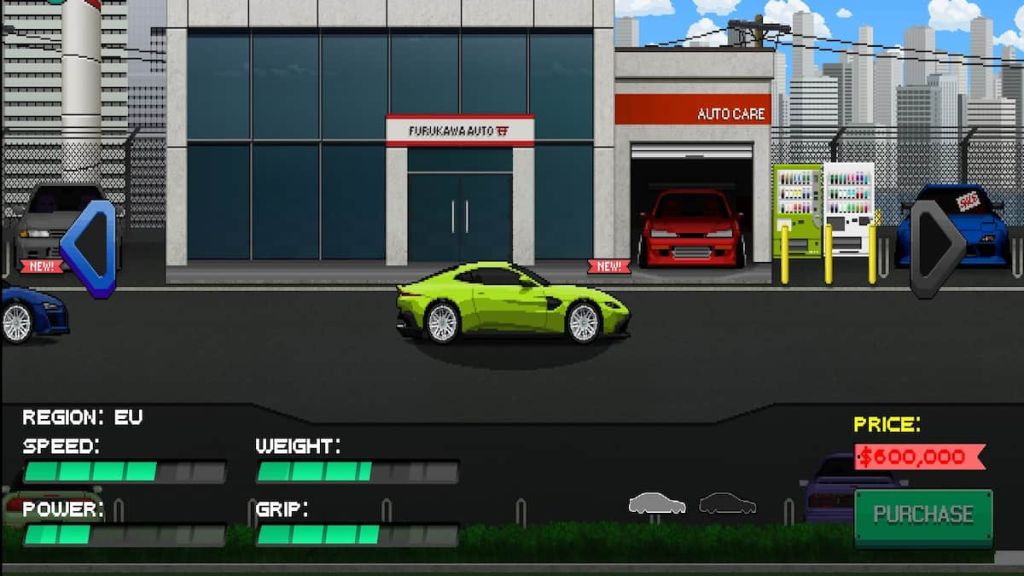 The Aston Martin Vantage AMR is the most expensive of the European options, with a whopping $600,000 price. Even though it sits just under the Audi R8 for top speed, it still remains one of the fastest cars you can buy, and you will get your money's worth with its stylish features.
Top Speed: 272 KM/H or 169 M/H
Peak Horse Power: 475 HP
Peak Torque: 344 TQ
Redline: 7,500 RPM
Weight: 3,373 KG or 7,436 LBS
Grip: 1,200
AS Cars
Honda NSX (NC1)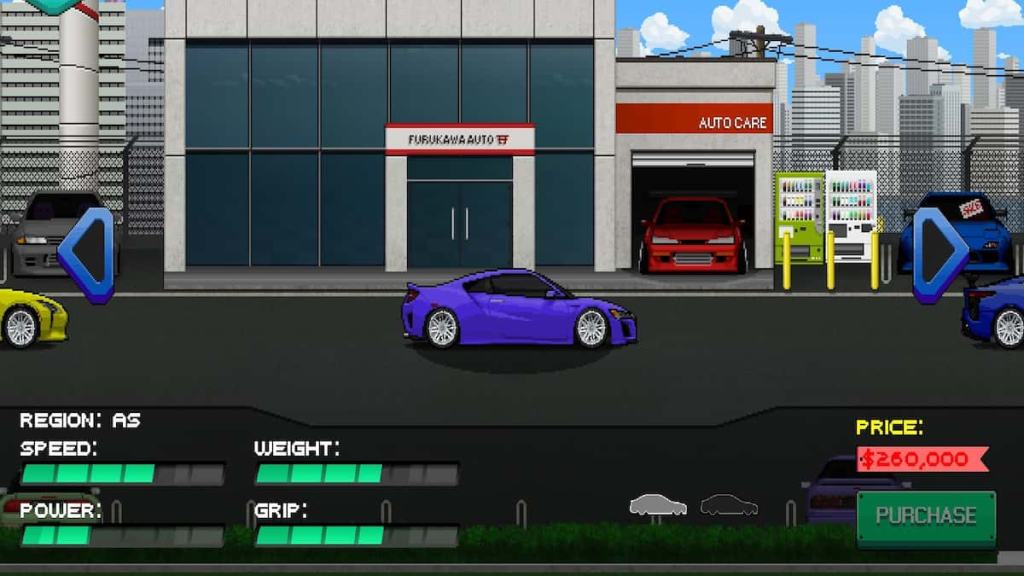 Although there are plenty of great cars available in the Asia category, there is only one that stands above in speed—and that is the Honda NSX. Though its speed sits below some of its competitors, it has a greater peak horsepower and weighs a bit less, so it can effortlessly fly around that course.
Top Speed: 258 KM/H or 160 M/H
Peak Horse Power: 483 HP
Peak Torque: 374 TQ
Redline: 7,200 RPM
Weight: 1,851 KG or 4,081 LBS
Grip: 1,250
NA Cars
Ford Mustang SVT Cobra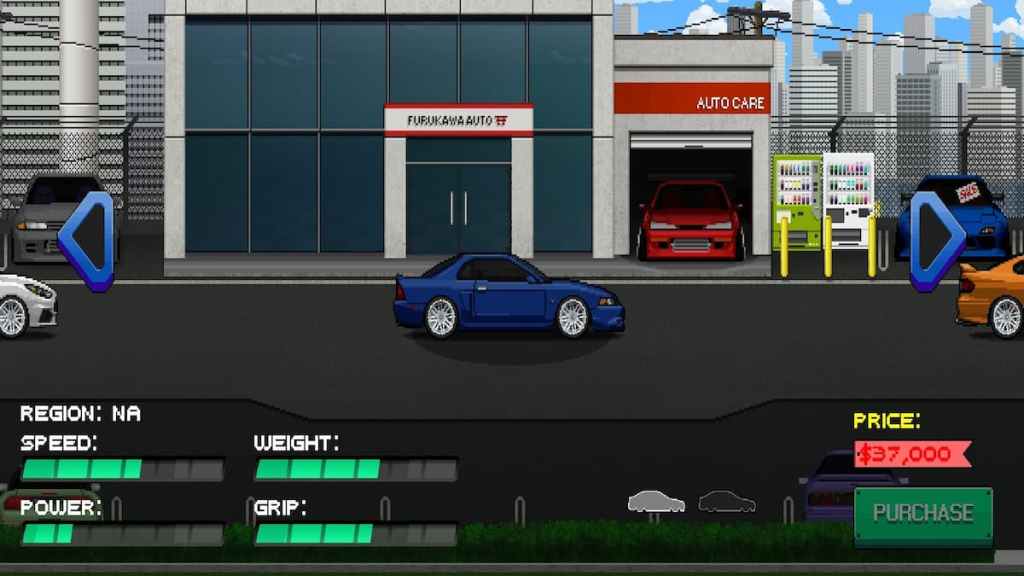 This Ford Mustang SVT Cobra may be an older model, but you're getting a steal for one of the best base speeds in the game for this low price, not to mention the other exceptionally balanced stats. There's potential for you to change up some parts and make it an even faster racer.
Top Speed: 268 KM/H or 167 M/H
Peak Horse Power: 363 HP
Peak Torque: 263 TQ
Redline: 7,500 RPM
Weight: 1,662 KG or 3,664 LBS
Grip: 1,150
Related: Best VR Racing Games
Chevrolet Camaro SS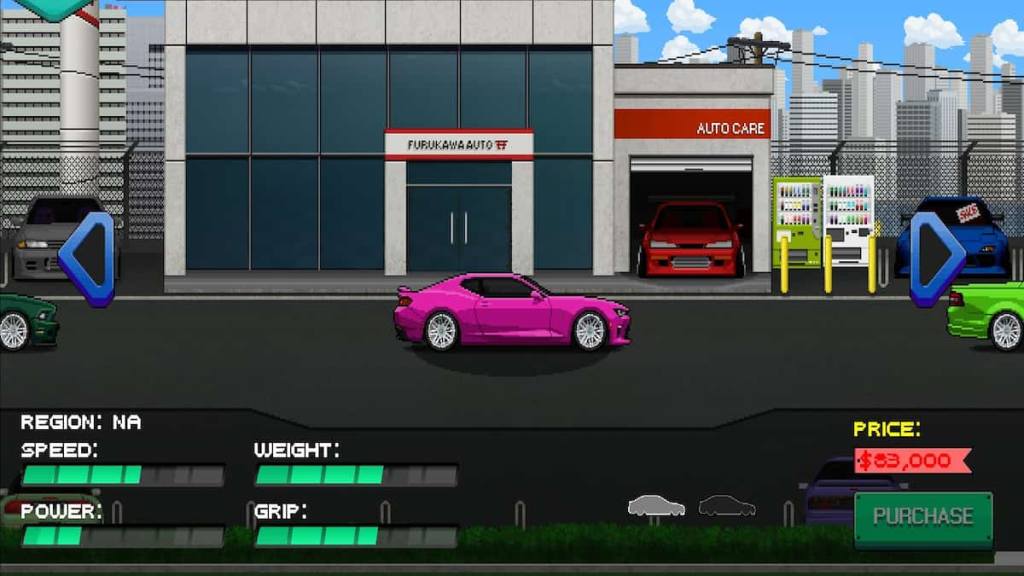 One of the most popular North American sports cars, the Camaro, is another reasonably priced model that easily competes for a spot as one of the fastest, with a top speed of 271 KM/H. This is another excellent option if you want to save some money but still get a hefty base speed and plenty of growing room.
Top Speed: 271 KM/H or 168 M/H
Peak Horse Power: 429 HP
Peak Torque: 305 TQ
Redline: 7,600 RPM
Weight: 1,705 KG or 3,759 LBS
Grip: 1,200
Chevrolet Corvette Z06 (C6)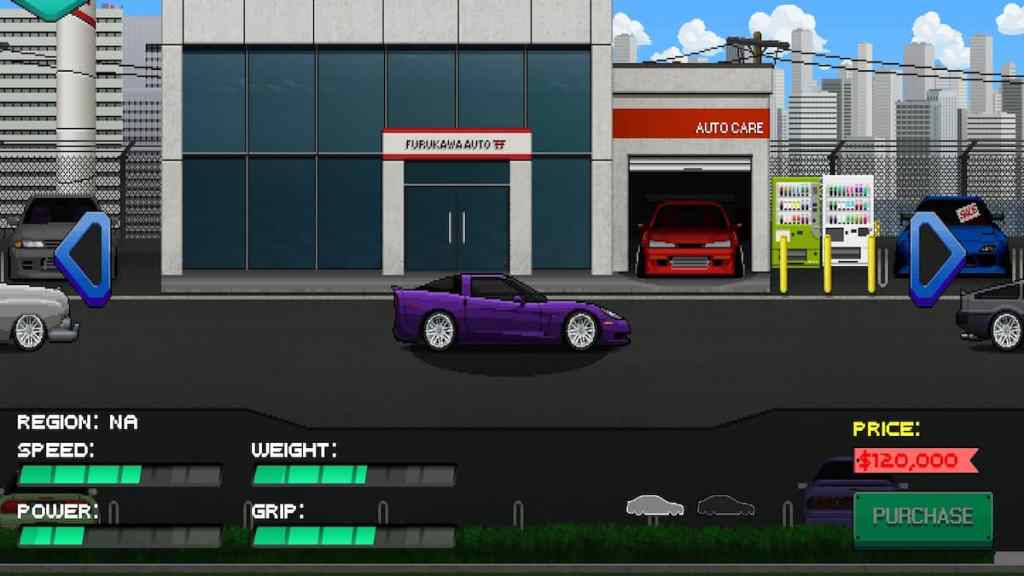 The Chevrolet Corvette is just a little more expensive than the Camaro but well worth the extra cost for a little more power and speed behind it: 470 HP and increased torque. You might also enjoy this option a little bit more with its sleek sports car appeal.
Top Speed: 272 KM/H or 169 M/H
Peak Horse Power: 470 HP
Peak Torque: 346 TQ
Redline: 7,500 RPM
Weight: 1,518 KG or 3,347 LBS
Grip: 1,200
Ford GT (2005)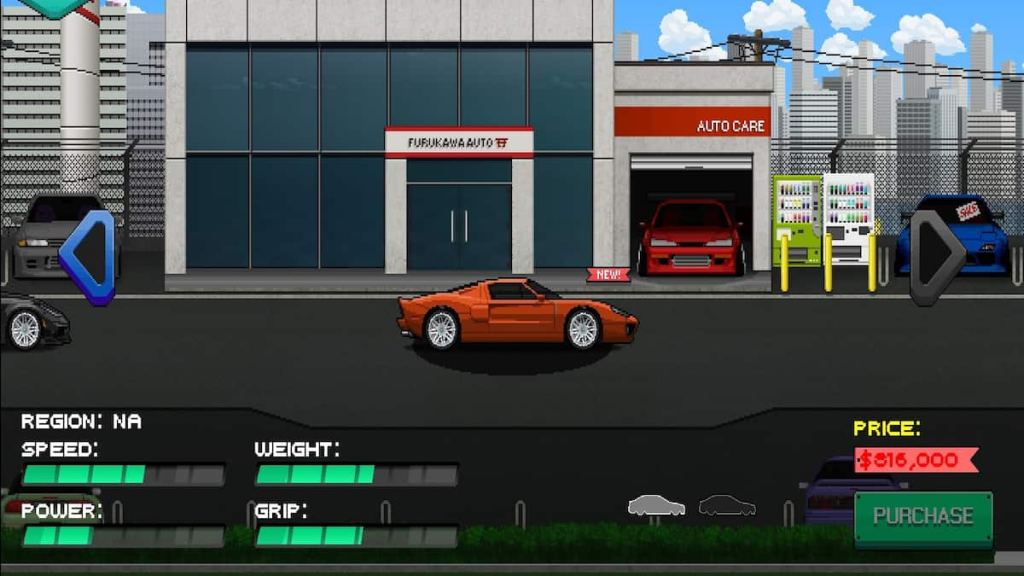 The Ford GT is one of the most expensive cars in the game at $816,000. Although it is one of the fastest vehicles, it still sits below the BMW M4 and Audi R8 when it comes to top speed. That said, it makes up for it with its sheer horsepower and heavier weight, which makes it a tank on the track.
Top Speed: 274 KM/H or 170 M/H
Peak Horse Power: 511 HP
Peak Torque: 371 TQ
Redline: 7,500 RPM
Weight: 3,485 KG or 7,683 LBS
Grip: 1,050
These are the fastest cars with the highest top speed in the game, but what cars do you use to zoom across that finish line? Share your favorite cars in the comments below!
Looking for more Pro Game Guides mobile games content? Check out our lists of Best Mobile Two Player Games or Best Offline Mobile Games!