City building comes with a lot of responsibility, like keeping track of employee numbers in Cities: Skylines. While Pocket City might not be as intensive as Cities: Skylines, there's still plenty to keep track of. Which is why we've compiled the best tips and tricks to make your time playing Pocket City a breeze.
Pocket City Tips for Beginners
When you first begin playing, it's hard to know where to start or what steps to take. As long as you keep your eye on the long game, your city will come together just fine. Use these tips to get yourself more quickly acquainted with the gameplay in Pocket City:
Avoid loans if possible. They really aren't necessary, unless you're playing on hard mode or you get yourself in a bind.
Pay attention to the three bars in the top left which are blue, orange, and green. These will tell you the fluctuating demand for commercial, industrial, and residential properties.
Don't forget to check your Policies, once you have enough points accrued. This can help reduce costs, improve happiness, and generally make gameplay easier for you.
Once you obtain the Obelisk, place it somewhere on your map. This will shorten the duration and intensity of natural disasters. It doesn't require roads or electricity, so you can place it anywhere.
Filter zones in the bottom left of your screen in order to more easily see what types of structures (commercial, residential, etc) you have throughout the town. You can also filter for specific businesses and landmarks through the same tab.
Don't forget that education is important, too. Add a school and university as soon as you can, as it makes citizens more educated and makes them happier. An educated workforce makes you more money, and happier citizens will get you a higher population.
Tricks for Pocket City
There are a few tricks that can reduce the challenges that come with running a city. While there are not cheat codes available, there are some smart moves that will get you out of extra labor while playing. Check these out in order to hack your gameplay:
There are no valid cheat codes or hacks for Pocket City. Any sources that claim to have these sorts of codes or hacks should be regarded with suspicion.
To get you to jump straight into a city that has been finished, you can find City Codes that other players have posted online. This will give you a copy of their city.
If they are bothering you too much, turn off Natural Disasters in your game settings.
For gameplay without restrictions, play in Sandbox Mode.
Related: How to Fix the "Not Enough Goods to Sell" Issue in Cities Skylines
Best Tips for Expansion in Pocket City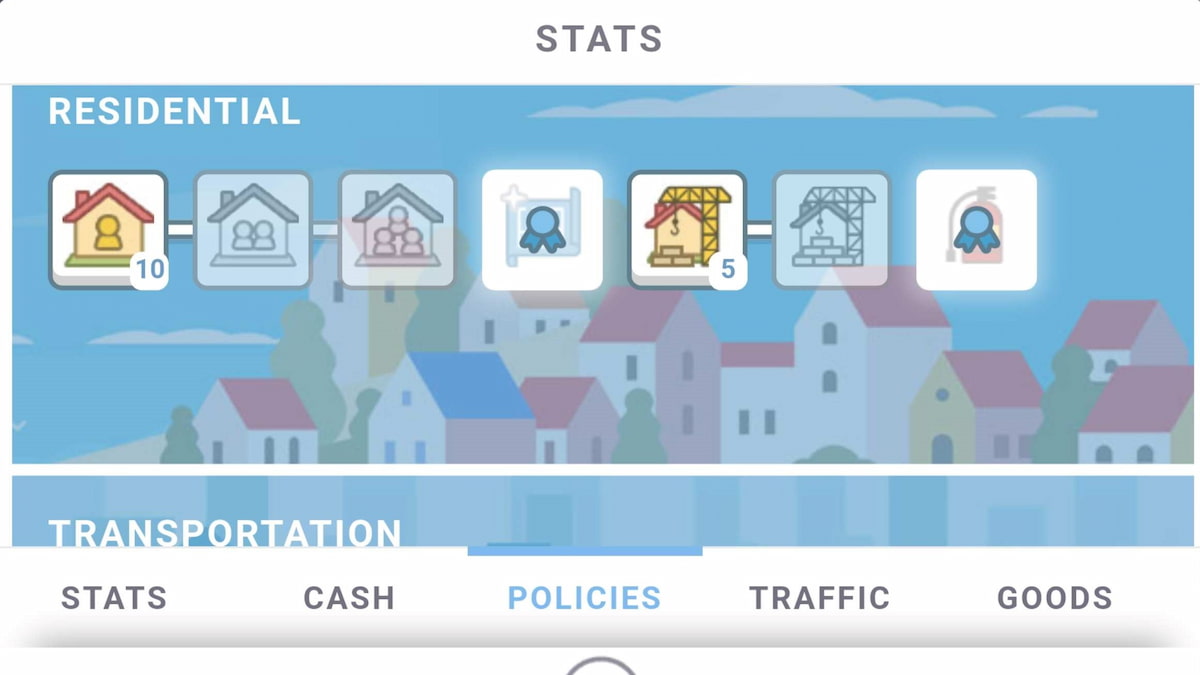 Expanding is essential to playing Pocket City successfully. One of the key components to expanding efficiently is to keep track of your statistics and plan ahead. Review this advice to achieve maximum growth in city size and population:
Spend some time studying the map. Plan what directions you'll want to expand in and what zones/buildings you'll put in these areas.
Avoid purchasing land that is far from your current open space. This will leave you with wasted land and no resources for that new area.
Once you have the availability, don't forget to upgrade zoned buildings. Keep in mind, this will change their appearance and make for taller buildings. At the same time, you will get increased density, money, and jobs for those homes and buildings.
Throw Block Parties and other events to get easy XP. You can even eliminate the cool-down period in your Policies tab.
Once you've leveled up to the point of creating your own zones, consider doing this for facilities that require special terrain (solar panels require sand, for example).
Tips for Happy Citizens in Pocket City
While you don't technically need happy citizens in your town to expand, you do need them satisfied to reach your full population potential. Some people will move to your town, even if it lacks happiness. There are many who won't, though. Take these steps to keep them happy:
Don't forget to upgrade your Police Stations and Fire Stations. They require these upgrades to use helicopter flights, which is especially important for crimes and fires that occur further from the stations. Your citizens will feel safer and happier.
Don't forget to add a Hospital once it becomes available. This will increase the percentage of healthy citizens.
Add diverse transportation options for less traffic congestion. This can include highways, bus depots/bus stops, and sky rail stations/rails.
Consult your Stats tab often to get insights into which areas need improvement. For example, if you have a 20% Crime Safety rating, you'll need more Police Stations (or you'll need to upgrade your current ones).
For population growth, focus on having a robust residential and industrial layout. Both of these affect your town's population more than commercial zones do.
Tips for Money in Pocket City
Money is what you need the most to play in Pocket City. It drives all future development, as well as zone changes, and even rebuilding after disasters. So, you'll need tons of it. Here's how to get cash quickly in Pocket City:
Keep an eye on your Food, Materials, and Natural Resources. If you don't have the right facilities in order (steel mill, farm, lumber mill, etc.) you'll end up draining money from your account through imports. Increase your Goods buildings to get more money through exporting.
Throw in a Zone Upkeep shop every so often to reduce the costs that come with having these areas operated. This way, you'll retain more of your earnings.
Practice in Sandbox Mode every now and then to get an idea of what maximizes earnings. Sandbox Mode is useful because you have unlimited cash to toy around with.
Want to read more about city-building games? If so, check out All Cities Skylines Cheats and Console Commands on Pro Game Guides.