Shaymin's Land Forme and Sky Forme each have the same set of best moves despite their differing stats and types. Shaymin Land and Sky's best moves in Pokémon Legends: Arceus are Air Slash, Earth Power, Energy Ball, and Seed Flare. Given the difference, we picked these moves based on Shaymin's base stats and the S.T.A.B (same type attack bonus). This bonus yields a 50 percent increase in damage output if the chosen move shares the Pokémon's typing.
| Move Name | Move Type | Category | Power | Accuracy | PP |
| --- | --- | --- | --- | --- | --- |
| Seed Flare | Grass | Special | 180 | 85 | 5 |
| Energy Ball | Grass | Special | 135 | 100 | 10 |
| Earth Power | Ground | Special | 90 | 100 | 10 |
| Air Slash | Flying | Special | 75 (Land); 112.5 (Sky) | 95 | 20 |
Shaymin's Most Powerful Moves
Since Shaymin Land is a grass-type Pokémon, and Shaymin Sky adds the flying type, we'll take a closer look at its best moves in question. Earth Power is a special ground-type move learned at level 46 (mastered at 59) with an attack power of 90. Energy Ball is a special grass-type move learned at level 36 (mastered at 49) with an impressive attack power of 135—significantly strong for a move that shares the Pokémon's type. Seed Flare, a special grass-type move, is Shaymin's best with a staggering attack power of 180.
Air Slash, on the other hand, is a special flying-type move and Shaymin's most interesting offensive option, learned early at level 19 (mastered at 31), with an attack power of 75 for Shaymin's Land Forme. However, upon transformation to the Sky Forme, the power for Air Slash rises 33.3 percent to 112.5. After the change, Air Slash makes great use of the STAB, and in Shaymin Land's case, its categorization as a special move (as opposed to physical) makes no great difference. Similar to other mythical Pokémon such as Mew or Manaphy, Shaymin Land's stats are equalized at 100 across the board. But Shaymin Sky's base stats are significantly more specialized.
Shaymin Sky's Stats
Stat Total: 600

HP: 100
Attack: 103
Defense: 75
Special Attack: 120
Special Defense: 75
Speed: 120
This means special attacks rather than physical attacks will usually be Shaymin Sky's forte and are still Shaymin Land's strongest in Pokémon Legends: Arceus. Even as Shaymin Sky's special attack increases over that of the Land Forme, Shaymin Land's equalized stats means it'll do just as well with physical moves. Powerful physical moves such as Giga Impact can be learned for a price from Zisu at the Training Grounds in Jubilife Village and is a good alternative to Air Slash in the Land Form. Still, it requires an entire turn to recharge and would nullify any help Shaymin can provide with its good speed base stat.
Purchased moves such as the normal-type Hyper Beam or fairy-type Dazzling Gleam, while formidable special moves, can be considered more alternate options, but they either do not take advantage of the STAB or they offer worse general coverage with lower PP. After all, Shaymin's variant stats mean you can make great use of it in tough battles as well as have it endure long battles with Pokémon you want to weaken and catch.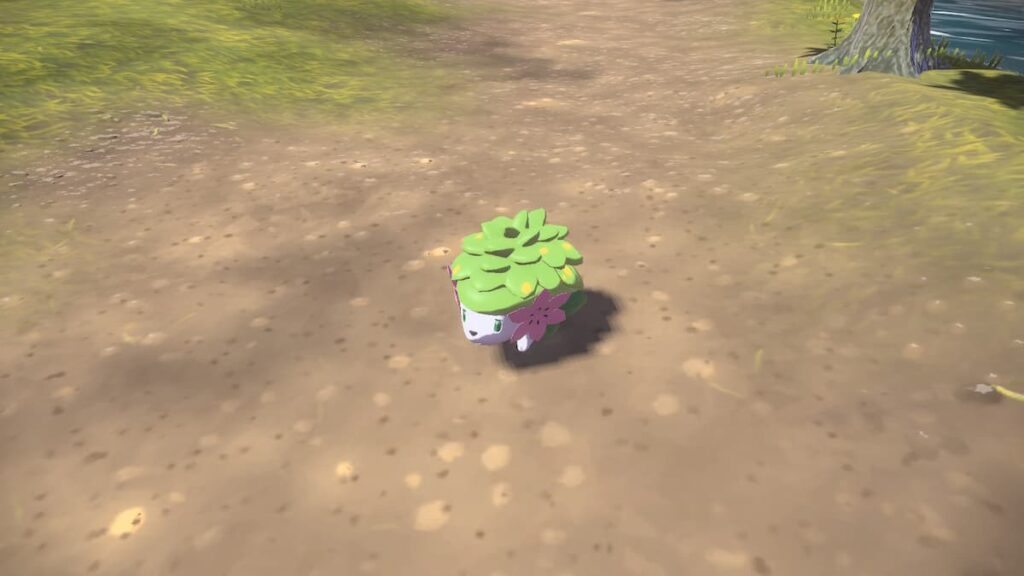 Shaymin is available in both Land and Sky Formes as long as you've:
finished the story and seen the credits roll
have save data on your Switch from Pokémon Sword or Shield
and have completed Request 92: A Token of Gratitude
When you've finally gotten this mythical Pokémon, which debuted in Pokémon Diamond and Pearl of Generation IV, touch it with the Gracidea Flower (from Medi during the request) to transform it from Land Forme to Sky Forme. The only way to transform it back to Land Forme is to leave it in a Pasture and take it out again.
Moveset operations have changed not much and yet drastically since Pokémon Sword and Shield. The only notable difference, which happens to change everything, is the fact that your Pokémon can use all the moves they've learned in the past. In Pokémon Legends: Arceus, there's no such thing as "forgetting" a move. This new feature suits Pokémon like Shaymin or those of the Forces of Nature Quartet perfectly. Just as you can switch these Pokémon to and from their alternate forms, so too can you change their moves to suit your ideal team.
For more Pokémon: Legends Arceus content, check out How to Craft All Pokéballs in Pokémon Legends: Arceus.