If you've played Diamond and Pearl, then you've already seen what this Red Chain that you're supposed to make looks like, though not for heroic reasons. In Pokémon Legends: Arceus, however, you're crafting one to save the region.
But to make the Red Chain, you need to pass Mesprit, Uxie, and Azelf's test. And admittedly, Azelf's trial is the most frustrating one.
How to beat the alpha Overqwil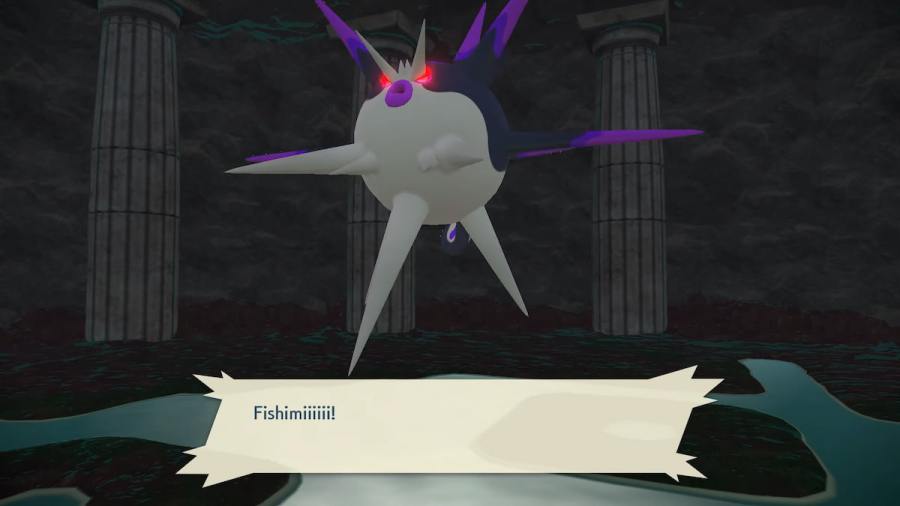 The first part of your frustration is Overqwil. This Dark/Poison Pokémon is resistant to four types: Ghost, Dark, Poison, and Grass. Its Attack is also very high.
Fortunately, it's slow and weak to Ground. As long as you use speedy Pokemon like Sneasler or Ground-types like Gabite, you'll beat Overqwil without an issue.
How to hit Azelf
The second part of Azelf's Trial is hitting it with a balm. However, even after as many as four rounds, you won't be able to do it. And that's natural. You're not supposed to hit Azelf.
Related: Best Nature for Uxie, Mespirit, and Azelf in Pokémon Legends: Arceus
Azelf is the guardian of Lake Valor. It recognizes willpower. Knowing that, passing the second part of Azelf's Trial is simple: don't give up. Keep trying to hit it with your balms. You're guaranteed to miss every time but eventually, the guardian of Lake Valor will recognize your fighting spirit and allow you to hit it.
Pokemon Legends Arceus - Uxie Trial answer
If you haven't solved these two yet, don't worry. It's impossible to fail Mesprit's test as long as you're honest about your emotions.
Meanwhile, the answer to Uxie's trial question is 60131. It's just asking how many eyes the six Pokémon it has mentioned have.
For more help with Pokémon Legends: Arceus, we at Pro Game Guides have you covered.