Are you ready for the next Pokémon adventure?! Hop on the train to the Crown Tundra region and get started capturing all of these new Pokémon! Instead of the Isle of Armor's rich forests, we hope you brought a jacket because you're heading to a frigid new land. The Pokémon Company is trying out a new mechanic, with quests. There's an array of quests that can be found on your journey throughout the snowy area, and by completing these quests, you'll probably encounter a legendary!
50 Tracks of Grassland Pokémon
To find Virizion, you must leave Freezington and encounter a familiar face - Sonia, she's here researching Pokémon. She'll ask for your help and promptly send you off on a quest to find 50 Grassland Pokémon footprints. In completing this task, Sonia will notify you of the location of the Legendary Pokémon Virizion for you to go and capture!
The Grassland Pokémon tracks will appear on the ground as a shiny-green, so they are pretty easy to find. The best area to unearth these tracks is the Giant's Bed area. Wandering around this area for a bit, capturing Pokémon, and you'll easily rack up the 50 footprints needed. You might even get lucky and find a trail of tracks!
When the fiftieth set of tracks have been discovered, head on back to Sonia, and she'll graciously tell you the location of Virizion. Of course, the Legendary Pokémon can be caught in the Giant's Bed area meandering around, though, as it's quite vast, it's best to start at the Old Cemetery then wander around the grassland. Eventually, you'll encounter Virizion, save before you start the fight, then approach to start the Pokémon battle! Virizion has to be completed to finish Sonia's quest.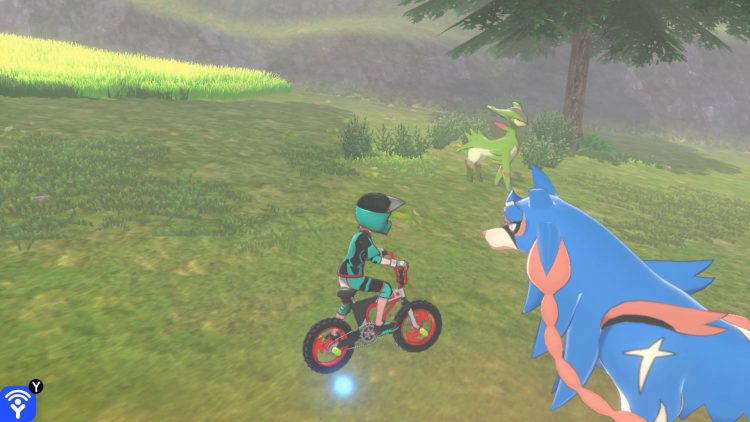 This is one of three quests given to you by Sonia to capture three Legendary Pokémon, Virizion, Kerrakion, and Cobalion. Once all three have been captured, if you go to a specific location, you can capture another Legendary Pokémon - Keldeo.