The Crown of Tundra is a massive region to explore; it's very much what Pokéfans wanted Sword and Shield's base game to be. Alas, it's amazing, with a plethora more Pokémon to find and capture. Mysteries to solve, ancient tomb riddles, Dynamax Adventures to have, there are lots of things to occupy your time with! One of the strange things you can do in the Crown Tundra is to shake a massive tree called the Dyna Hill Tree.
What does the Dyna Tree do?
The Dyna Hill Tree is a massive tree in the southern area Crown Tundra region, and when you shake it more than 6 times, you'll trigger a Pokémon den battle! It has to be shaken upwards of 6 times plus, or nothing will happen, but eventually, a battle with a Greedent occurs. As a bonus, if you managed to defeat or capture the Greedent, you will get an overabundance of berries for your troubles.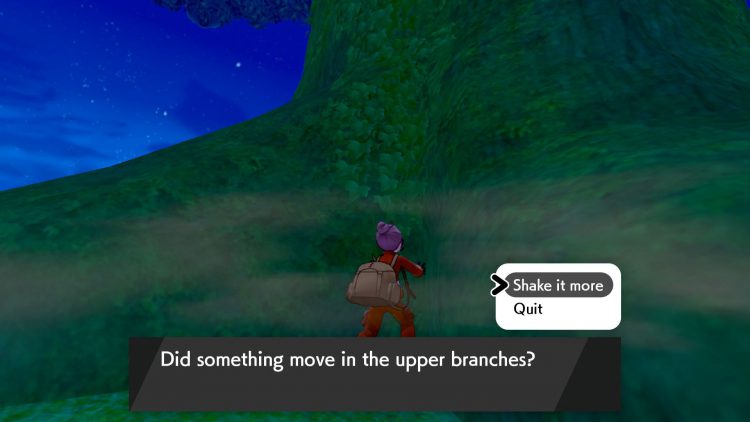 The berries you could receive in different amounts are:
Oran Berries
Sitrus Berries
Lansat Berry
Tamato Berries
Hondew Berries
Chople Berries
Starf Berry
Whatever berries you get and the amount seems to be totally random. This, however, is a one-time thing; after you've defeated/captured the Greedent, even after shaking the Dyna Hill Tree, nothing will happen. Maybe after a long period of time, it'll renew and be able to be shaken again. Perhaps, The Pokémon Company has plans for the Dyna Hill Tree and have it turn into a seasonal event, where the Pokemon den respawns more for Christmas.
But for a quick Pokémon battle with a reward of plenty of berries, it's an easy way to get some much-needed cooking ingredients for your curry! This battle is entirely optional and quite easily missable if players do not shake the tree enough.