The Fire-type member of the Elite Four is a bit crazy and doesn't realize that he only has two Fire-type Pokémon. It's OK, though; he figures out what type of Pokémon he's supposed to have in his rematches.
Note: This guide is for your first fight with Flint. His Pokémon and levels change in his rematches.
His Team
Flint's less-than-hot team consists of five Pokémon:
Rapidash - Level 58

Moves: Flame Charge, Iron Tail, Poison Jab, Hypnosis
Ability: Flame Body
Item: Wide Lens

Steelix - Level 57

Moves: Thunder Fang, Fire Fang, Iron Tail, Crunch
Ability: Sheer Force
Item: Life Orb

Drifblim - Level 58

Moves: Strength Sap. Minimize, Baton Pass, Will-O-Wisp
Ability: Unburden
Item: Sitrus Berry

Lopunny - Level 57

Moves: Mirror Coat, High Jump Kick, Quick Attack, Fire Punch
Ability: Cute Charm
Item: Leftovers

Infernape - Level 61

Moves: Fire Punch, Thunder Punch, Close Combat, Mach Punch
Ability: Iron Fist
Item: Focus Sash
Related: How to beat Bertha in Pokémon Brilliant Diamond and Shining Pearl
Strategy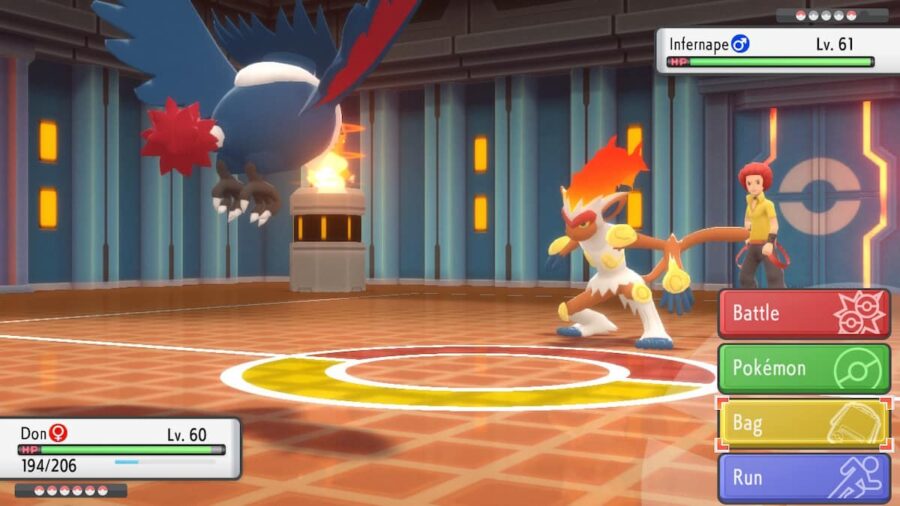 Rapidash holds a Wide Lens, which improves its accuracy. It hopes to land Hypnosis (which is only 60-percent accurate) then follow up with Flame Charge for Speed boosts or Iron Tail to take out Rock-types. Deal with the Sleep by waiting to wake up or using an item, then wipe Rapidash out.
Steelix can surprise you with its Sheer Force and Life Orb-buffed Thunder Fang, which has the potential to eradicate even tanky Water or Flying-types. Its other moves are also all dangerous, but it's a Steelix without Sturdy in the end. Use a powerful special Water or Fire move to KO it in one go.
Drifblim is a nightmare. Strength Sap will heal it and drain your Attack, Minimize makes it impossible to hit, Will-O-Wisp chips your HP and cuts your Attack in half, it's Unburden ability will boost its Speed when you finally manage to drop it below half HP and it eats its Sitrus Berry, and then it can pass all of its stat buffs over to another Pokémon (usually Infernape) with Baton Pass.
Unless you have a superbly strong Ghost, Flying, Ice, Rock, Electric, or Dark-type attack that will one-shot the tanky Drifblim, don't plan on having an easy fight. You may want to use Drifblim to set up instead; Speed and Defense will be your best friends going forward if you have a way to buff them.
Moves guaranteed to hit or can negate enemy stat buffs are also a God-send.
Lopunny is a jack-of-all-trades. It has Cute Charm, Leftovers, and Mirror Coat to be defensive, and the rest of its attacks are for damage. Its stats certainly lean towards attack as well, making its defensive parts not all that useful. A solid Fighting-type move can deal with Lopunny without much trouble.
Infernape is dangerous, but it will typically come in with a myriad of buffs from Drifblim, making it lethal. It even has its hidden ability, Iron Fist, which increases the power of Punch moves. To top it all off, you can't one-shot it since it has Focus Sash. You have to withstand at least two blows; one from the turn, you damage it, then the Mach Punch will try to finish you off with the next turn.
If you buffed your Defense, then you're in good hands. If not, then good luck. Ground and Ghost-type Pokémon will be your best bet for surviving Infernape.
For help setting up a Steelix of your own, go check out Best nature for Onix and Steelix in Pokémon Brilliant Diamond and Shining Pearl on Pro Game Guides!