Lucian isn't the strongest member of the Elite Four for nothing; his Psychic-type team is rough. Be prepared for a tough fight.
Note: This guide is for your first fight with Lucian. His Pokémon and levels change during his rematches.
His Team
Lucian fights with a team of five Pokémon:
Mr. Mime - Level 59

Moves: Light Screen, Reflect, Psychic, Dazzling Gleam
Ability: Filter
Item: Light Clay

Girafarig - Level 59

Moves: Light Screen, Psychic, Thunderbolt, Trick Room
Ability: Sap Sipper
Item: Mental Herb

Medicham - Level 60

Moves: Zen Headbutt, High Jump Kick, Thunder Punch, Ice Punch
Ability: Pure Power
Item: Muscle Band

Alakazam - Level 60

Moves: Nasty Plot, Psychic, Future Sight, Shock Wave
Ability: Magic Guard
Item: Life Orb

Bronzong - Level 60

Moves: Gyro Ball, Earthquake, Payback, Trick Room
Ability: Levitate
Item: Sitrus Berry
Related: How to beat Flint in Pokémon Brilliant Diamond and Shining Pearl
Strategy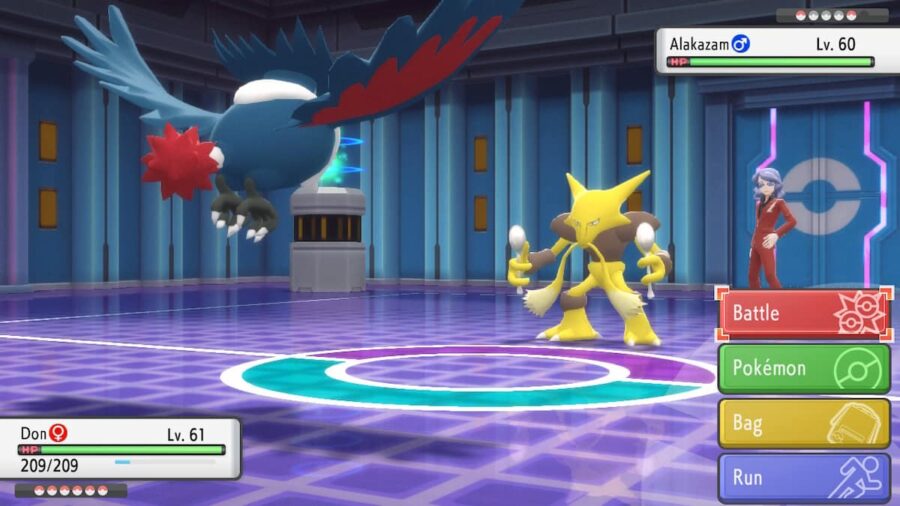 The fight starts rough as Mr. Mime whittles you down while taking no damage. It will set up either Reflect or Light Screen based on the Pokémon you have out, then slap you with Psychic or Dazzling Gleam until your Pokémon goes down. It even has the ability Filter, which reduces the effectiveness of super-effective moves.
Your best bet is to use a tankier Pokémon and just trade blows with Mr. Mime. You could also try setting up against it, but Psychic can lower Special Defense, so it's risky to do so.
Girafarig is actually a detriment to its team. It isn't too difficult to take down, but it will very likely use Trick Room while it's up. This will flip the turn order so that slower Pokémon go first. Remember that.
Medicham is dangerous, but no more so than anything else on Lucian's team. It has good move diversity and hits hard thanks to Huge Power and its Muscle Band. It's helpless against Ghost and Fairy-type Pokémon, though.
Alakazam is the reason why Trick Room is bad for Lucian. Alakazam is one of the fastest Pokémon in the whole series, so with Trick Room, it's next to guaranteed to go last. It's also weak defensively, so you can mop it up with a good Dark or Ghost-type move. If Girafarig didn't get to use Trick Room, though, just send out a Dark-type Pokémon, and Alakazam still won't be able to do much.
Bronzong can deal some solid damage, but not enough to be overly threatening. Its most dangerous feature is just how long it takes to go down. A few good Fire or Dark-type moves can deal with it quickly enough, though.
If you plan to get an Alakazam of your own, go look at Where to find Abra in Pokémon Brilliant Diamond and Shining Pearl to get yourself started!