Niantic has just revealed the Pokémon Go Fest details, including the most important one that it is being hosted on July 17 and July 18, 2021. Many of us want to make sure we get a first-class experience during the event and want to know how to purchase a ticket. We've got you covered!
There are three very easy steps to purchasing a ticket, all of which are explained in the image and instructions below.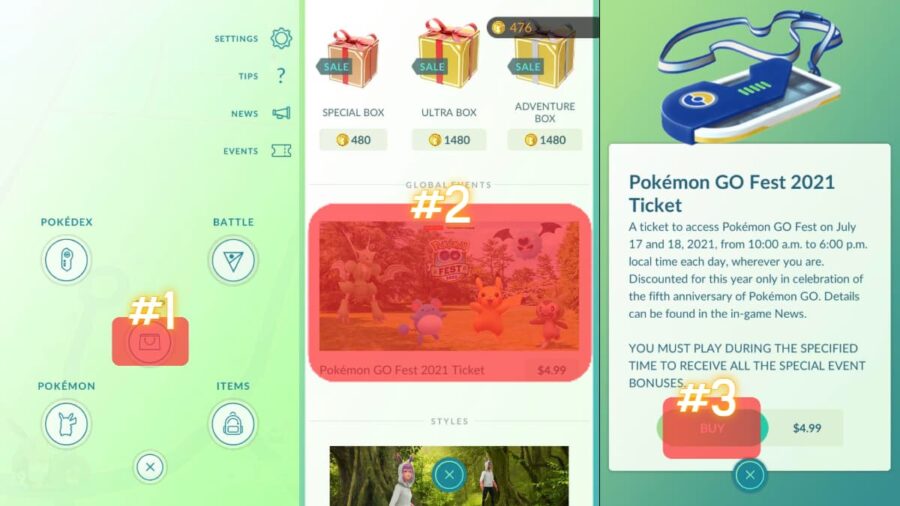 On the left you'll see the first step. From the Main Menu tab, tap Shop button in the middle. It will open up a screen where you can purchase many different game objects and special boxes. When it opens, scroll down about half a screen and select the Pokémon Go Fest 2021 image that is highlighted red in the middle image above. On the next screen press Buy to purchase the ticket.
On the next screen, you may be required to put in your card information, or it may just require that you confirm it with your passcode. Once you've done that, you will receive a ticket for the event! You can find it in your game's Item Bag. If it's not there, you may need to doublecheck to make sure you have a ticket.
According to the official page for the event, you will receive a badge a few days before the event if you have the ticket in your inventory. From there, you can log in on the day of the event and enjoy all the special features!
Did you know we have guides for everything in Pokémon Go? Check out our guides on Fairy Pokémon Weaknesses and Electric Pokémon Weaknesses.