If you are looking to catch the ever evasive Mew, then our catching guide will walk you through each of the steps necessary to complete this special research quest! The Mythical Discovery Quest and its steps are quite long, but once you complete the journey you will get a chance to catch Mew.
If you are seeking to nab yourself a Mew, just know that it's a pretty long process and requires quite a few steps. So, be sure you are ready for the long haul and have a big bag full of PokeBalls at your disposal. You'll also want to make sure you've invested in some comfortable footwear!
What's Field & Special Research?
Fields & Special Research are a relatively new and exciting addition to Pokemon Go. It will have you going out and completing various steps in a series of quests that will eventually lead you to having extremely rare encounters against legendary Pokemon! Here's more information from the official Pokemon Go website:
Trainers,

A series of mysterious happenings is occurring all over the world, and Professor Willow is seeking Trainers to help him find out if this is connected to the Mythical Pokémon Mew. These research tasks will become available to Trainers around the world later this week!

There are two different types of research you can contribute to: Field Research and Special Research. Gather Field Research tasks by spinning nearby PokéStops, which will give you objectives that include discovering and catching certain Pokémon or engaging with battles, among other things. Special Research may be requested by Professor Willow himself, and will take you on a journey to make important discoveries!

Both types of research offer great rewards, including a variety of useful items and even encounters with certain Pokémon! You can complete as many research tasks as you want every day, leading to a full day of adventures. These tasks also have different levels of difficulty, so the more challenging a research task is, the greater the reward waiting for you.

You can earn one Stamp per day by completing at least one Field Research task, and when you obtain seven stamps, you can achieve a Research Breakthrough to receive even greater rewards! You may even have an encounter with a Legendary Pokémon!

Research tasks will provide interesting challenges that will help you get better at discovering, battling, and catching Pokémon! We're excited to see your contributions to the exciting field of Pokémon research, and we can't wait to hear about the adventures you have along the way! Let's get moving!
Pokemon Go Catching Guides Coverage
A Mythical Discovery - Mew Special Research Quest Steps
It's time to take a look at all the steps required to catch yourself a Mew. We've got an image below displaying it if you just want a quick look at the steps, but below that I go into much greater detail on how-to better accomplish all of these steps and to catch this mythical Pokemon. Credit to JANKA_lml on Reddit for the image.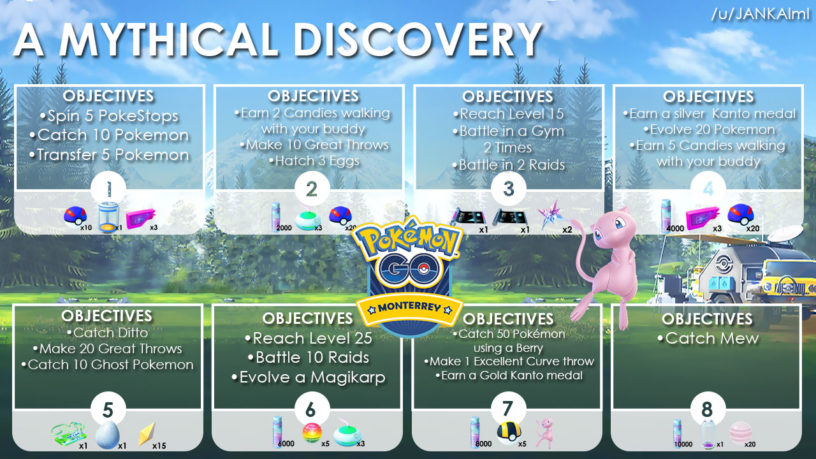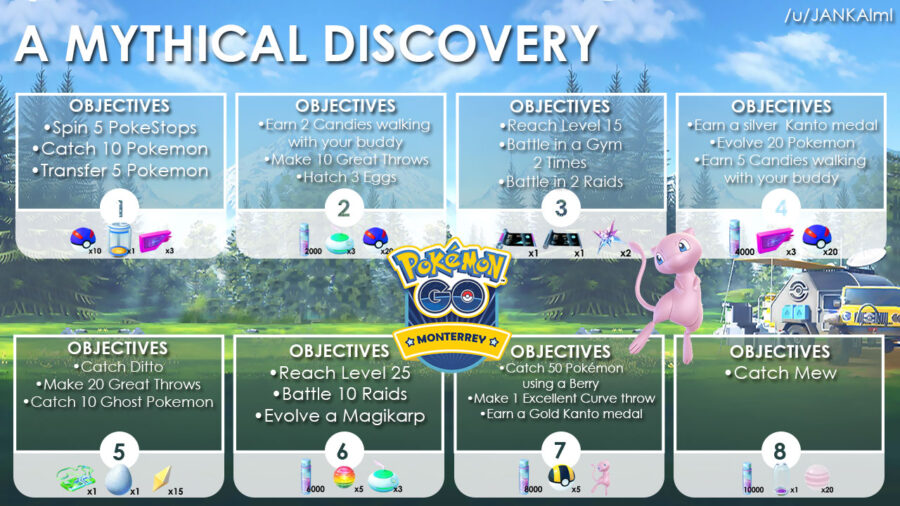 Mew Quest Steps (1/8)
Spin 5 Pokestops (500 XP)
Catch 10 Pokemon (500 XP)
Transfer 5 Pokemon (500 XP)
Rewards - 10 Great Balls, 1 Incubator, 3 Lures!
We're starting off very easy, all you will need to do is spin 5 Pokestops, catch 10 Pokemon, and transfer 5 Pokemon. This should be very quick if you are out just doing general Pokemon Go stuff for the day or during an outing.
Mew Quest Steps (2/8)
Earn 2 candies walking with your buddy (1,000 XP)
Make 10 Great throws (1,000 XP)
Hatch 3 eggs (1,000 XP)
Rewards - 2,000 Stardust, 3 Incense, 20 Great Balls!
We're getting a bit slower now, but you should be able to earn the 2 candies walking pretty fast as long as you use a low rank Pokemon. Magikarp is a good option if you have one because you'll likely need the candies for later. Making 10 great throws shouldn't be too hard if you are actively catching Pokemon during that walk. You will also want to have some eggs being incubated as well. 2km are going to be the fastest so start some of those up if you have them!
Mew Quest Steps (3/8)
Reach level 15 (1,500 XP)
Battle in a Gym x 2 (1,500 XP)
Battle in 2 Raids (1,500 XP)
Rewards - 1 Quick TM, 1 Charge TM, 2 Star Pieces!
Reaching level 15 won't be a problem if you are already higher than that and have been playing for a while. Gyms aren't too hard to find, so this is another pretty easy step. Just head to a Gym you control and do a couple of battles. You don't have to win, just do a quick battle.
You'll need to find a couple of Raids, but you only need to participate because victory is not required.
Mew Quest Steps (4/8)
Earn a Silver Kanto medal (2,000 XP)
Evolve 20 Pokemon (2,000 XP)
Earn 5 candies by walking with your buddy (2,000 XP)
Rewards - 20 Great Balls, 3 Lures, 4,000 Stardust!
If you have been playing for a while, you've likely already earned yourself a silver Kanto medal. This will automatically be completed if that is the case. If you are just starting out, you will need to catch at least 50 different Generation 1 Pokemon for your PokeDex. Evolving 20 Pokemon can be a bit time consuming, but some players have reported having this auto-completed if they have already evolved that many Pokemon. If you haven't, it's best to go after the Pokemon that have multiple evolution and catching the earliest version of it. This won't require too many candies and the Pokemon are usually far more available. Finally, you'll need to earn 5 candies for walking your buddy. Just make sure you continue to walk your 1k buddy to quickly earn those candies.
Mew Quest Steps (5/8)
Catch a Ditto (2,500 XP)
Make 20 Great throws (2,500 XP)
Catch 10 Ghost Pokemon (2,500 XP)
Rewards - 1 Premium Raid Pass, 1 Lucky Egg, 15 Revives!
Now we're getting to the stages that are quite a bit more difficult. This one is pretty brutal, because catching a Ditto can be problematic. You'll need to catch a bunch of the Pokemon that have the potential to be a Ditto. Learn more about it with our Ditto Guide. Making 20 great throws isn't too terrible, but it's time consuming. The Ghost Pokemon can also be a slow one. You'll need to hope you are nearby an area that has a nest or spawns of them. You'll also want to try some night ventures as they are more likely to spawn in the later hours of the day. You can find spawn locations via the Silphroad Atlas.
Mew Quest Steps (6/8)
Reach level 25 (3,000 XP)
Battle in 10 Raids (3,000 XP)
Evolve a Magikarp (3,000 XP)
Rewards - 6,000 Stardust, 5 Rare Candy, 3 Incense!
Reaching level 25 isn't a problem if you've been playing the game for a while, but you recent starters are going to have to play a lot of Pokemon Go to hit that level. 10 Raids isn't a big issue, but it can be a grind to completing them all. The Magikarp evolution is potentially problematic. The evolution takes a lot of candies, you'll need 400 of them to evolve a Magikarp and it isn't exactly the easiest Pokemon to find. Rare Candies will be helpful here, you can transform them into Magikpar candies. Also, don't forget to use Pinap Berries on the Magikarp to double the amount of candies you receive.
Mew Quest Steps (7/8)
Catch 50 Pokemon using a berry (3,500 XP)
Make 1 Excellent Curve throw (3,500 XP)
Earn a Gold Kanto medal (3,500 XP)
Rewards - 8,000 Stardust, 20 Ultra Balls, A Mythical Pokemon Encounter!
We're on the last steps now! Catching 50 Pokemon with a berry isn't that big of a deal, hopefully you've been stocked up on a lot of berries due to all the grinding. While you are catching those Pokemon, you can work on getting that one excellent curve throw you need for the second step. Finally, you will need to the Golden Kanto medal to complete this step. This requires you to have at least 100 different Generation 1 Pokemon in your PokeDex. If you've already done this, it will auto-complete!
Mew Quest Steps (8/8)
Rewards - 10,000 Stardust, 1 Super Incubator, 20 Mew Candy!
You have made it all the way to the end and Mew is ahead of you! Now, all you need to do is catch it and claim your prize.