If you want new, the 151st Pokemon in Pokemon Let's Go, then our guide will give you the step-by-step directions on how-to obtain it! We also feature a lot of extra information on the Poke Ball Plus which is necessary for receiving a Mew.
Mew is a genderless Psychic type Pokemon that is known for its unique ability to learn every Technical Machine (TM) in the game.
How-to Get and Where-to Find Mew in Pokemon Let's Go
Unfortunately, you might be a bit disappointed with the answer to this question. The only way to get Mew in Pokemon Let's Go Eevee or Pikachu is to purchase the Poke Ball Plus. You can purchase it via the pack that comes with the game and the Poke Ball, or you can just purchase the Poke Ball separately if you have already gotten one of the games. Mew cannot be found in the wild or as a one time spawn in the game.
Now, I realize this is kind of lame, but you aren't just buying the Poke Ball just for the Mew. The controller itself is very usable and a cool little thing to use while playing the game. It reportedly works a bit better than the Joy-Cons for throwing Poke Balls, which is a bonus because my own experience has been pretty spotty with the Joy-Cons.
Where-to Purchase Poke Ball Plus
If having to get the Poke Ball Plus hasn't deterred you from getting Mew then you can purchase the Poke Ball Plus from Amazon. The Pokemon: Let's Go, Eevee or Pikachu + Poke Ball Plus Pack costs $99.99 currently. You can purchase just the Poke Ball by itself if you already have the game for $49.99, but beware that it appears to be sold out in most retail locations. You might have to track it down at your local store, and keep your eye out for it if you are hoping to get it as a Christmas gift.
You can purchase either of these through the following (affiliate) links. Clicking through these links and making a purchase helps support the site, so thank you!
There are some accessories you might like with the Poke Ball Plus. You can get a carrying case so you don't damage it if you find yourself on the move quite a bit and playing on the go. You can also get a charge stand if you want to really display the ball while it regains battery. It is completely optional, and I'd really read the reviews on it because user feedback seems to be mixed.
Using the Poke Ball Plus
If you're wondering how-to use one of these, I will walk you through the process. First, once you have it in your hand and out of the box press in the joystick portion in the middle of the ball and it should light up. Now, when you load up Pokemon Let's Go it will immediately ask you what controller you want to use. Use the joystick and select the Poke Ball Plus.
The Poke Ball Plus has two buttons. One is pressing in the joystick, and the other is on top and on the red half of the ball. Pressing in the joystick (Middle Click or A in Menus) is your interact button, and pressing the red button on the top is your back button (B in Menus). The one hidden option you might not realize exists is that SHAKING the controller acts as the Y-Button. This is extremely helpful, one of those things you might not realize for a while.
Another feature of the Poke Ball Plus is that when you catch a Pokemon, it will light up and vibrate in your hand. You'll hear the Pokemon let out its unique cry once you've caught one.
How-to Get Mew
Once you've tracked down a Poke Ball Plus you will then need to get Mew in the game. Be sure you have the Poke Ball Plus connected to the game by using the instructions above and head to the Communicate menu option. If you have just started the game, you won't be able to immediately access it. Play a bit more and it will unlock very early on.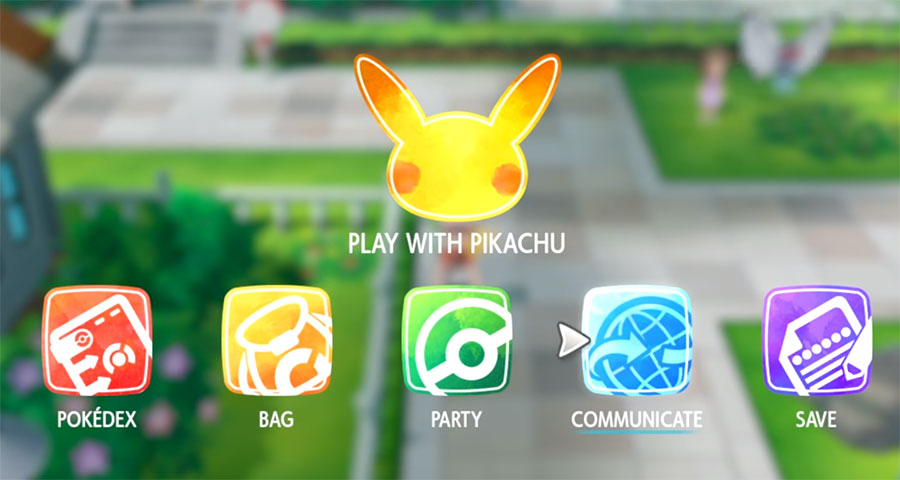 Once you are in this menu, click on Mystery Gifts and then the "Get with a Poke Ball Plus" menu option.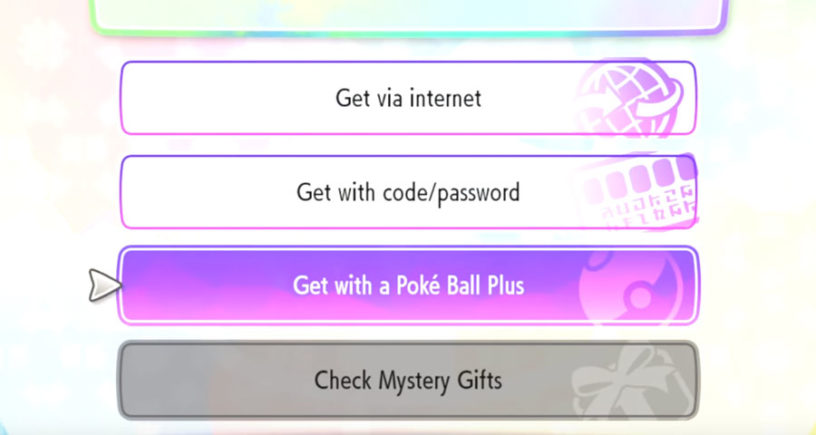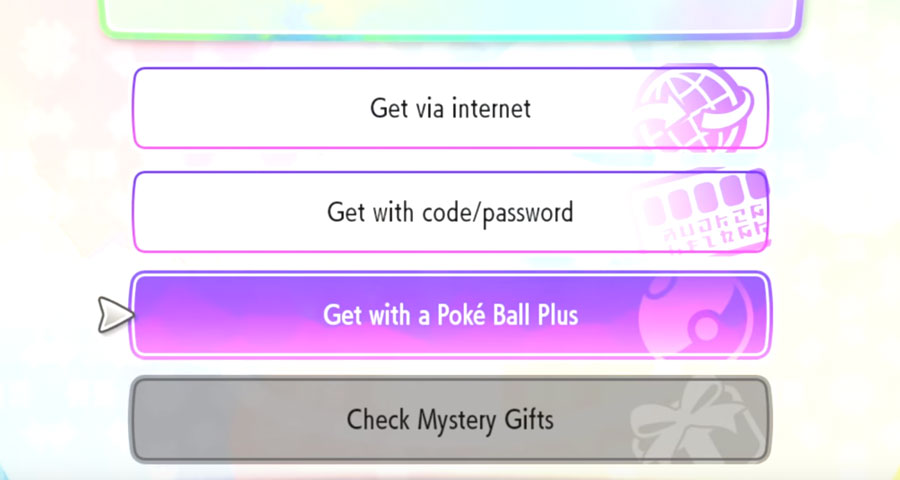 That's all you'll need to do! Once you've hit that button you will receive a level one Mew. It starts with two moves, Pound and Swift. However, the main attraction of Mew is that it can learn any TM in the game. You can really have yourself a diverse Pokemon.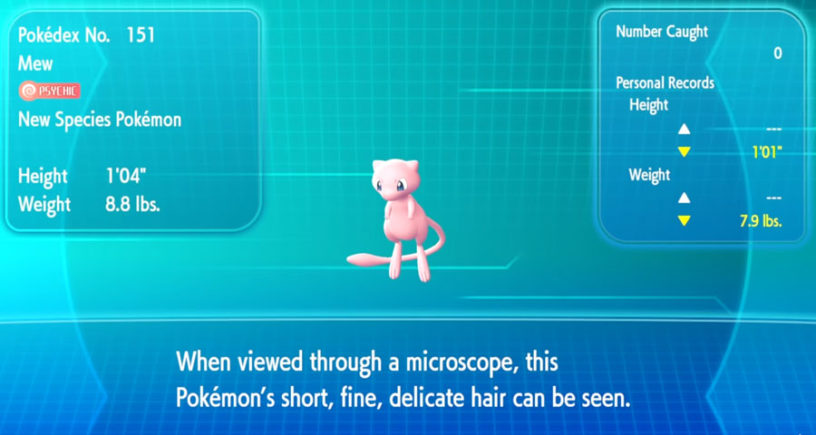 Mew's Nature & Other Information
You can't use the Fortune Teller to influence Mew's nature. If you were hoping for a specific nature for Mew, unfortunately you are out of luck. You'll get whichever nature that ends up coming out of the Mystery Gift.
You can't reset it, once you've downloaded your Mew then that's it.
Mew starts with Pound and Swift as its first moves, and is level one when you receive it.
More Uses for the Poke Ball Plus
Now that you have a Poke Ball Plus you might as well get some more use out of it!
Take Your Pokemon for a Walk
Now, while one of the main attractions of the Poke Ball Plus is being able to get a Mew, you can also use it for other things. One of those things is taking anyone of your Pokemon for a jaunt around the block. If you go to the menu and hit save, there's an option to "Take your Pokemon for a Stroll". Once you've done this, you can take the Poke Ball with you and it will gain experience as you travel around. Not only that, you can play with your Pokemon while it's in the ball by moving the joystick around.
If you don't want the Pokemon to make sound while you walk around or are playing with the joystick, you can press the top button and the joystick button simultaneously. This will mute the sound, and you can press the buttons again to un-mute.
Connect Your Poke Ball Plus to Pokemon Go
To get even more mileage out of your new controller, you can connect it to Pokemon Go on your mobile device. This allows you to do things like catch Pokemon and even get items from Pokestops. If you've heard of the Pokemon Go Plus, then you will be familiar with a lot of the features. Here's a breakout of what the colors mean when you are taking this thing out in the real world.
The controller will also vibrate when this happens. Once it does, just press the top button on the ball and it will react based on the situation (attempt to catch the Pokemon or grab the items from the Pokestop).
Flashing Green: Encountered a Pokemon.
Flashing Yellow: Encountered a Pokemon species for the first time.
Flashing Blue: Encountered a Pokestop.
Flashing White: Attempting to catch a Pokemon after a ball has been thrown.
Flashing Red: Missed your attempt at a Pokemon or your inventory is full.

Flashing Green: You can attempt to catch the Pokemon again.

Flashing Rainbow: You've caught the Pokemon or gotten the items from the Pokestop.
So, if you are a big fan of Pokemon Go and have always wanted the Plus, then this is a nice thing to have because it doubles up as a controller for the Switch and as an item you can take on the go!