Our Pokemon Sword and Shield Starters Guide will walk you through everything we know about the grass, fire, and water Pokemon you will get to choose from when you start in the game. We're taking a look at any leaks about these Pokemon, and will eventually have information on their evolutions and final forms!
While we don't know all of the information on evolutions and moves for these Pokemon, we did get some potential new information from a leak that I will be referencing throughout the post. The leak was posted prior to the June 5th Pokemon Direct, and featured information that matched the new stuff we learned from that event. Like with all leaks, please take it with a grain of salt as it could be fake or things might change prior to the release of the game!
Grookey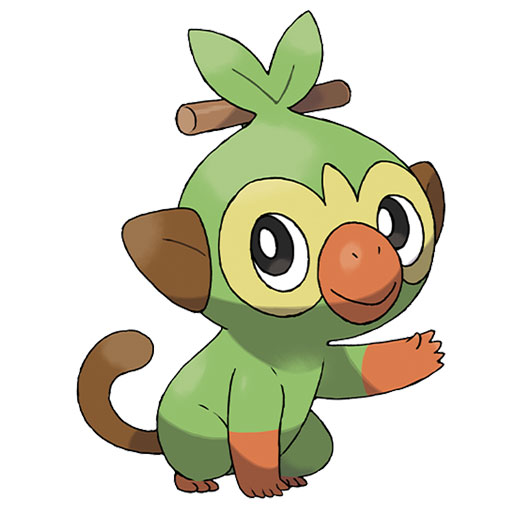 A mischievous Chimp Pokémon that is full of boundless curiosity.
Grookey is your pretty standard Grass starter Pokemon It will very likely have two different evolutions, which is the usual with starting Pokemon.
Category: Chimp Pokemon
Type: Grass
Height: 1'
Weight: 11 lbs.
Ability: Overgrow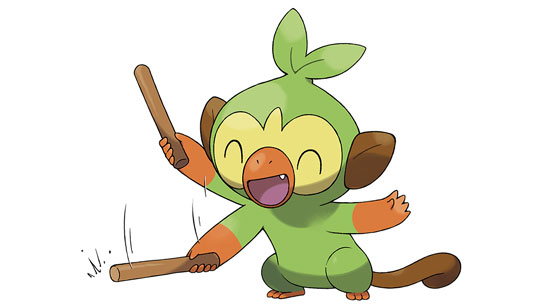 The stick held by Grookey was originally a branch from the forest where troops of Grookey live, but it's no longer a simple branch. It has gained special powers after being exposed to the energy within Grookey's body.

Its green fur creates energy from sunlight. Wilted flowers and leaves have been seen to regain their color when Grookey drums with its stick near them.
Grookey Leaks
Based on the leak, it looks like Grookey will end up in its final form as a giant gorilla that beats a wood drum to attack. This could be further confirmed by the artwork shown above that displays Grookey drumming the ground with a branch!
Pokemon Sword and Shield Coverage
Scorbunny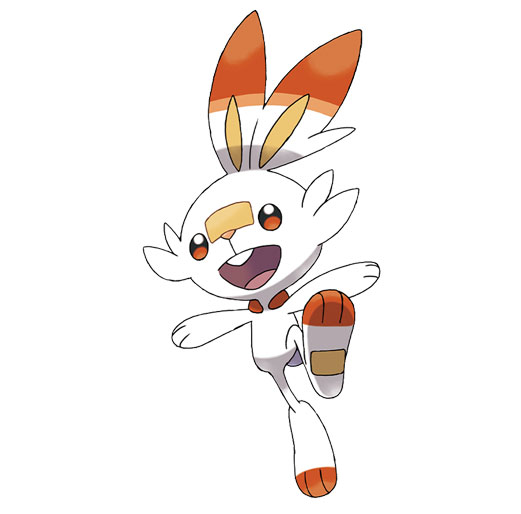 A Rabbit Pokémon that is always running about, bursting with energy.
Scorbunny is your fire type Pokemon of the starters. It joins a long line of fire starters, and has a lot to live up to due to Charmander being one of the most popular and recognizable Pokemon from the game.
Category: Rabbit Pokemon
Type: Fire
Height: 1'
Weight: 9.9 lbs.
Ability: Blaze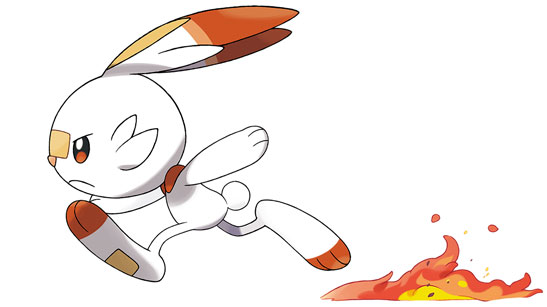 Scorbunny uses its powerful legs to run and jump around its opponents, confusing and disorienting them. The soles of its feet can become very hot, and Scorbunny can kick opponents to damage and burn them, too!

Scorbunny has a fire sac in its chest, which contains viscous fire energy. If Scorbunny is able to increase its heart rate and body temperature by running around and warming up properly, the true power of its fire energy will be awakened and its physical capabilities will greatly increase.
Scorbunny Leaks
Based on the leak, it looks like Scorbunny will eventually have some fighting moves. Its second form will be called "Raboot", and the final form will look like a fighter and have an appearance that looks humanoid.
Sobble
A somewhat timid Water Lizard Pokémon that shoots out attacks as it hides itself in the water.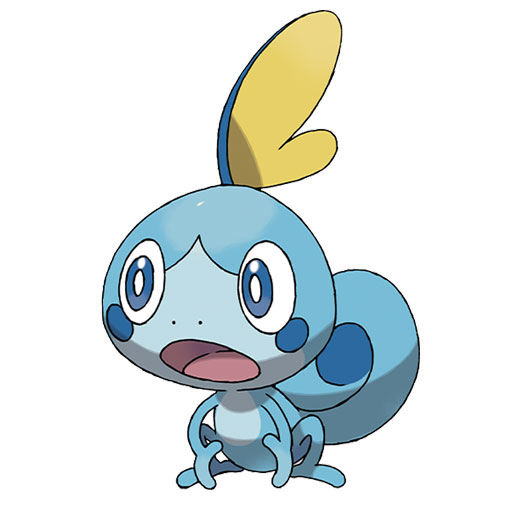 Sobble is your standard water type starter. It's a Water Lizard and will feature the Torrent ability. It will very likely have two evolutions, and could potentially feature a move that utilizes its tears to escape from battle!
Category: Water Lizard Pokemon
Type: Water
Height: 1'
Weight: 8.8 lbs.
Ability: Torrent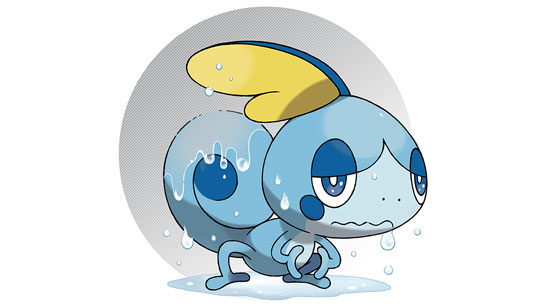 When Sobble touches water, its body changes its pattern and color, allowing it to blend into its surroundings. Sobble is a bit timid, and so if it gets nervous or embarrassed, it will secrete the water within its body like sweat and disappear into the surroundings.

Sobble's tears are capable of making others cry. This effect is so strong, it is said that its tears are as potent as 100 onions. If Sobble feels threatened, it will start to bawl and spread its tears around the area, causing everyone around it to start crying uncontrollably. Sobble will then use this distraction as a chance to escape.
Sobble Leaks
Based on the leaks, it looks like Sobble will indeed have two evolutions: Sizzile and Intelleon. The final form ends up being a kind of chameleon with a spy type theme. That makes sense with the play upon intelligence and Intelleon.