Our Pokemon Sword & Shield Cooking Guide walks you through all of the currently known recipes, ingredients, and takes a look at how you'll be able to cook up a storm! The new game features the ability to camp with your Pokemon, and one of the things you can do is cook up some curry in a pot. It's unclear at the moment what the food will do for you, but speculation is that it will give you certain buffs to your Pokemon.
Cooking Introduction Video
How-to Cook
The specifics of cooking are unknown at this time, but we do know for sure you'll be able to cook with four people at a time. They'll be able to help you with some of the following confirmed steps!
Fan the Flames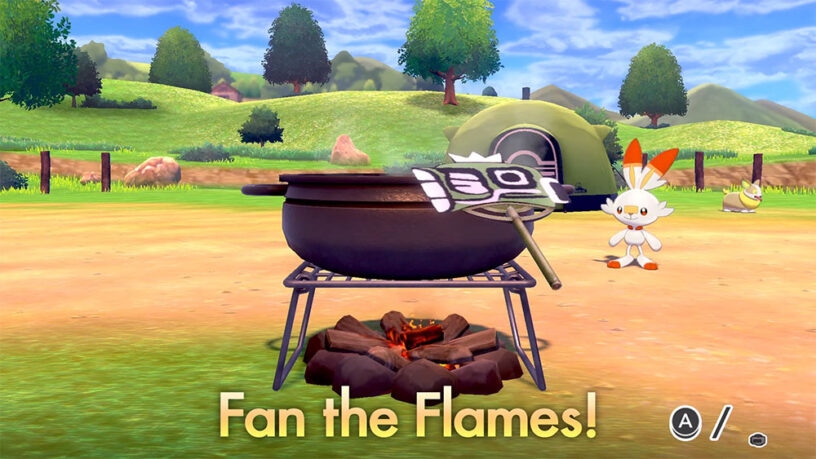 Looks like you'll be needing to heat up the pot by fanning the fire beneath it. You'll be using motion controls, pressing A and moving the joy con in a forward motion.
Stirring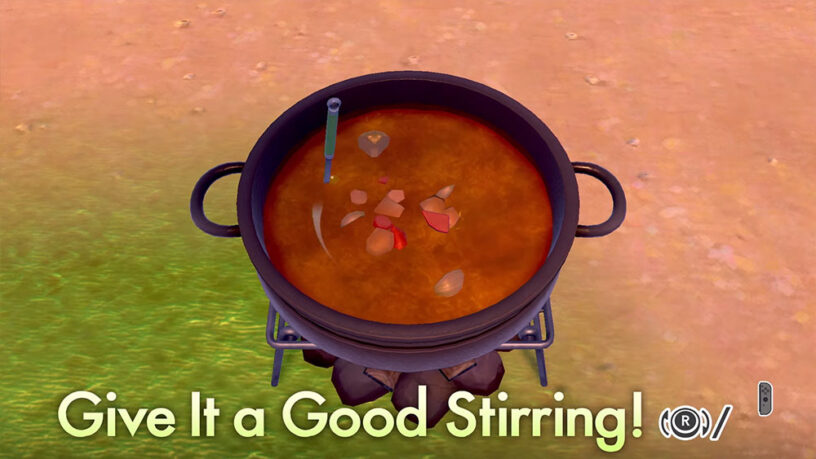 You'll also be stirring up the ingredients, it looks like you'll be rotating the R-stick and moving the joy con around.
Put Your Heart Into It!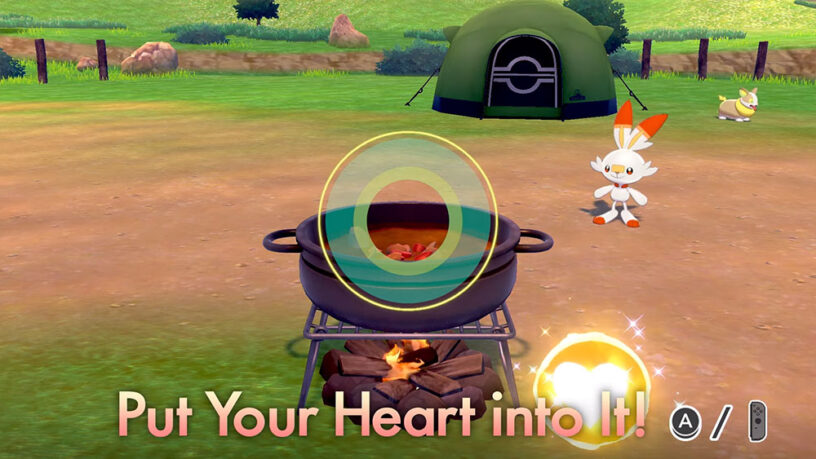 All cooking needs some love, so to do this you'll be waiting for the yellow circle to reach a certain point and you will throw your heart into the pot using the motion controls. This is kind of like catching Pokemon in Pokemon Go!
Food Ingredients
Here's just a few of the ingredients you'll be able to combine with berries to make your curry. We'll update the list with more once we've gotten a more detailed look at the mechanic!
Bach's Food Tin
Bob's Food Tin
Bread
Fried Food
Mixed Mushrooms
Pasta
Sausages
Spice Mix
Tin of Beans
Recipes List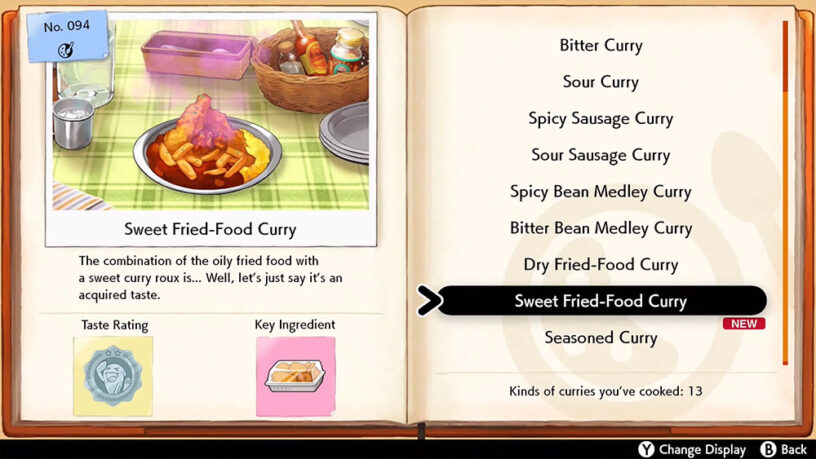 We've gotten a brief look at some of the recipes that are available, there's supposed to be 100 different types of curry/recipes! As far as we can tell, you can only add one Key Ingredient, but it remains to be seen if that's true. You'll also be able to add a bunch of berries of your choice to each recipe.
Bitter Curry
Unknown.
Bitter Bean Medley Curry
The bitterness of the curry roux neutralizes the taste of the beans. Even those who hate beans can enjoy this dish.
Key Ingredient: Tin of Beans
Curry
The aroma of the Galar masala tickled the nose in this extremely simple, basic curry.
Dry Fried-Food Curry
The fried foods are cloaked in a thick layer of oil. Even the dry seasoning has been dulled.
Key Ingredient: Fried Food
Dry Pasta Curry
Unknown.
Spicy Curry
The aroma of the Galar masala brings out the simple spiciness in this extremely basic curry.
Sausage Curry
The taste of the boiled sausage really comes out in this curry thanks to the simple seasoning.
Key Ingredient: Sausages
Seasoned Curry
A strongly seasoned, stimulating, spiced dish. Truly a curry for the curry lover.
Key Ingredient: Spice Mix
Spicy Sausage Curry
Unknown.
Sweet Fried-Food Curry
The combination of the oily fried food with a sweet curry roux is... Well, let's just say it's an acquired taste.
Key Ingredient: Fried Food
Toast Curry
Even if you don't like the idea of eating two kinds of carbs, they're quite filling. It's an extremely amateurish meal.
Key Ingredient: Bread