Every character in Triangle Strategy is built differently. Each of them have unique skills, terrain advantages, and a variety of uses depending on the situation. Some units work better with others. Others are great for farming coin or items but shouldn't be taken to main stage battles.
In this guide, we'll teach you how to use Giovanna, the geologist from Aesfrost.
Giovanna character guide
Giovanna is a tricky character to use for the simple reason that her utility changes depending on the map.
She can heal on water.
She can immobilize enemies on grass.
She can deal magic damage if she's either on fiery or wintery terrain. If you have Corentin or Frederica deployed, Giovanna can step on the ice or fire that they make and deal magic damage of the same attribute.
Related: Triangle Strategy Unit Tier List
But mostly, we like Giovanna as a secondary healer (with Splash) who can trigger follow-up attacks from afar. She can walk further than cavalry and hawk fliers. While not powerful, her Rock Toss ability has a three-square attack range. She will never run out of TPs as long as she moves at least five squares on her turn.
If you're using Giovanna as a healer, consider taking Ezana with you. Ezana has a skill called Rite of Rain, which produces puddles. Giovanna can heal any of her allies, no matter how far, because of this.
Giovanna's speed is not ideal—equipping speed accessories will grant her more turns.
Class promotions and weapon upgrades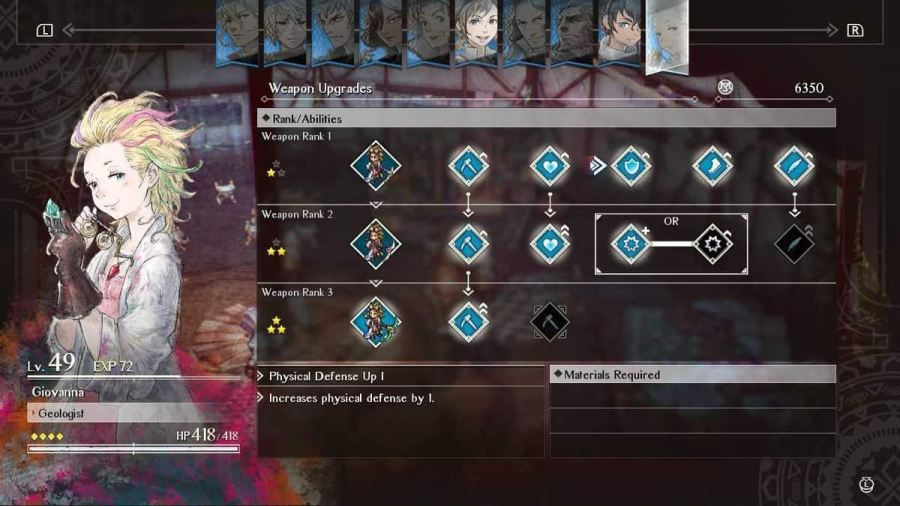 Since Giovanna will be mostly trekking alone, upgrade her HP, defenses, and movement first. At Weapon Rank two, unlock the upgrade that increases the range of Rock Toss.
Weapon Rank three unlocks Gaia's Roar, which deals big damage on any terrain. You can unlock it, but it's not a priority especially if you're low on resources.
Giovanna doesn't need the promotion immediately. However, it is useful for her kit, as Elite class gives her really big stat boosts. More specifically, the HP and defense boosts will increase her survivability. It also unlocks the ice magic skill Gelid Barrage. It's similar to Scorched Earth but is of a different attribute.
For more help with Triangle Strategy, take a look at some of the other articles here at Pro Game Guides.