You are not alone if you are currently getting a failed to authenticate from external provider error in PUBG. The failed to authenticate error is extremely common when PUGB gets a high influx of players. Luckily, you can easily fix the PUBG failed to authenticate error with a few troubleshooting steps. We recommend following the steps below until you find one that works and fixes the problem.
Close and restart Steam client
Verify Steam Files
Restart PC
Put Steam into Offline mode and restart
If putting Steam into Offline mode or closing and restarting doesn't work, then you must try verifying Steam Files or restarting your PC. But if the problem persists even after these two steps, the error could be caused by a broader server issue.
If a broader server issue causes the error, then there is not much you can do beyond waiting for the problem to get fixed. You can check to see if there are server issues by visiting a site like Downdetector or the official Twitter account for PUBG. Doing so will allow you to see if PUBG is currently down or if there are any server issues affecting it.
How to close and restart Steam
To use the close and restart Steam client method, you must first hit CRTL+ALT+DELETE and open the Task Manager. After hitting CRTL+ALT+DELETE a list of options will appear, with Task Manager being the last option. Click Task Manager and then find the Steam client under the list of Processes. When you find the Steam Client, right-click it and then click End Task. Make sure to close both Steam Client Service and the Steam Client Bootstrapper or Steam Client 32 bit. Doing so will close Steam and allow you to restart by relaunching it. After relaunching Steam, PUBG should launch as normal.
How to put Steam into Offline Mode
To put your Steam client into Offline mode, you must click the Steam option at the top left of your screen. Doing so will make a list of options, with one being Go Offline. Click Go Offline and then relaunch Steam back into Online mode. Afterward, launch PUBG, and it should work again.
How to verify PUBG Steam Files
To verify PUBG Steam Files, find the game in your game library and right-click its icon. Doing so will make a list of options appear, click the one that says Properties. Clicking Properties will make a small tab appear with a list of several options. In this small tab, find the one that says Local files, and you can verify PUBG Steam Files by using the Verify integrity of Steam Files option. See the image below for an example of what to look for under the Properties tab for PUBG.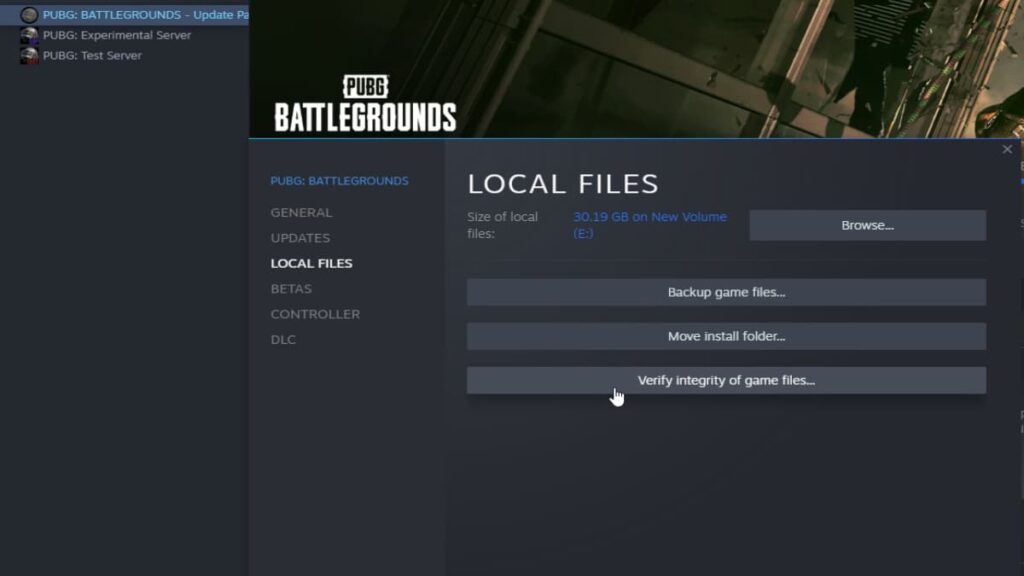 For more on PUBG, we at Pro Game Guides have you covered with a host of articles like Best graphics settings for high FPS in BGMI and PUBG Mobile 6 Best Drop Locations in PUBG Troi Map.