If you're looking to start farming in Raft then you're going to need to locate some dirt. This is a lot more difficult than you'd think, so we're taking a look at how you can get dirt in Raft in this guide!
While obtaining Clay and Sand is vital in the early game, collecting dirt in the mid-to-late game is going to be important to expanding your raft and creating a more self-sustaining ecosystem on your floating barge. To obtain dirt, you will need to get further into the story, which requires some particular items!
How-to Get Dirt
The basics to getting dirt is that you need to land at a Large Island and dig it up with a shovel. It's a fairly rare spawn, you can't just dig anywhere on the island, you will have to dig in certain spots to collect the dirt. Here are the steps required to get to that point.
Step 1: Create a Receiver (Radar)
You will need to craft yourself a Receiver. This is basically a radar that allows you to locate larger locations in the ocean of Raft. You will need 8x Plank, 6x Plastic, 2x Circuit Board, and 1x Hinge to create it. You will also need three Antennas placed on the same level as the Receiver to get a signal. These require 4x Scrap, 1x Circuit Board, and 1x Bolt for each of them. You need to place them on the second floor or higher of your Raft.
A Battery is also required, this can be built with 1x Copper Ingot, 6x Plastic, and 3x Scrap. The Battery powers the Receiver, and it will run down if you leave the radar on. Make sure to turn it off when you aren't using it. You are going to at the very least need to have the Smelter in place to create what you need.
Step 2: Find the Radio Tower
If you have the three Antennas in place, the Receiver, and a Battery placed into it you should see a blue marker on the radar. You will need to steer your Raft towards that by using a Paddle or Sail to make you move in the direction of the Radio Tower.
Once you've made it to the location, explore the area and collect everything available before leaving.
Step 3: Find a Large Island
Now that you have been to the Radio Tower, you should hopefully start to notice green markers on your Receiver. These are Large Islands, and are the locations of where we can find dirt! Check your radar periodically and look for one of these areas. Once you find one, head towards it and stop your boat nearby.
Step 4: Craft a Shovel
To collect the dirt, we're going to need a Shovel! This requires 1x Metal Ingot, 1x Bolt, and 6x Planks.
Step 5: Look for a Cave on the Large Island
Run around the island and look for an opening in the mountain, or look for a cove that you can swim through to enter into a cave. This is going to be the most reliable way to find dirt, sometimes the piles can rarely spawn outside of a cave. Once you find yourself a cave, look for piles like this one and use your Shovel to dig it up: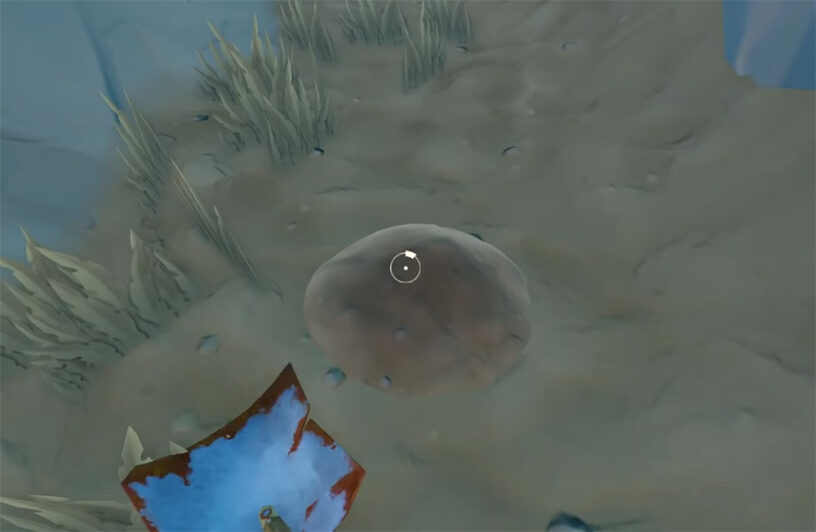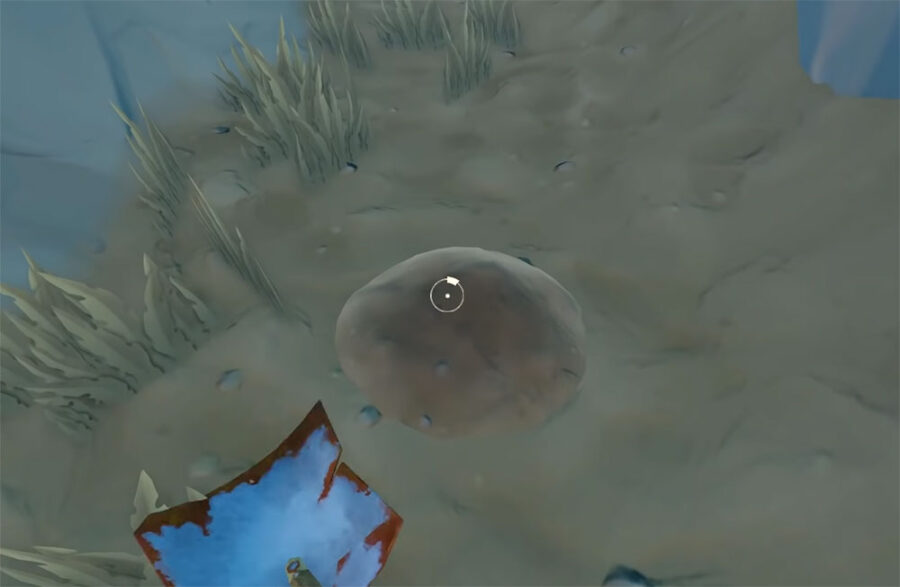 You can generally find 3 or 4 dirt per island, so don't expect to find a whole lot! These caves also usually have Mushrooms to collect, so look around for some of those. Be sure to explore around the island more, there's some rare stuff you can find and plus you can hunt down some Poison-Puffers in the water to get some Explosive Goo!
Now that you have dirt, you can use it to create Grass Plots! These are used to feed animals, and you can use them to obtain Eggs in Raft! That's everything you need to know about collecting dirt in the game! If you have any questions, let me know in the comments.