One of the ways Ratchet & Clank: Rift Apart players can augment their experience is by switching their armor sets. Different armor sets can give varying advantages during gameplay, providing stat bonuses to players when a set is equipped. But what are the best armor sets in the game? Check out the best gear players can use when playing Rift Apart.
Imperial Armor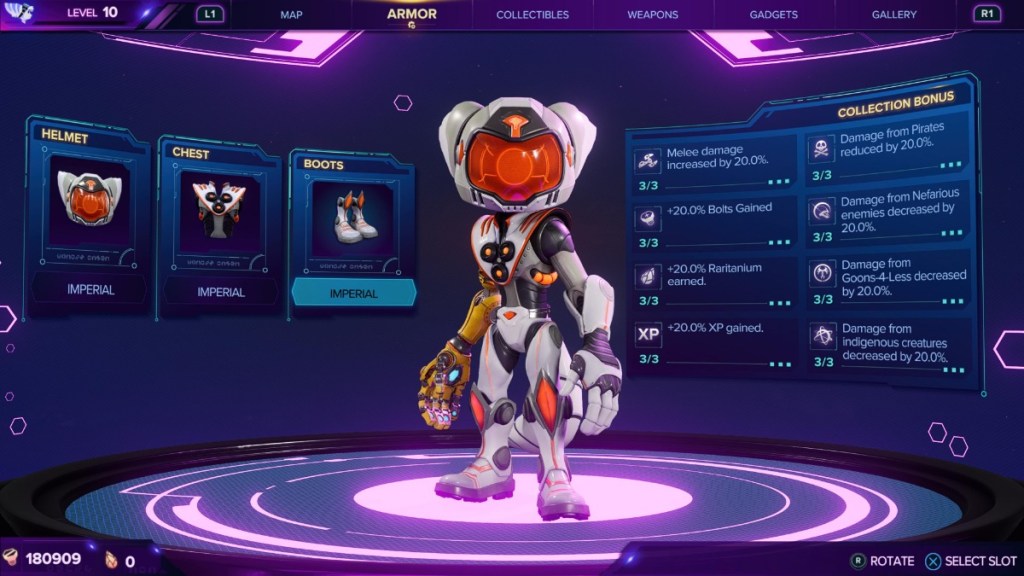 While some armor sets offer stat bonuses, others focus exclusively on looks. Players feeling a bit nefarious will feel right at home in the Imperial Armor set. Fashioned after Emporer Nefarious's color scheme, it lets the Lombaxes feel the rush of royalty. Just bear in mind that it doesn't actually improve your abilities.
Basic Armor
If it ain't broke, why fix it? The original armor sets for Ratchet and Rivet are simple yet captivating. They may not offer any gameplay advantages, but it's hard to find a look as natural or as cohesive as this.
Wasteland Gear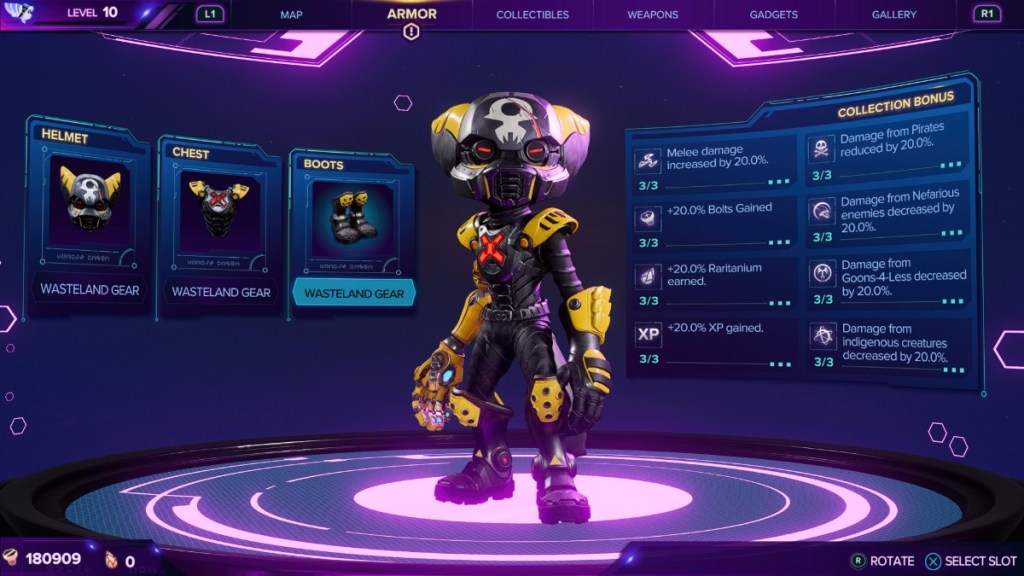 Sometimes the best offense is a good defense. That's the mantra the Wasteland Gear aspires to; this gear reduces damage taken by indigenous creatures by 20 percent. If players are in a bit of a bind on a planet filled with wildlife, this armor is their best bet at survival.
Captain Starshield Armor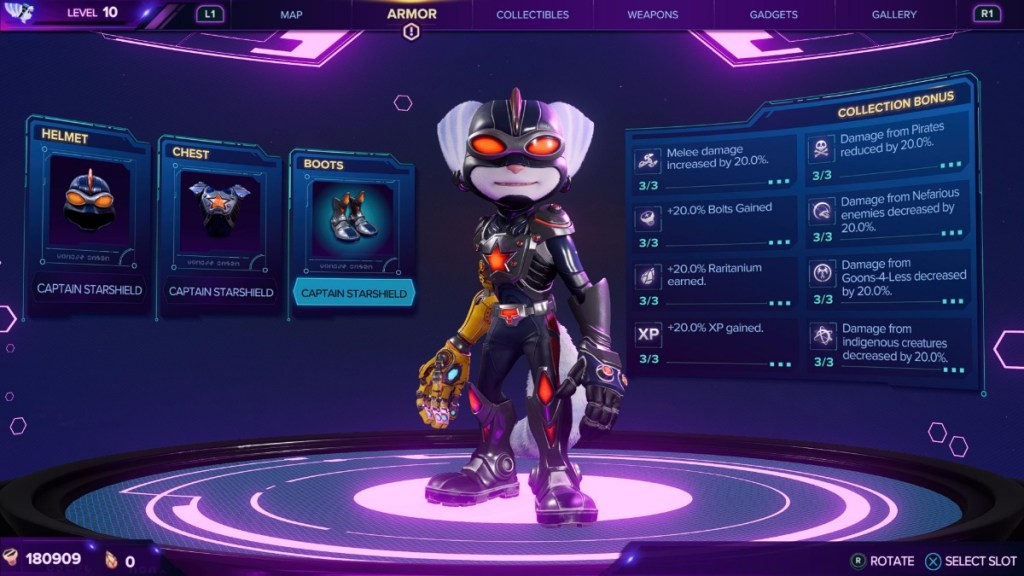 Another way to prevent dying to the game's many enemies is by leveling up. Each time Ratchet and Rivet level up, their max health increases as well. What better way to level up than with Captain Starshield's armor set? This goofy getup bolsters experience earned by 20 percent. It won't take long for a Lombax wearing this armor to reach max level.
Q-Force Armor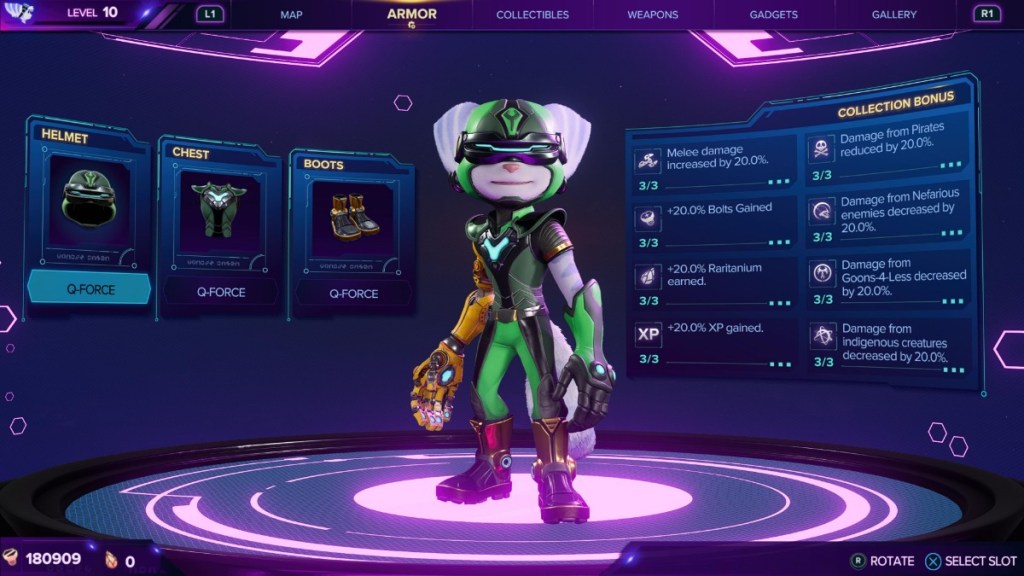 If mercenaries are an obstacle, the Q-Force armor set is the perfect tool to use against them. This collection reduces the damage taken from Goons 4 Less by 20 percent, so it's well worth the investment when Nefarious's hired helpers show themselves.
Lombax Praetorian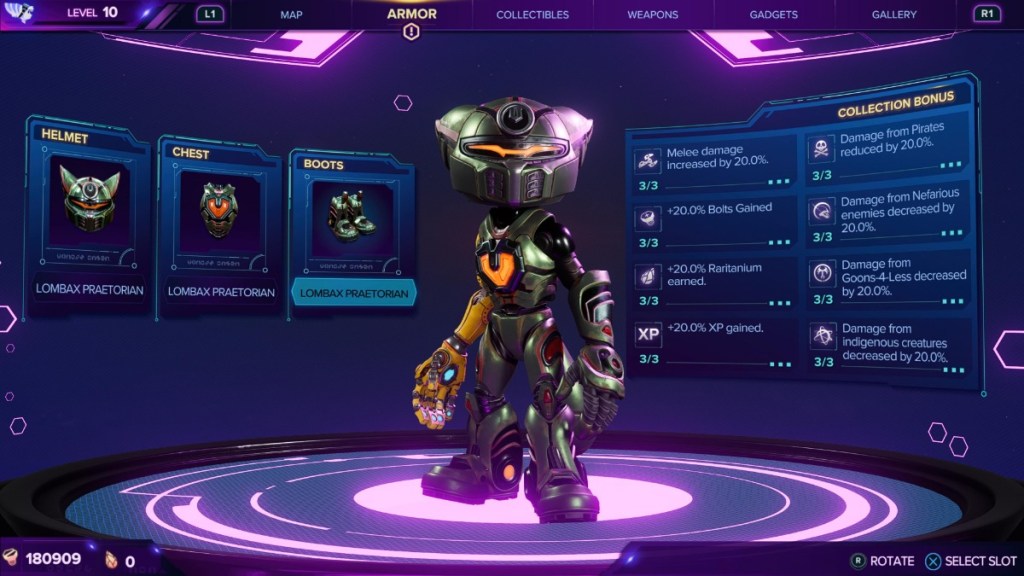 While protection against damage is important, weapons are just as integral to Ratchet and Rivet's success on this inter-dimensional adventure. If Raritanium is your aim, the Lombax Praetorian set is a must. It increases the number of crystals the Lombaxes can harvest by 20 percent, meaning their weapons will be enhanced in no time.
Robot Disguise Armor Set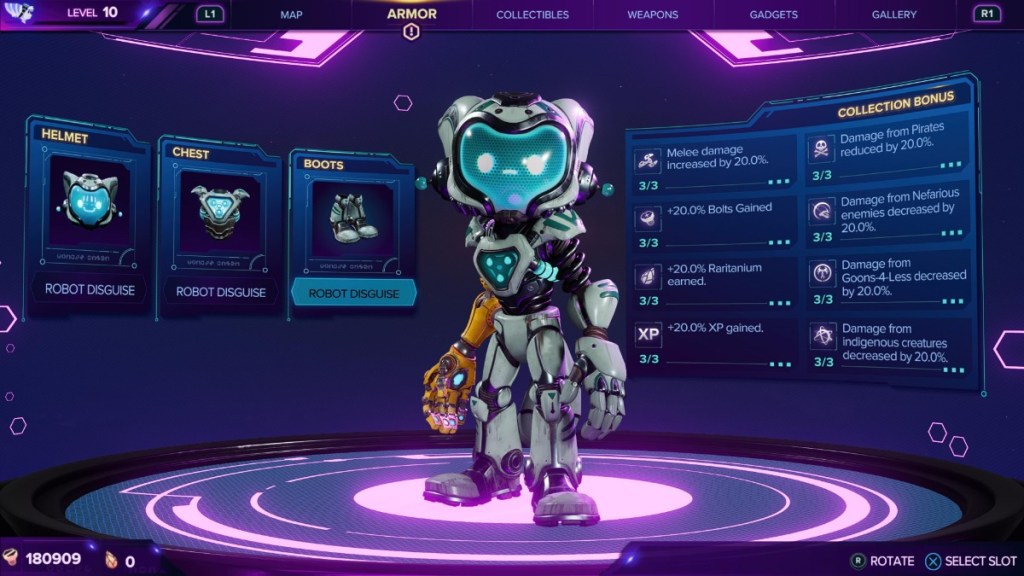 If Ratchet and Rivet are facing down some of Nefarious's helpers, the Robot Disguise will make sure they see the end of the fight. This cute suit makes sure that damage from Nefarious's goons is reduced by 20 percent. This way, players can fight the baddies without worrying about losing too much health in the process.
Related: How to Speed Up PS5 Downloads
Galactic Ranger Armor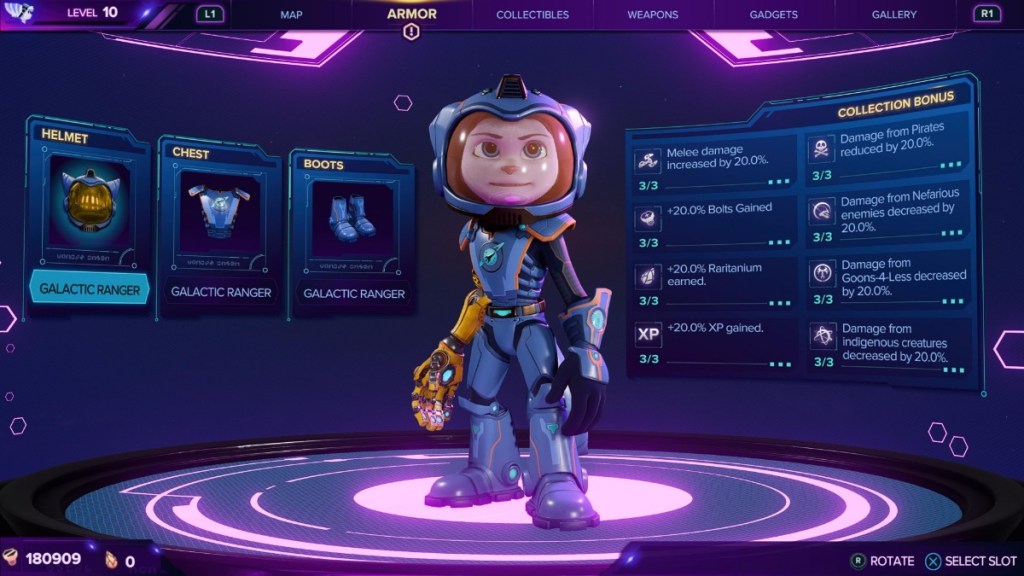 If enemies are up close and personal, there are few tools better to deal with them than Ratchet's Wrench of Rivet's Hammer. The great thing about melee weapons is they never run out of ammo! Couple these hard-hitting tools with the Galactic Ranger armor, which enhances melee damage by 20 percent to wallop foes harder than otherwise possible.
Robot Pirate Armor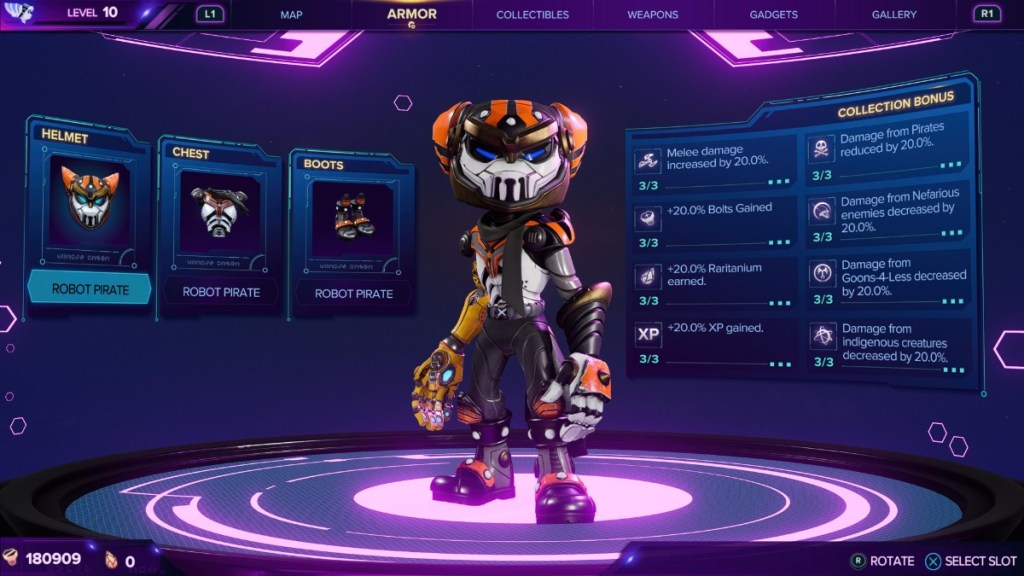 In the latter levels of the game, there are an exorbitant amount of robot pirates, and they'll shred Ratchet and Rivet's health if they get the chance. That's why the Robot Pirate Armor is so handy towards the end of the game. This set reduces the damage that these enemies can doll out by 20 percent, giving the Lomabaxes a bit more room for error in their firefights.
Carbonox Advanced Armor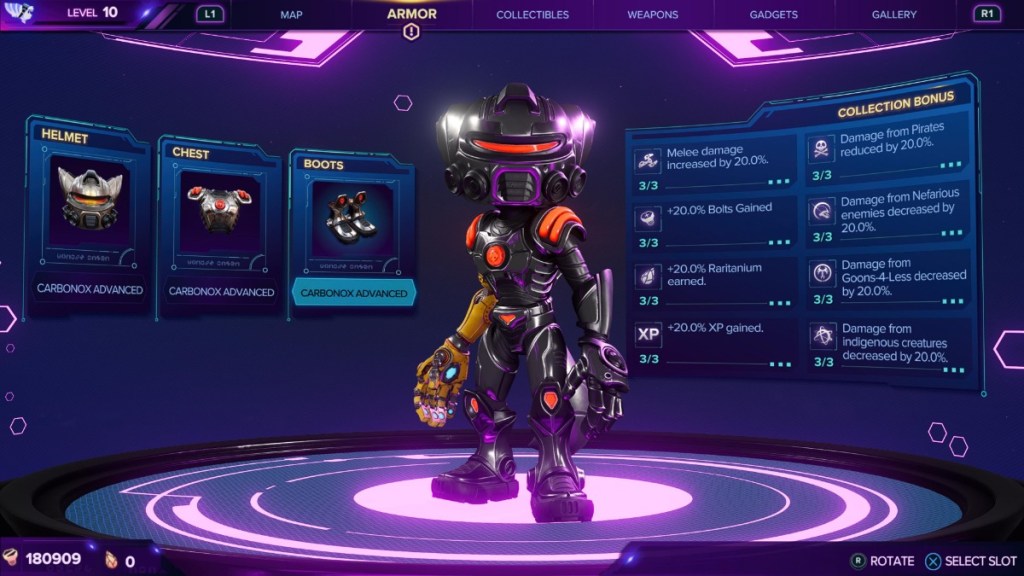 Few armor sets are as sleek, intimidating, or as useful as the Carbonox Advanced Suit. This gear will increase the rate at which Ratchet and Rivet accumulate currency. Wearing this flashy suit will net the dimensional duo an extra 20 percent on bolts when collecting. This set is a must for those looking to buy all of the game's wild weaponry from Ms. Zurkon.
For more on Ratchet & Clank: Rift Apart, check out All Ratchet & Clank: Rift Apart Cheats or Ratchet & Clank: Rift Apart - How to Unlock the Pixelizer.