The Ratchet & Clank series is no stranger to wacky weaponry. This continues to be the case in the most recent entry: Ratchet & Clank: Rift Apart. With so many new weapons open to players, it can be overwhelming trying to find what weapons work the best.
While each of the game's 20 weapons is useful, some perform well against each of the game's wide variety of enemies. Make sure to grab these weapons to destroy any enemy in your path as you make your way through the game's different dimensions.
Burst Pistol/Blast Pistol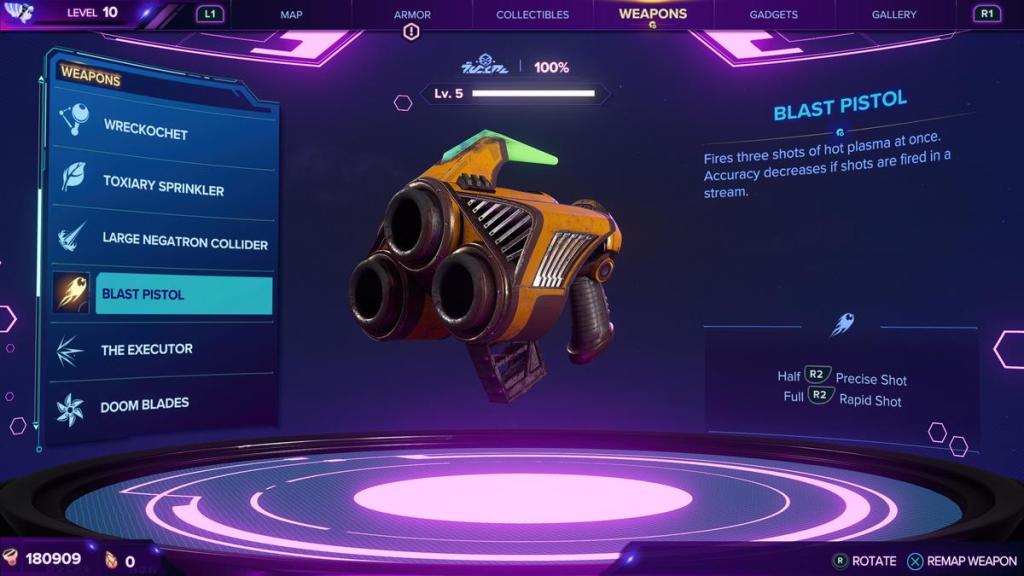 The game's starting weapon is also one of its most versatile. The Burst Pistol fires a stream of small bullets at two speeds depending on how hard the trigger is pressed. With an impressive range and reasonable damage, players can take down enemies from anywhere in the area. It upgrades to the Blast Pistol at level 5, shooting three shots at once instead of one.
Drillhound/Drillpack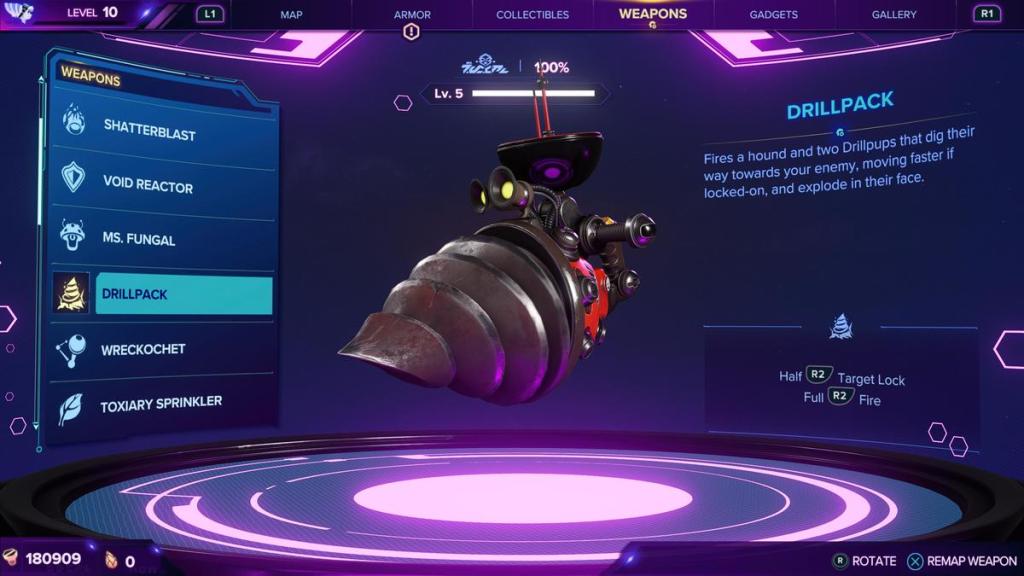 Looking for a weapon that chases enemies down? Try the Drillhound! This weapon fires powerful living drills spiraling towards enemies. These weapons can even lock on to adversaries, hunting them down. Once it's fully leveled up, it becomes the Drillpack, spawning two Drillpups with each Dillhound shot.
Mr. Fungi/Ms. Fungal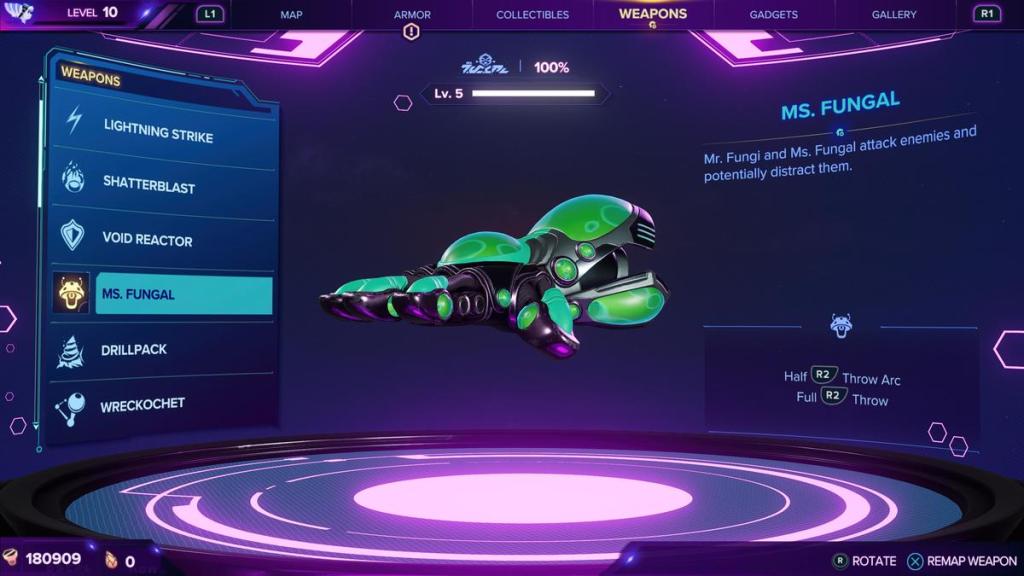 Why settle for one stream of bullets when you can have multiple? Mr. Fungi is an ally that shoots enemies alongside Ratchet and Rivet. Hitting max level with this weapon will upgrade the weapon to Ms. Fungal, granting players a second ally with each use.
Topiary Sprinkler/Toxiary Sprinkler
Having trouble with mobile enemies? Try the Topiary Sprinkler. This weapon plants enemies in the ground and makes them more susceptible to damage. It'll eventually become the Toxiary Sprinkler that deals damage as it freezes enemies. Use it alongside other guns to take care of enemies quickly.
Related: Ratchet & Clank: Rift Apart - How to Unlock the Bouncer
Warmonger/Peacemaker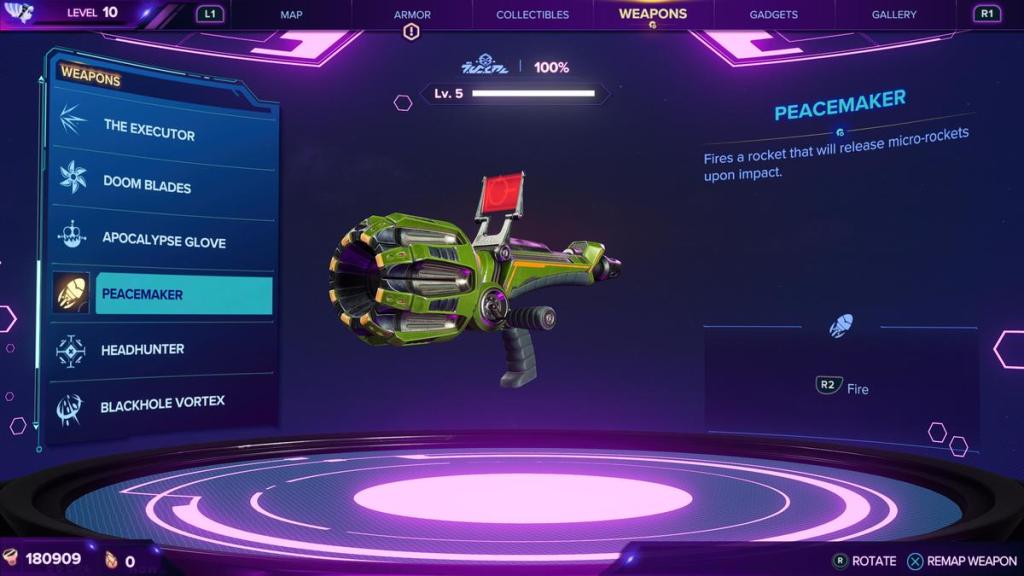 The Warmonger is a simple rocket launcher, but sometimes there's beauty in simplicity. Just aim and pull the trigger to send a powerful warhead hurtling towards enemies. Warmonger's evolution, the Peacemaker, is even more powerful, spawning micro-rockets on impact.
Lightning Rod/Lightning Strike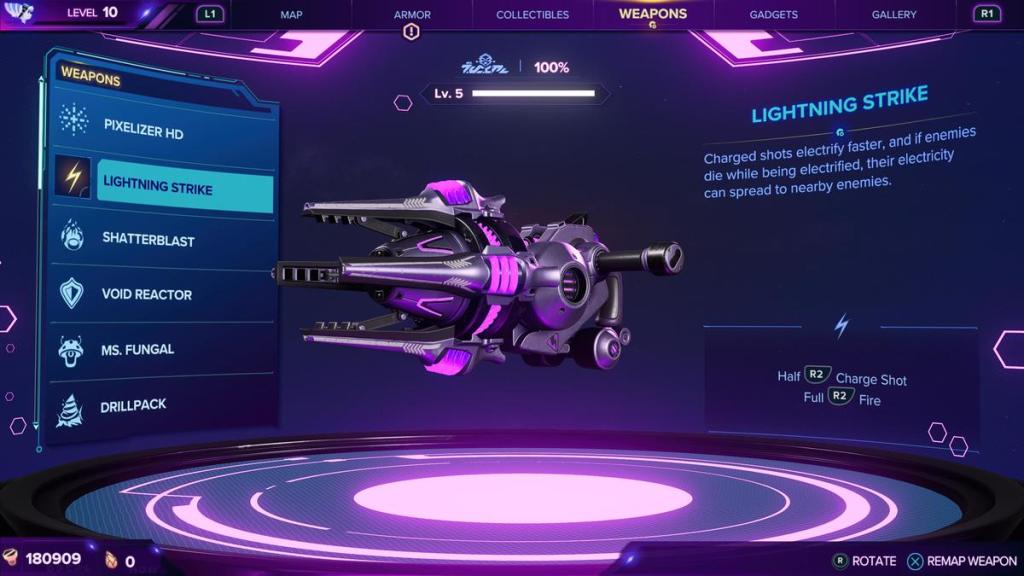 If the Burst Pistol isn't effective enough for you, try out the Lightning Rod! This pistol fires conductive shots that chain electricity between enemies, stunning them in the process. It's a great tool to slow enemies down, and it packs quite the punch. The Lighning strike chains electricity even faster and enemies killed with the weapon might even spark nearby enemies.
Blackhole Storm/Blackhole Vortex
If you're interested in a long-range weapon with a lot of power, pick up the Blackhole Storm. Once it heats up, this minigun unleashes a hail of bullets that stun and shred enemies. Just make sure to keep your eyes on the overheat gauge. Upgrade it to the Blackhole Vortex to cause enemies killed with it to explode.
Richochet/Wreckochet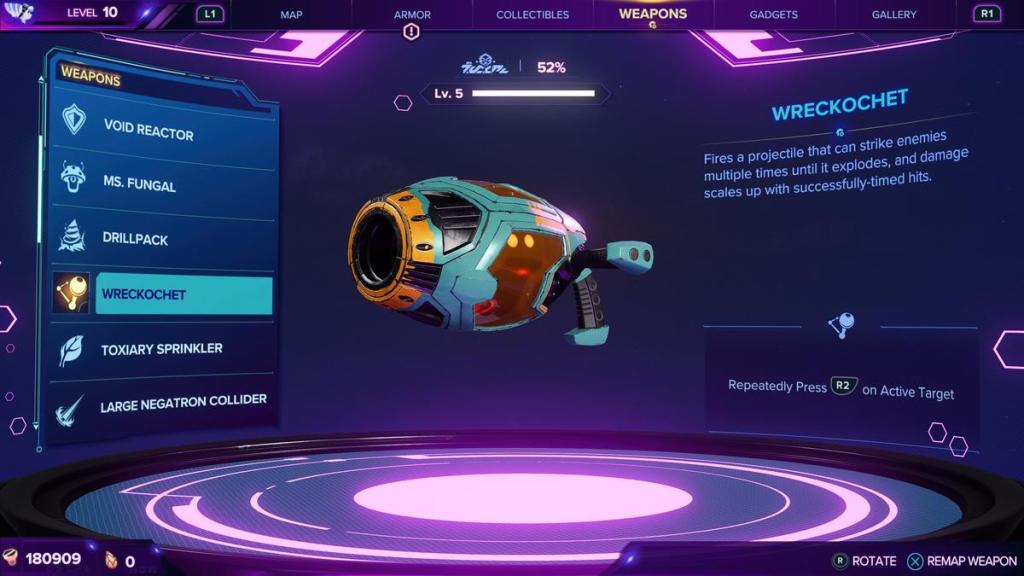 For a weapon that hammers damage home, pick up the Richochet. This weapon fires a bullet that can repeatedly strike the same enemy from their blind spot, continually stunning them as well. Any shots that don't connect are returned to Richochet's magazine. This gun's final form is the Wreckochet, and it adds some extra kick to each shot. It's the perfect weapon for guaranteed damage.
Glove of Doom/Apocolypse Glove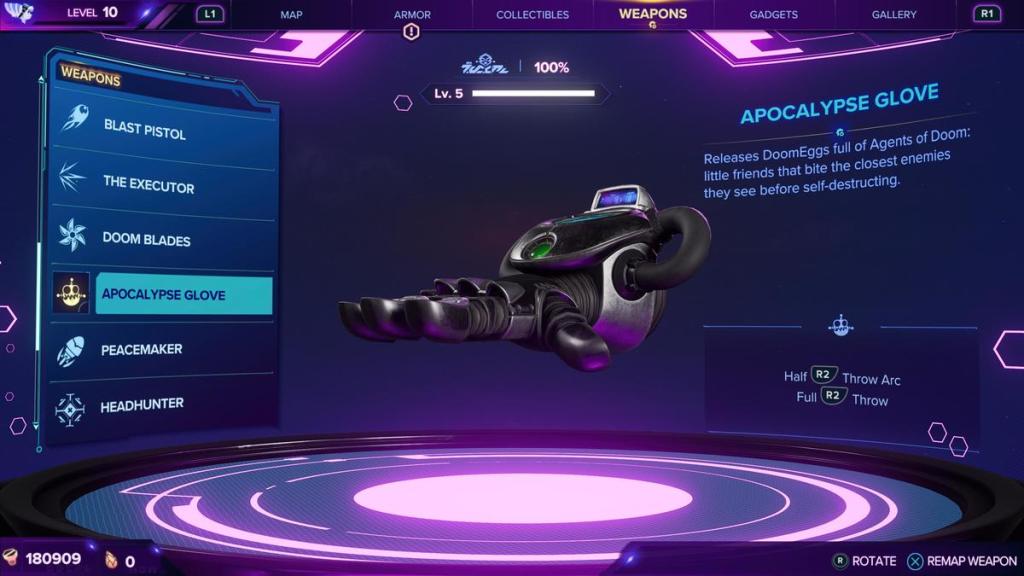 Another minion spawning weapon, the Glove of Doom, creates several Agents of Doom that follow Ratchet and Rivet, tracking and attacking nearby enemies. You'll get your bolt's worth when you purchase these ferocious automatons. It transforms into the Apocolypse Glove with enough use, and the robots from this version self-destruct as well.
Ryno 8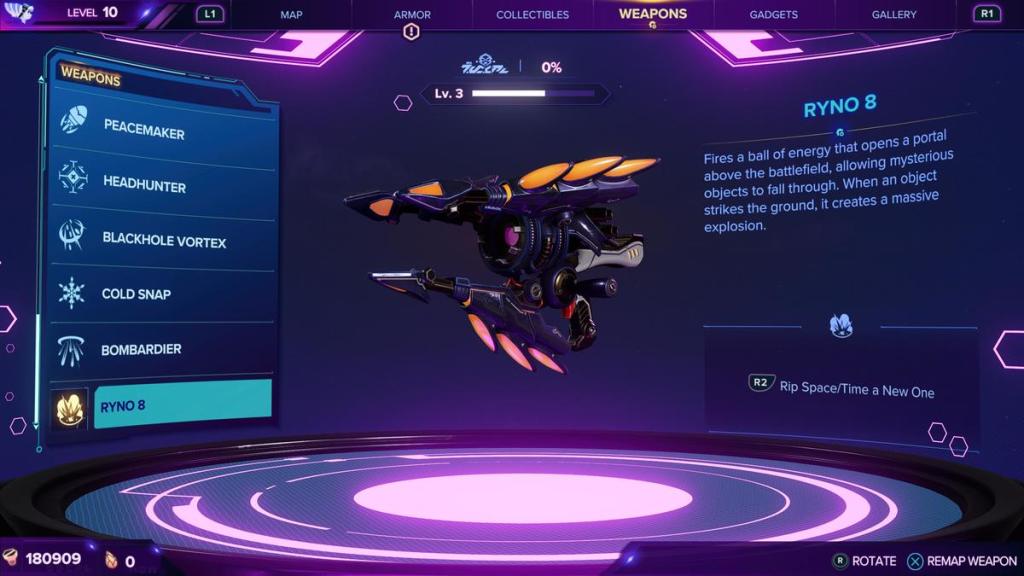 The game's flashiest weapon is the RYNO 8, which opens a portal to another dimension, dropping debris from other worlds to crush enemies. To unlock this Weapon, players will have to track down the game's 10 hidden Spybots.
For more on Ratchet & Clank: Rift Apart, check out Ratchet & Clank: Rift Apart - Shatterbomb or The Enforcer, or Is The Ratchet & Clank: Rift Apart Deluxe Edition worth it?