If you want to play around with the specialist roles or get certain items in Red Dead Online, you will need to farm gold. 
How to get gold fast in Red Dead Redemption 2 Online
There are several ways a player can get gold in Red Dead Online; however, be warned as you are in for one heck of a grind. But overall, if you are a regular player, it shouldn't be too hard to get a steady flow of gold if you follow the methods we have listed below. 
Complete Missions (Story and Stranger)
Spread throughout the massive open world of Red Dead Redemption 2 Online are countless missions waiting for the player; doing these missions will reward you with a steady starter income. Because of this, we recommend playing through the entire story campaign and completing stranger missions as you explore the open world of RDR2 Online.
Find Treasure Maps
Just like the story mode, RDR2 Online also has various treasure maps you can find and gain as rewards every time you level up. These maps are also an excellent source of gold as well on top of other farming methods. In short, when you get one of these maps, they will lead you to a highlighted location where you will need to search for a chest; if you find the chest and open it, you will usually gain some money and gold.
Complete Daily Challenges
Every day, Red Dead Online will update a list of challenges players can complete to earn a small amount of gold. The challenges are relatively easy and will usually involve you doing anything from hunting animals, gathering herbs, or killing players in a particular way. 
That said, doing these challenges every time you log in or in between missions is a sure-fire way to keep the gold flowing. Along with this, if you keep completing them, you will start to earn bonuses from the seventh day to the twenty-eighth day of completing them. If this sounds good to you, you can find all daily challenges under the game's multiplayer menu.
Farm Bounty Hunter Missions
The next best way for you to get gold in Red Dead Online is to farm the various Bounty Hunter missions in the game. However, like many things in this game, these missions tend to be a grindy affair. You will also need to spend 15 gold bars before you can even complete these missions. 
Along with that, it will be a while before you will see a return on your initial investment, as the regular missions only give you a small amount upon completion. Because of this, we recommend trying your luck with the legendary bounties, as you will get a more generous amount that will increase as you do them.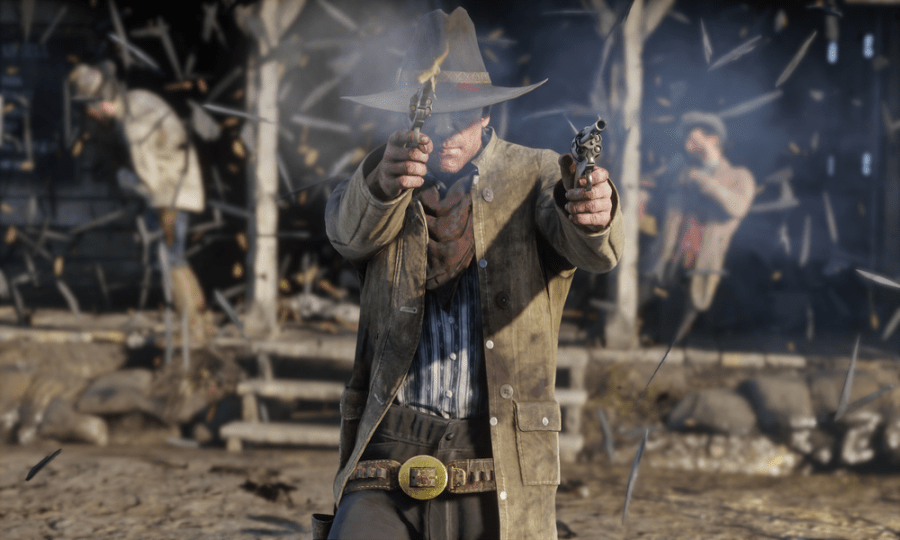 Buy Gold Bars
The last option is the easy route, which is to simply buy the bars for your platform's store or the rockstar store with real-world money. You can also find the option to buy gold bars from the in-game menu. Along with this, we will have all of the gold bar purchase options listed below. 
25 Gold Bars: $9.99
55 Gold Bars: $19.99
150 Gold Bars: $49.99
245 Gold Bars: $74.99
350 Gold Bars: $99.99
For more on RDR2, We at PGG have you covered with guides like how to change your gender and Where to buy masks in Red Dead Online.