Get ready to rumble with Roblox Bro Rescue Simulator! Build up your strength and then smash down those walls to gain wins. Pick up potions, pets, and rebirths too, and transform your style with the Bro Ops you find! All of which is easier with a few codes.
Bro Rescue Simulator codes can give you all kinds of rewards, such as Strength, Wins, and potions. If a lot of codes are available, remember you may want to use the rewards to rebirth, which uses up strength. Remember to rebirth before using all the codes! For another great auto-clicking fighting game, check out Anime Clicker Fight Codes.
All Bro Rescue Simulator Codes List
Bro Rescue Simulator Codes (Working) 
OH_OH—Redeem for 1k Strength
UYO563—Redeem for 2k Strength
WX88FO—Redeem for 1k Strength and 113 Wins
JK36DY—Redeem for 1k Strength
KKK—Redeem for Free Pet
BZ116DY—Redeem for x2 Strength Potion
BZ123DY—Redeem for x2 Strength Potion
JK53DY—Redeem for 1k Strength
JK52DY—Redeem for 1k Strength
JK51DY—Redeem for 1k Strength
JK50DY—Redeem for 1k Strength
JK49DY—Redeem for 1k Strength
JK48DY—Redeem for 1k Strength
JK47DY—Redeem for 1k Strength
JK46DY—Redeem for 1k Strength
JK45DY—Redeem for 1k Strength
JK44DY—Redeem for 1k Strength
JK43DY—Redeem for 1k Strength
WX64FK—Redeem for 12 Wins
WX65FK—Redeem for 13 Wins
WX66FK—Redeem for 14 Wins
WX67FK—Redeem for 15 Wins
WX68FK—Redeem for 16 Wins
WX91FO—Redeem for 116 Wins
WX92FO—Redeem for 117 Wins
WX78FO—Redeem for 118 Wins
WX79FO—Redeem for 104 Wins
WX80FO—Redeem for 105 Wins
WX81FO—Redeem for 106 Wins
WX82FO—Redeem for 107 Wins
WX83FO—Redeem for 108 Wins
WX86FO—Redeem for 111 Wins
WX87FO—Redeem for 112 Wins
WX89FO—Redeem for 114 Wins
WX90FO—Redeem for 115 Wins
WX93FO—Redeem for 118 Wins
BZ120DY—Redeem for x2 Strength Potion
BZ121DY—Redeem for x2 Strength Potion
BZ122DY—Redeem for x2 Strength Potion
Bro Rescue Simulator Codes (Expired) 
WX91FO—This code has expired
WX92FO—This code has expired
JK90DY—This code has expired
JK94DY—This code has expired
JK96DY—This code has expired
Related: One Punch Fighters codes
How to redeem codes in Bro Rescue Simulator
Follow the instructions below to redeem codes in Bro Rescue Simulator.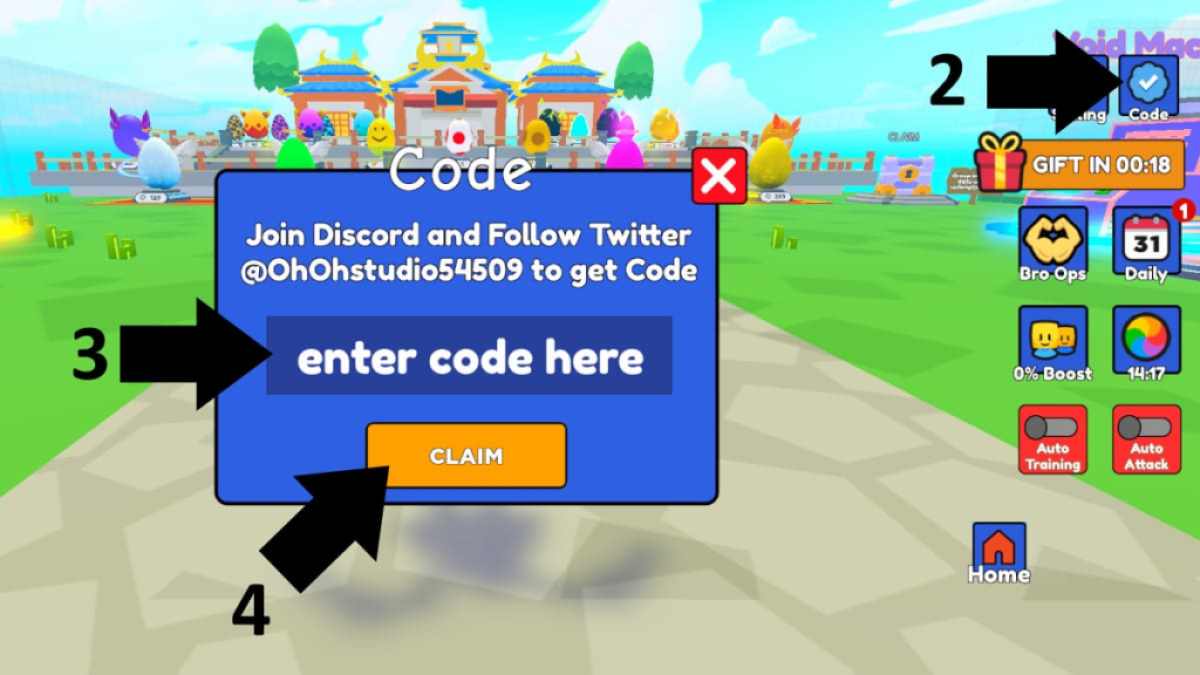 Launch Bro Rescue Simulator on Roblox.
Press the Codes button in the top right of the screen.
In the text box saying Enter Code Here, do so exactly as it appears above.
Press the orange claim button to claim your reward!
How can you get more Bro Rescue Simulator codes?
A good place to start hunting for new Bro Rescue Simulator codes is the Oh Oh Roblox Group. If you have no luck there, you can try following @OhOhstudio54509 on X and joining the Oh Oh Studio Discord Server. There, you'll find loads of channels covering game announcements and information, as well as a dedicated channel for Bro Rescue Simulator codes. 
Why are my Bro Rescue Simulator codes not working?
If a Bro Rescue Simulator code won't work, it's best to try cutting and pasting it before you do anything else. This will ensure you haven't made any typos. If it still won't work or if it says it has expired, it is likely the code has been removed by the devs. All you can do then is let us know via the comments section below. We'll tidy up here and then go looking for more codes for you! 
Other ways to get free rewards in Bro Rescue Simulator
For more free rewards in Bro Rescue Simulator, click the claim gift button under the codes button whenever it has a number on it. You can get 12 free gifts if you stay logged in for more than two hours, including loads of free Strength, pets, and potions. Just below this, you'll find the Daily and Spin buttons. Again, if they have a number on them, click through to claim everything from OP pets to free VIP!
What is Bro Rescue Simulator?
Bro Rescue Simulator is a Roblox auto-clicker fighting game in which you punch your way through a series of walls to gain wins. You can take on tougher walls for more wins if you build your strength by training, but you can also spend those wins on rebirths, gloves, and pets to permanently buff your skills.
If you're looking for codes for other games, we have a ton of them in our Roblox Game Codes post! You can also get a bunch of free stuff via our Roblox Promo Codes page. And in the meantime, take a look at the latest news to stay up-to-date on all things entertainment.