Lead the charge in Roblox Commander Simulator! You will take on enemy bases with an army you have built up. Each base in this world has stronger enemies that you will encounter. Build a tactical unit to take down these enemy bases from all sides. Destroying bases unlocks better units, like tanks, helicopters, and special force units. Soon, your command can conquer the world!
The larger the enemy bases you conquer, the more Gems you will receive to unlock bigger and better units. These codes we have collected for you will give you Gems to help you on your journey. Use them to become the most feared commander!
Want to charge into the battle head-on? Even if you are that brave, you will need a little extra in your arsenal to get you through. Try these codes for commanding your empire: Roblox Death Star Tycoon Codes, Roblox Recoil Codes, Tower Defense Simulator Codes, Roblox BedWars Codes, and Roblox Tank Warfare Codes.
All Roblox Commander Simulator Codes
Updated September 26, 2022

Added a new code.
Roblox Commander Simulator (Working)
ievocvkj—Redeem for 100 Gems (New)
axszfyhe—Redeem for 500 Gems
tobosrzm—Redeem for 50 Gems
gxtxtxwk—Redeem for 100 Gems
viexvupt—Redeem for 50 Gems
bbesryam—Redeem for 200 Gems
cpzcgian—Redeem for 50 Gems
bhdyssuc—Redeem for a free Unit
rrypzwmb—Redeem for 50 Gems
blqmegbu—Redeem for 100 Gems
azdumnac—Redeem for a Spin
gvkavcgp—Redeem for a Spin

cizpipge—Redeem for a Spin
ovtaiycq—Redeem for a Spin
qlglqgkp—Redeem for a Spin
commandersimulator—Redeem for 100 Gems
babjvntl—Redeem for a Spin
wlzxhabg—Redeem for a Spin
afbsxwga—Redeem for a Drone
welcomehotpot—Redeem for Units
joingroup—Redeem for an special unit
hotpot—Redeem for 100 Gems
Roblox Commander Simulator (Expired)
There are currently no expired codes.
Commander Simulator FAQ, Answered
Our guides below are here to make claiming your Commander Simulator codes easier.
How to redeem Commander Simulator Codes
For the easiest way to claim Roblox Commander Simulator codes, follow the steps below: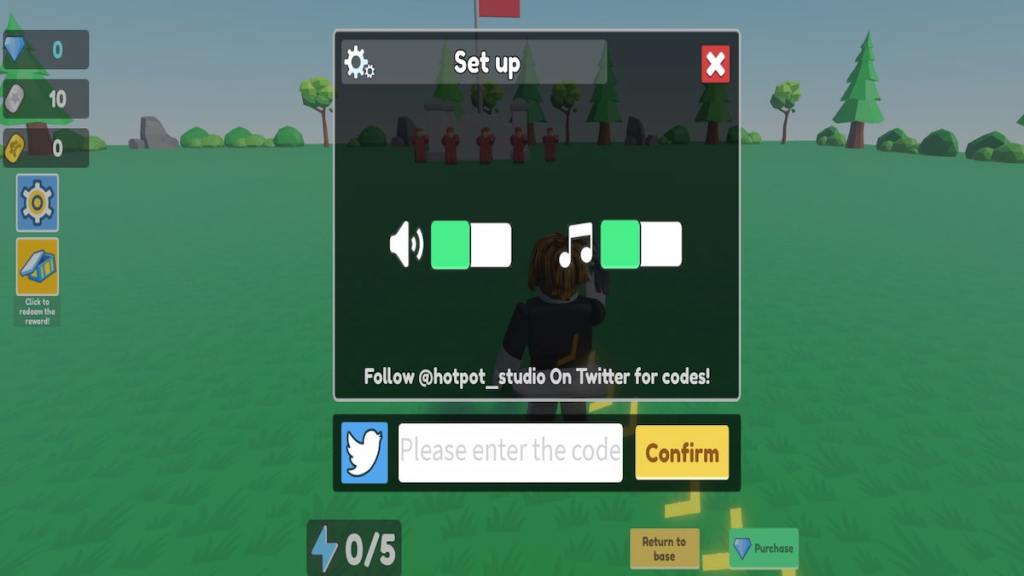 Enter the game
Click on the Settings Cog on the left of the screen
Enter the codes into the Please Enter The Code Here box
Click the Confirm button to claim the code
How to get more Commander Simulator Codes
To get more Roblox Commander Simulator codes, visit the developer Hotpot Studio's social media accounts, like Twitter via @hotpot_studio, along with their Hotpot Studio Discord server. We here at Pro Game Guides have the latest in all Roblox codes, so make sure to save this page and visit us often to redeem those new codes as they are released.
Why aren't my Commander Simulator codes working?
There are several reasons your Commander Simulator codes may not be working. You could misspell the code as you type it into the text box. Make sure that your punctuation and grammar are correct. Alternatively, copy and paste the code from our list to avoid those mistakes.
Codes are time-sensitive, and the codes that developers release could last hours or weeks. The choice of how long the codes are live is up to the developer's decision. Claim any new codes before they disappear! If you notice that a code is expired, leave a comment down below. Once we verify, we'll update the list accordingly.
What is Roblox Commander Simulator?
In Roblox Commander Simulator, you start as a commander, but you will need to build up your very own army. You will start the game with smaller units that you can recruit. The more bases of enemies you take down, the stronger units you can unlock. Unlock tanks and helicopters as you push forward and become the world's strongest commander.
You can also get more free codes to help you in all your Roblox adventures by going to the Roblox Promo Codes page. We have you covered when it comes to all things Roblox and Roblox Anime!