Howdy partner, and welcome to Roblox Cowboy Tycoon, the fastest way to make money in the west! In this tycoon-style game, you make cash from the buildings you create in your section of the town, allowing you to make an even cooler street with gun stores, casinos, and some gallows. Buy cool clothing and explore. But don't forget to protect yourself and your town when players and thieves come to raid your stores!
Cowboy Tycoon codes give you extra cash when you can spend on everything from guns to decorations and new buildings. These will all help to increase your income, allowing you to grow your town even more quickly.
If you like Roblox tycoon games, check out more codes pages at Pro game Guides such as Mall Tycoon Codes, My Pet Shop Tycoon Codes, Game Store Tycoon Codes, My City Tycoon Codes, and Toy Empire Tycoon Codes.
All Cowboy Tycoon Codes List
Updated January 20, 2022

Added a new code.
Cowboy Tycoon Codes (Working)
Here's a look at all the working Cowboy Tycoon Codes.
1klikes—Redeem for 2.5K cash (New)
release—Redeem for 2.5K cash
Cowboy Tycoon Codes (Expired)
These codes for Cowboy Tycoon no longer work.
There are no expired codes for Cowboy Tycoon
How to redeem codes in Cowboy Tycoon
Redeeming codes for free rewards in Cowboy Tycoon is easy. Follow our guide below.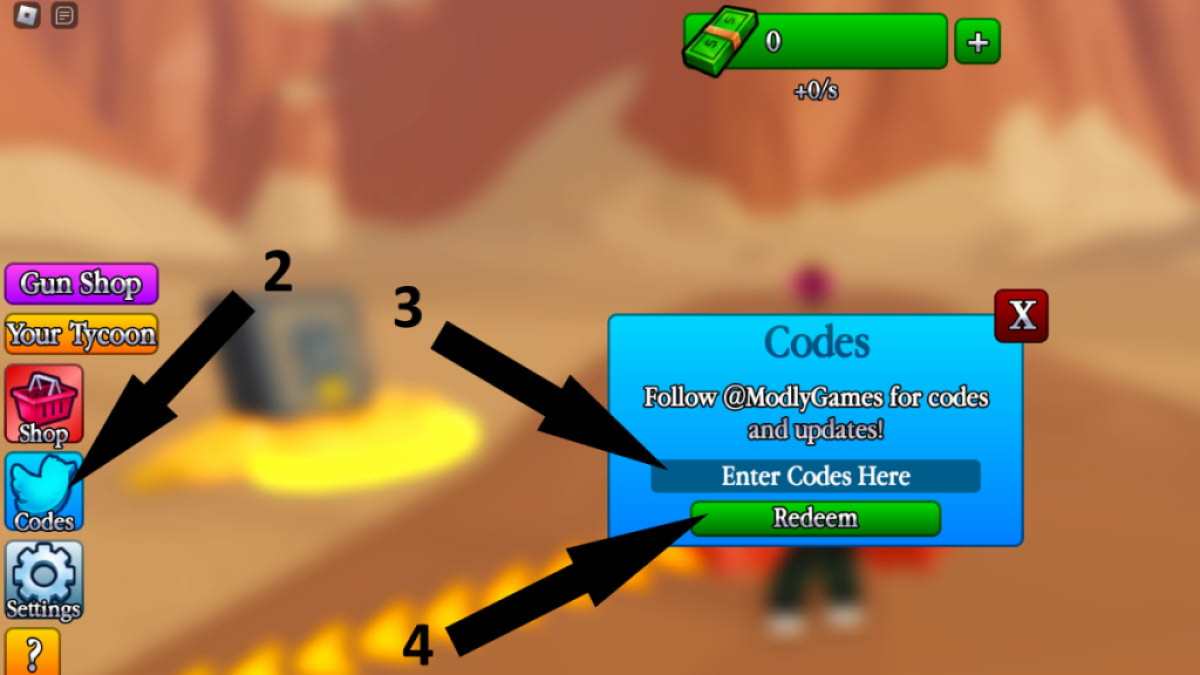 Launch Cowboy Tycoon on Roblox.
Press the blue Twitter bird button on the left of the screen.
In the pop-up, enter the code in the dark blue box that says Enter Codes Here exactly as it appears in the list above.
Press the green Redeem button beneath the text box to claim your reward!
How can you get more Cowboy Tycoon Codes?
If you want to head out on the trail to find your Cowboy Tycoon codes, start by joining the Modly Roblox Group. You can also follow @ModlyGames on Twitter and join the Modly Games Discord Server.
Why are my Cowboy Tycoon codes not working?
If you're struggling with a particular Cowboy Tycoon Code, make sure it isn't a typo issue. The best way is to cut and paste all codes directly from here, avoiding capitalization errors or mistaken numbers for letters. If cut-and-paste doesn't work, the code may have expired. This happens to Roblox codes a lot. But don't worry. We're sure to find new codes soon, so check back here often.
What are guns for in Cowboy Tycoon?
You can buy several guns in Cowboy Tycoon, each more powerful than the last. You can use them to attack your fellow players in the neighborhood. But even if you don't want to do that, occasionally you'll hear sinister music and see a small red piece of text saying a thief has appeared. This is specific to your part of town; if you don't stop them, the thief will steal money from your cash registers. Click the 'Your Tycoon' button on the left of the screen to go to your town, then find the thief who will be on your main street. You'll have to shoot them multiple times to take them down.
What is Cowboy Tycoon?
Cowboy Tycoon does what it says on the tin, being a tycoon-style Roblox game with a cowboy theme. Start by building a small house to increase your income, then continue adding decorations and more buildings as you develop your side of town. Cash registers in stores give you even more income, but don't forget to buy a gun so you can defend the town.
If you're looking for codes for other games, we have a ton of them in our Roblox Game Codes post! You can also get a bunch of free stuff via our Roblox Promo Codes page.