Collecting and displaying the cutest animals in your My Pet Shop Tycoon has never been this much fun! Build your pet shop with the most exotic animals worldwide, and you will start to see those dollar bills stack up. To be the best pet shop around, you will need all the help you can get, so hire some staff, sit back, and watch your pet empire grow!
Codes in My Pet Shop Tycoon can be redeemed for the in-game currency of Cash. Cash is used to buy all the Pets, Kennels, and decorations in the game, and claiming these rewards will give you a great boost to get some exotic Pets on display at the start of the game.
Looking after and collecting the coolest animals worldwide are some of the greatest games to play on Roblox. Use these codes to start your private collection sooner as you claim the title of Tycoon mogul in Roblox Pet Zoo Codes, Roblox Zoo Tycoon 2 Codes, Roblox Zoo World Tycoon Codes, Roblox Zoo Story Codes, and Roblox My Zoo Tycoon Codes.
All My Pet Shop Tycoon Codes List
Updated August 17, 2022

Double checked codes
My Pet Shop Tycoon Codes (Working)
Here's a look at all the working My Pet Shop Tycoon codes.
ThisGameIsAwesome—Redeem for 2k Cash
ThanksFor150—Redeem for Cash
My Pet Shop Tycoon Codes (Expired)
These My Pet Shop Tycoon codes no longer work.
There are currently no expired codes.
My Pet Shop Tycoon Frequently Asked Questions
Below, we list some of the players' most common questions when playing My Pet Shop Tycoon!
How to Redeem My Pet Shop Tycoon Codes
It's easy to redeem codes for free rewards in My Pet Shop Tycoon. Follow our guide below.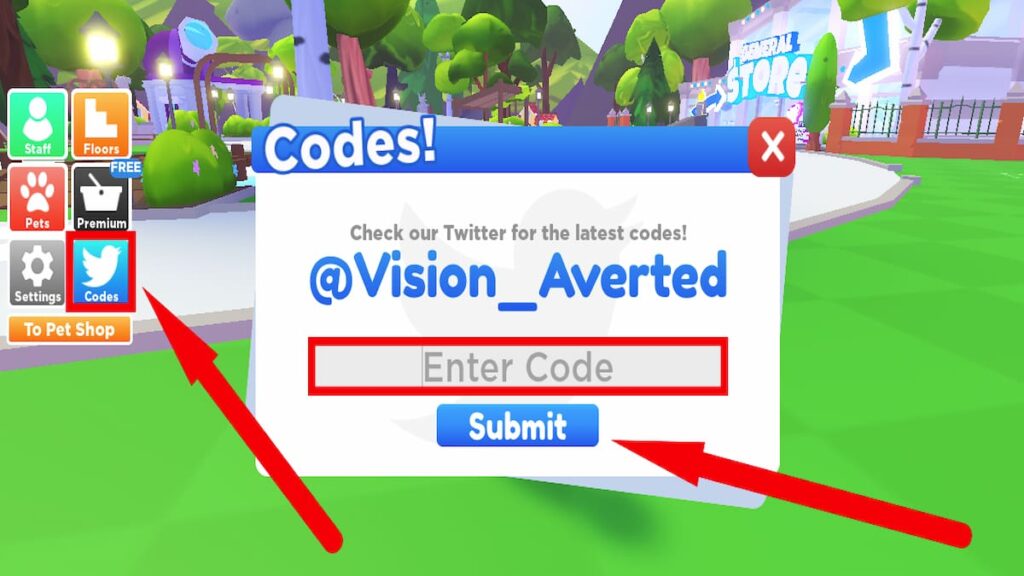 Launch the game.
Click on the Twitter Icon Button on the left-hand side of the screen.
Enter your Twitter handle to verify your Twitter account.
The Enter Code text box will appear after verification.
Enter the code and click on Submit to redeem your rewards.
How to get more My Pet Shop Tycoon codes
The latest codes from the developer Averted Vision can be found by following them on Twitter @Vision_Averted and joining their Averted Vision Discord Server. You can always bookmark this page and follow us here at Pro Game Guides for the latest My Pet Shop Tycoon codes for all the latest rewards for you to redeem!
Why aren't my My Pet Shop Tycoon codes working?
There could be several reasons your My Pet Shop Tycoon codes are not working. The codes you are trying to claim may be misspelled or have punctuation mistakes, copy and paste the codes from our list to avoid any errors while trying to redeem your rewards. These codes may have expired already. Claim all the codes in our list to redeem all the rewards before the developer expires them.
How do I claim daily rewards in My Pet Shop Tycoon?
To claim the daily rewards in My Pet Shop Tycoon, you must join the Averted Vision group. Load back into the game and go to the middle of the map and the arch where it says Group Rewards. Stand in that circle, and you can claim your first daily reward. The daily rewards are updated every three days so make sure to go back and claim your daily reward every day you launch into the game.
What is a My Pet Shop Tycoon game?
Build and manage your very own pet store in My Pet Shop Tycoon. Buy kennels and items to bring in new customers to the store. These customers want to buy Pets and be entertained while they shop around. With a large variety of Pets to add to your collection, you can hire staff to help you keep your store clean and tidy to make your store more appealing to your customers. The bigger and more profitable your Pet Store, the higher you will climb on the leaderboards!
If you're looking for codes for other games, we have a ton of them in our Roblox Game Codes post! You can also get a bunch of free stuff via our Roblox Promo Codes page.