Sparks Kilowatt has left us some treasure in Rage Table Arena during Week 3 of Metaverse Champions. Find out how to get AJ Striker's Crate Drop (available April 28 to May 7) below.
How To Get AJ Striker's Crate Drop in Rage Table Arena
Rage Table Arena is literally a rage-inducing game where your primary goal is to flip tables into other people to knock them off the map. When you first enter the match, you'll be told that to get AJ Striker's Crate Drop, you'll need to knock 10 people off the map. This is harder than it sounds.
The reason the game is rage-inducing is that it's extremely glitchy and doesn't register all the time when you knock someone off. However, we have a few tips on how to gain an edge over your opponents and table-flip your way to completing this mission.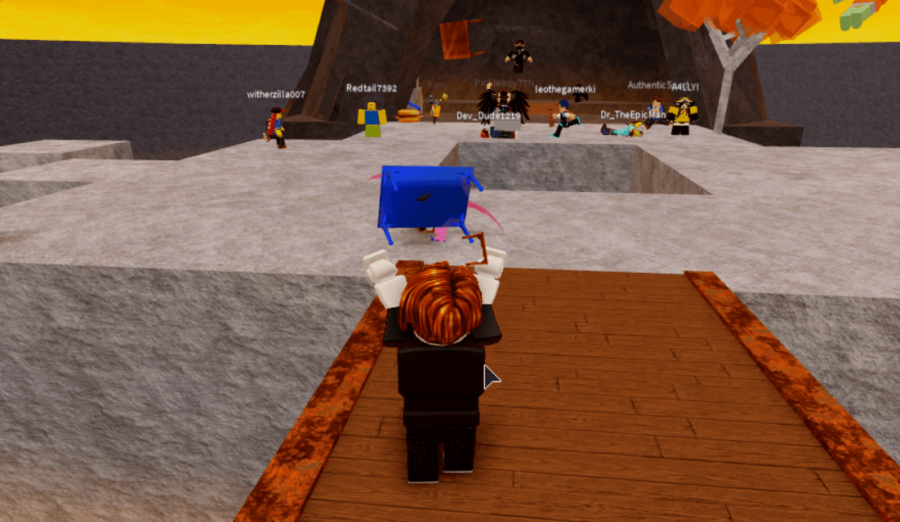 Related: Related: All Roblox Metaverse Champions | Weekly Locations, Games & Rewards
Look for idle players. Many people seem to join a server then forget that they're playing or take a break. At almost any time, if you scan the area, you'll likely see idea players. These are the best targets because you can walk up to them and flip the table for an easy point.
Watch for when other players flip a table. Every time you flip a table, there is a short cooldown in which you cannot walk, only jump. If you see a player near you flip a table, immediately aim at them and flip your own towards them to catch them when they're stuck.
Aim the camera to look directly in front of you. The tables seem to be placed based on the camera angle and character angle. It's easiest to aim properly if you position the camera to look the exact direction that your character is looking.
Aim for large groups. You can often find large groups of players near each other. If you flip a table towards a large group, your chances of hitting someone are significantly increased.
It should take you roughly 10-15 minutes to complete this quest once you get the hang of aiming. However, even when you know you knocked someone off, it still might not register. Keep flipping and you'll eventually get it. Once you have knocked off 10 players, you are given the badge and AJ Striker's Crate Drop.
For all Metaverse Champions Mission Guides, be sure to check back with Pro Game Guides. If you're looking for codes for other games, we have a ton of them in our Roblox Game Codes post! You can also get a bunch of free stuff via our Roblox Promo Codes page.