In the popular tycoon-style experience My Restaurant, players create and grow their very own restaurant by interacting with customers, cooking delicious meals, hiring various staff, purchasing new decorations, and more. With its March 2023 update, My Restaurant saw the addition of a new customer type—one that's out of this world—the Alien customer! So, how do you lure this customer into your establishment? Continue reading below to find out.
How to have an Alien customer in My Restaurant
Unfortunately, there's no confirmed way to attract or spawn an Alien customer in your restaurant—it seems as though they appear at random. You can, however, make it more likely that one will show up by having an efficient and fast-moving business. The more customers you serve and push out, the more chances there are for an Alien customer to show up.
When an Alien customer appears, be sure to seat them immediately (or as soon as you can)—the better they're treated and tended to during their visit, the bigger the tip they'll leave at the end. To know exactly when they spawn, keep an eye on the chat feed—you'll be notified when one appears.
Related: How to get the Huge Chef Cat pet in Pet Simulator X – Roblox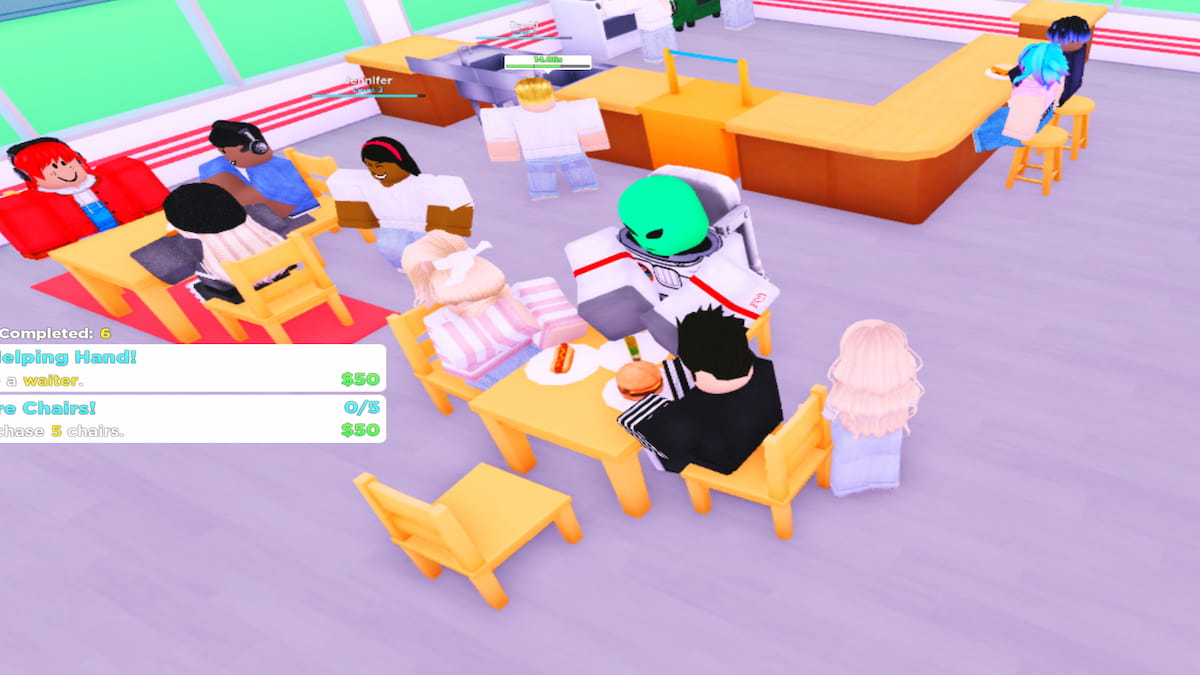 When an Alien customer finishes their meal, the tip they leave can be pretty hefty—we received around $1,500 from one tip! Though we can't confirm it's true, My Restaurant players have theorized that adding pieces of alien-themed furniture (such as an Alien Throne or UFO Table) to your restaurant will increase the odds of an Alien customer appearing, and also increase the tip they leave behind. When we had an Alien customer visit, we had no alien furniture.
My Restaurant tips and tricks
For a quick overview on how to keep your restaurant efficient, check out the steps below.
Greeting customers
Each time that a new customer or group of customers approaches your restaurant, you can welcome them inside by standing next to them and pressing E. Upon doing do, the customers will seat themselves at one of your open tables. If you don't have any open tables, you'll be forced to wait to greet your customers until one clears out.
Related: How to get the free Cinnamoroll Hat avatar item in My Hello Kitty Cafe – Roblox
Taking orders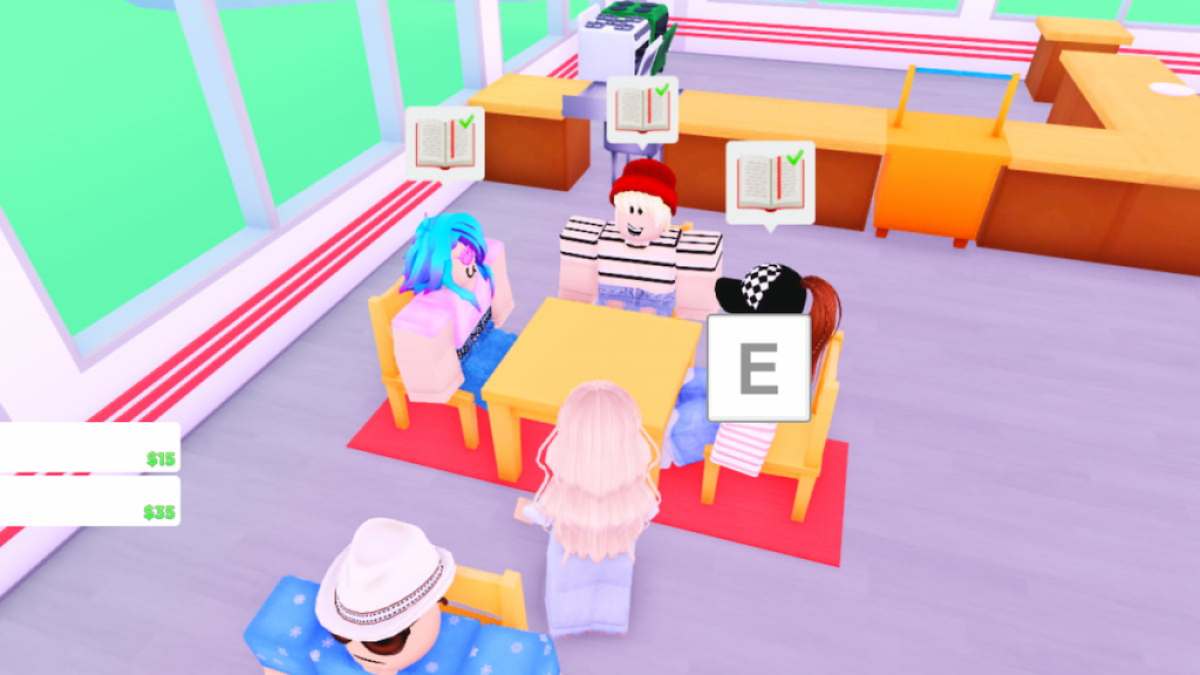 Once your customers have seated themselves, they will take a few seconds to look over the menu. When they've decided what they want to eat, a menu icon will appear over their head—this indicates that you can take their order. To take an order, approach a customer with this icon over their head and press E. If you have a staff member preparing your food, the order will automatically be sent to them, and they'll begin preparing it for you. If you don't have a staff member working, you'll need to prepare the order yourself.
Preparing orders
After taking an order, return to your cooking station and either prepare the necessary items yourself or wait for your chef to set them out for you. Once an item has been prepared, grab it by pressing E and then follow the line on the floor to deliver it to the correct customer.
Cleaning up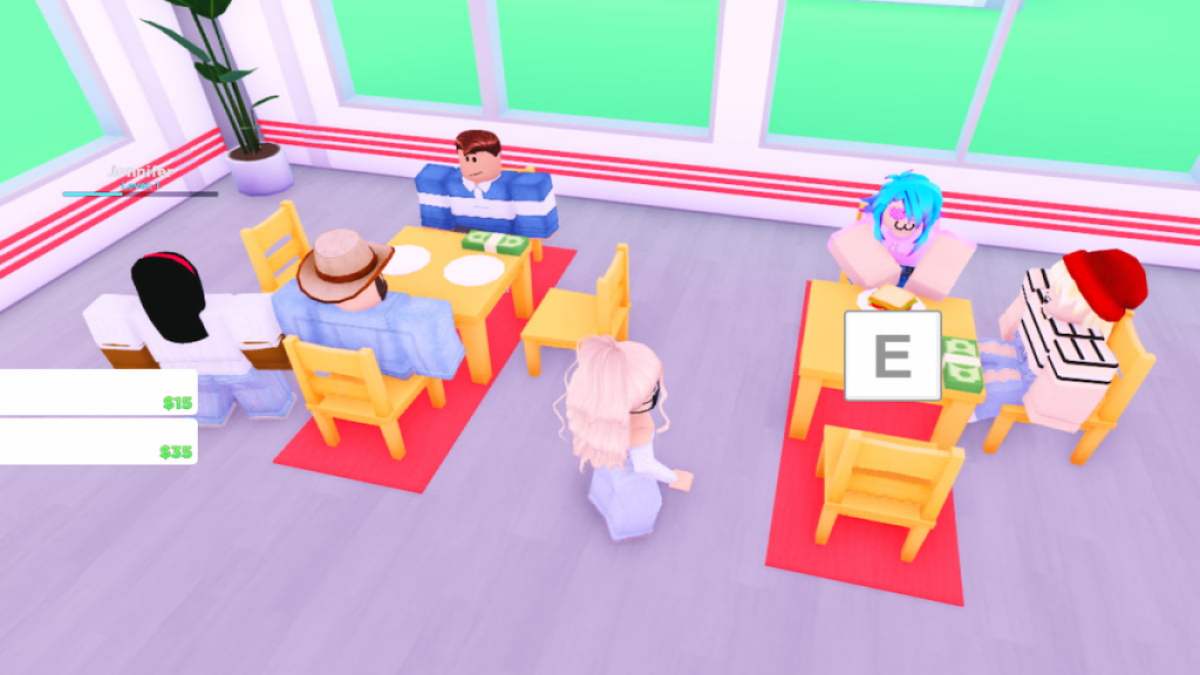 To clean up after a customer has left, walk up to a dirty table and press E—this will automatically dispose of the dishes and leftovers.
End
That's all there is to it, you know everything there is to know about the highly-coveted Alien customer. Don't fret if you don't receive a visit from one right away, they're still pretty rare at the time of this article's publication!
Looking for more related Roblox content? Check out our recent guides on How to hatch a Huge Machine Egg in Pet Simulator X – Roblox or What is a Diamond Party in Pet Simulator X? – Roblox here on Pro Game Guides!