Beans are a key ingredient for all food-related potions in Roblox Wacky Wizards. This is a secret ingredient that can only be obtained by crafting four potions and completing an obby hidden within a volcano.
Crafting the Potions
These are the recipes and ingredients you will need in order to get the Beans ingredient:
| | | |
| --- | --- | --- |
| # | Potion | Recipe |
| 7 | Explosive | Dynamite |
| 11 | Giant | Giant's Ear |
| 4 | Tiny | Fairy (x4) |
How to get the Beans
Blow up the Cliff Wall
First, brew an Explosive Potion by placing the Dynamite ingredient into the cauldron. Then, grab the Explosive Potion and take it over to the volcanic mountain. More specifically, look for the oddly shaped wall with the explosion sign next to it (see picture blow).
Drink the potion while standing in front of the wall. This will blow a hole in the wall leading to an obby, but you will also explode in the process. That's okay, because you need to return to your cauldron before proceeding to the next step, anyway.
Feed the Spoon a Giant's Potion
Back at your spawn, drain the cauldron so that no ingredients are inside. Then brew a Giant Potion by placing one Giant's Ear into the cauldron. Grab the Giant Potion and return to the obby.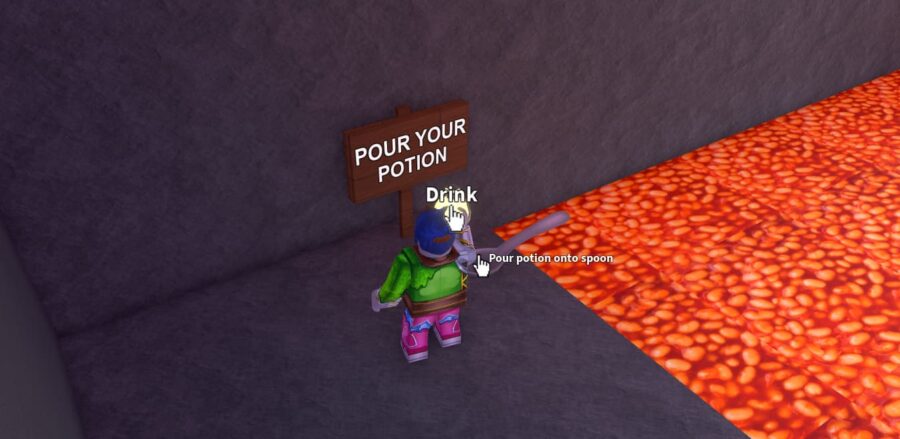 Once in the obby, notice the tiny spoon resting next to the Pour Your Potion sign. Instead of drinking the Giant Potion, pour the potion on the spoon by tapping on it. This will grow the tiny spoon into a giant spoon, allowing you to proceed forward in the obby.
But before proceeding, teleport back to your cauldron for one more potion.
Shrink Your Avatar
Once again back at the spawn, drain the cauldron. Then place at least four Fairy ingredients into the cauldron, which will shrink your Avatar to the ideal size. Grab the potion but don't drink it until you've returned to the obby.
When you've returned to the volcano obby, run up the spoon but do not jump onto the swinging platform until you've drank the Tiny potion. If you jump on the platform as a regular-sized Avatar, you will sink into the lava.
Instead, drink the Tiny potion and wait for your Avatar to shrink. Once small in size, jump onto the swinging platform and watch as you rise to higher elevation. Now you'll just have to complete the final portion of the obby, which requires some parkour.
Try to stay away from the wall because your Avatar can get stuck to it and prevent you from landing the jump. At the very top is your reward: the Beans ingredient!
With Beans in hand, teleport to your cauldron and place the ingredient on your table to ensure you keep it forever.
For more Roblox Wacky Wizards guides, check out How to get the Fish in Roblox Wacky Wizards and How to get the Spider ingredient in Roblox Wacky Wizards on Pro Game Guides.