Mighty Omega on Roblox is a paid access, open-world Anime game where players learn unique fighting styles and skills to become mighty warriors. They can explore the large map, discover new shops, training sites, and more. Once they train, they will be ready to take each other on in the Arena or sparring matches. Each player will have their own fighting styles and techniques that they found and trained for in the world, such as Muay Thai, Karate, Boxing, and more rare styles like Taekwondo. Sometimes, players will need to search to find the private gyms to learn these skills. If you're still looking for where to learn Taekwondo, then we have you covered. Here's how to get it!
How to get to the Taekwondo Gym in Roblox Mighty Omega
To get the Taekwondo fighting style, you will need to locate the private gym where you can find the trainer, Takimura. This gym is not easy to find since it has no exterior signs or obvious entrance. This is what you'll want to do:
Find the Police Station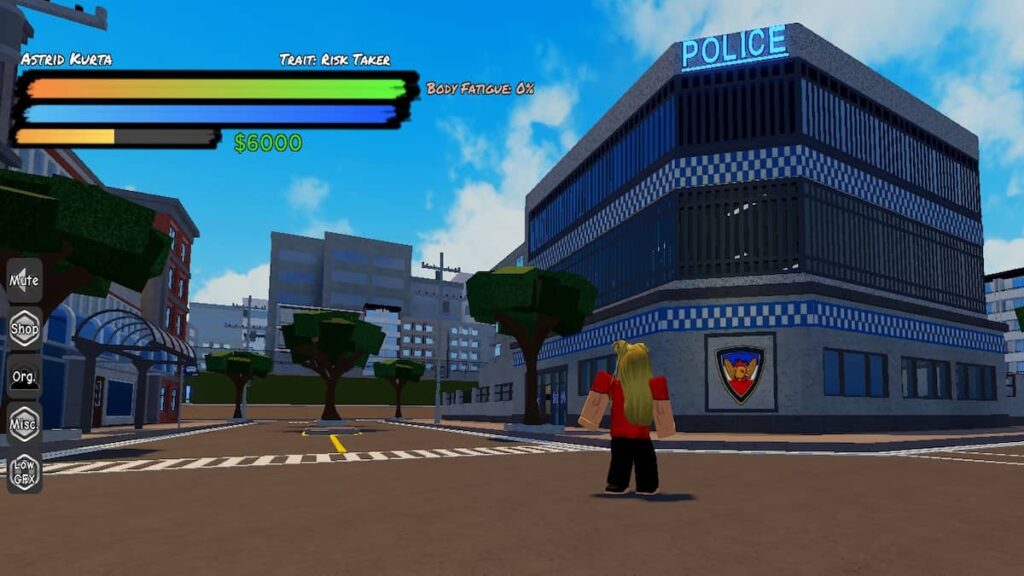 To find the entrance to the gym, make your way over to the city side of the world. Then, find the Police building. It should be reasonably easy to find since it's pretty tall, has blue and white checkered stripes around it, and the Police sign is lit up in blue neon letters.
Turn left down the street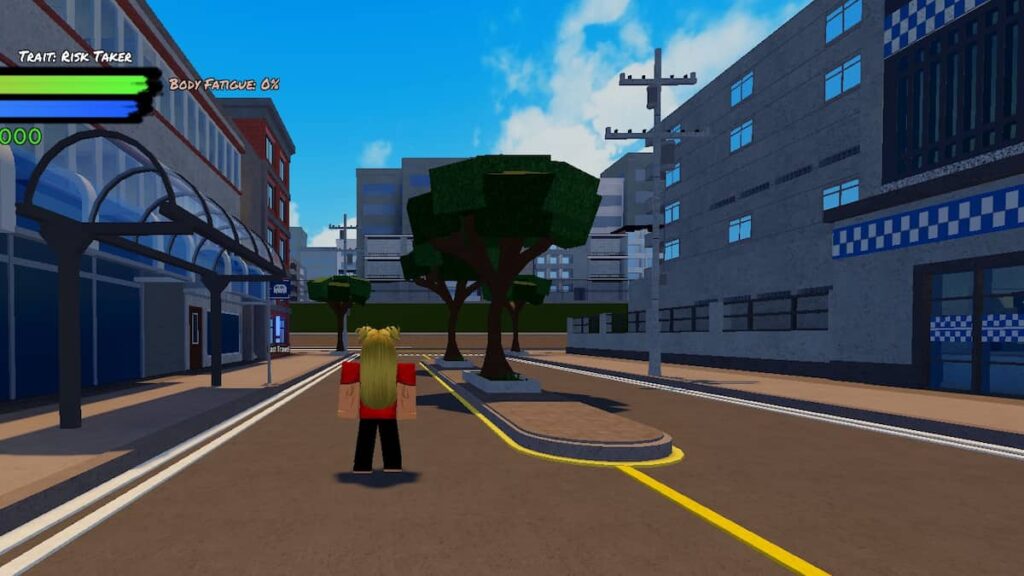 Once standing in front of the Police Building, turn left down the street with the Police station remaining on your right side. You should see a bus stop with a quick travel spot on your left.
Locate the staircase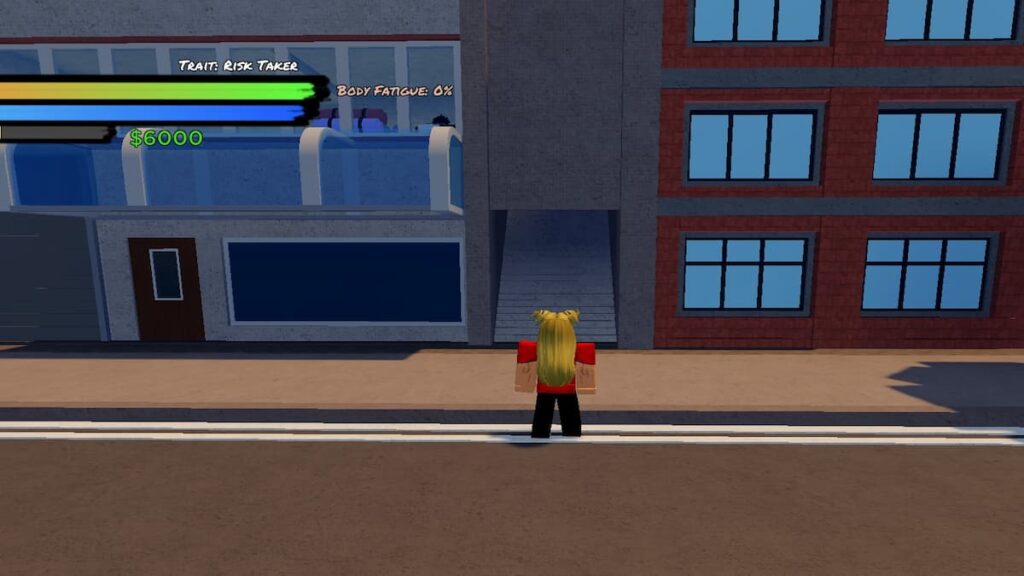 Continue past the bus stop and look left between the building with the glass awning and the red bricks. You will find a staircase here. From here, you must navigate up the stairs and through the door to find the gym.
Related: Best Roblox Dragon Ball Games
How to train in Taekwondo
Once you're inside the gym, you can begin to work toward earning those Taekwondo skills, but it will require a little bit of patience and grind.
Talk to Takimura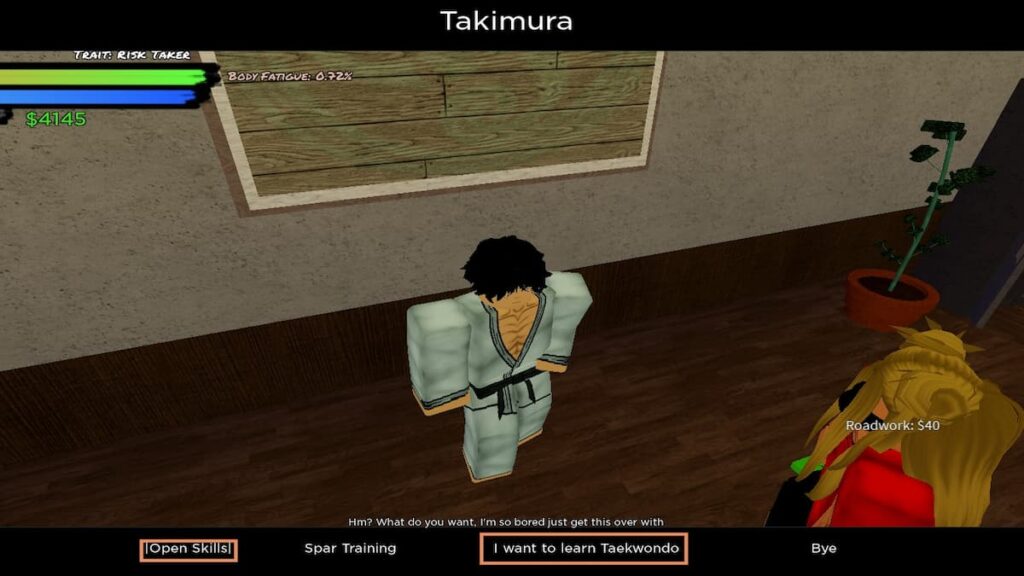 Click on the trainer standing at the head of the room to speak to him. You will want to click on the "I want to learn Taekwondo" option because Takimura will give you a free training skill. However, you can only click on this once before he dismisses you. You can also click on the Open Skills to take a peek at the six Taekwondo fighting skills available, but you won't be able to purchase any without training for some experience first.
Buy training actions
To purchase the skills, you will need to have Style Experience. This means you need to train a bit to earn some. You can buy training skills by stepping on the green pads in front of the trainer. They do cost a bit of money, but usually, you only have to purchase them once. If you are just starting the game, you will probably want to head back out and find a different gym where you can purchase other training skills like push-ups and squats. This is a better way to get started since you will have lower stamina.
Related: 5 best Roblox games like Pokémon
Work out in the gym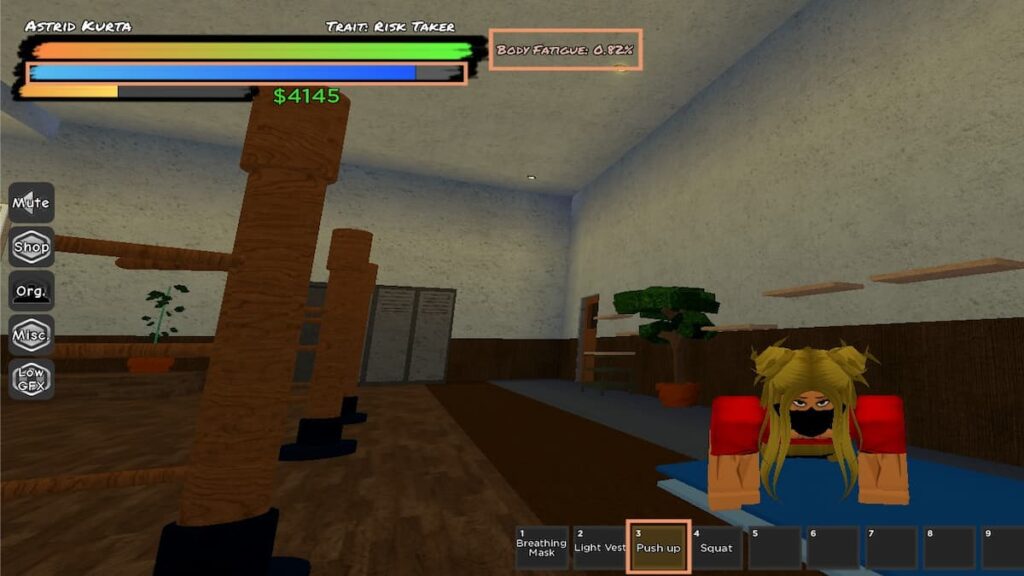 Once you purchase some training skills, make sure you work out inside the Taekwondo gym to begin increasing your Style Experience. To train, select the skill at the bottom toolbar and continuously press your left mouse button. Keep an eye on your blue stamina bar as you do this because you need to pause before this bar runs out so you won't pass out. Your Body Fatigue beside your health bars shows that your training is paying off and slowly raising your experience.
Buy the skills
It might take a while to train up enough Style Experience, so stay patient and grind those workout skills as much as possible. Once you have enough EXP, head back to Takimura and open up that Skills menu. Click on the skill you want to learn and press the green Buy button. Your skill will show up in your toolbar, and you are on your way to becoming a Taekwondo master.
This is how you can learn Taekwondo in Mighty Omega, but many other fighting styles are available! What is your favorite style? Don't forget to check out more of the best anime games on Roblox covered here on Pro Game Guides!
Looking for more Pro Game Guides Roblox content? Check out our guides on How to get Void Crystals in Roblox BedWars or How to befriend the cat in Roblox Break In Story!