Become the strongest warrior in Nen Fighting Simulator. Train and learn new skills as you buff your aura. As you increase your Nen, you will rank up and climb the leaderboard until you reach the top and truly become the best.
These Nen Fighting Simulator codes will give you various rewards. Keep an eye on them, as they have expiration dates, meaning you must use the codes before they expire. We have compiled a list of available codes so that you can earn prizes, Jenny, Experience Boosts, and more in Nen Fighting Simulator.
If you're looking for other Roblox content, check out Roblox Donut Bakery Tycoon Codes, Roblox Sonic Speed Simulator Codes, and Roblox Unboxing Simulator Codes on Pro Game Guides. There are also many more Roblox pages that have codes for you to enjoy, so browse the site and check some out!
All Nen Fighting Simulator Codes List
Updated June 27, 2022

Added new code!
All Nen Fighting Simulator Codes List (Working)
1MVISITS—30 minutes 1.5x Experience Boost
10KFAVS—x500 Jenny
All Nen Fighting Simulator Codes List (Expired)
There are no expired Nen Fighting Simulator codes at this time.
Roblox Nen Fighting Simulator Codes FAQ
Here's everything you need to know about Roblox Nen Fighting Simulator codes.
How to redeem codes in Nen Fighting Simulator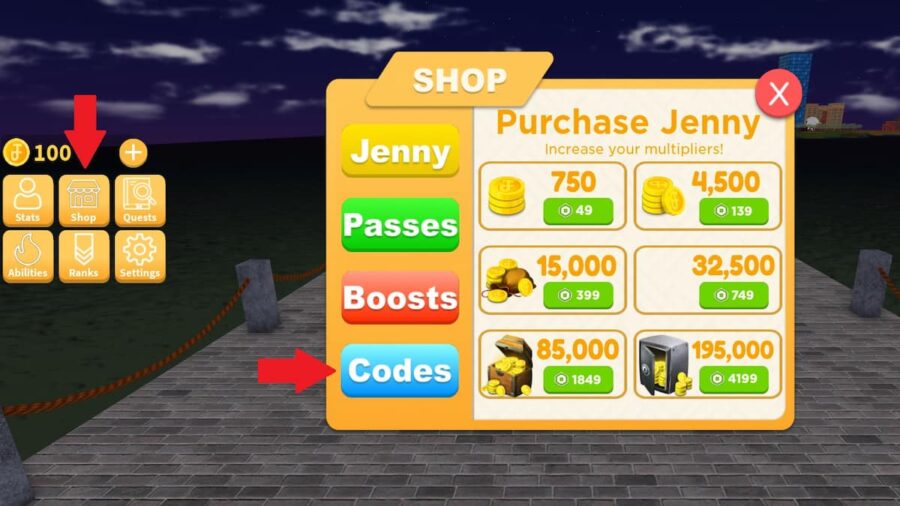 Codes in Nen Fighting Simulator are useful for getting resources and rewards quickly. Here is how to redeem codes in Nen Fighting Simulator:
Click the Shop icon on the left side of the screen
Select Codes
Enter the code and hit Redeem
How to get more Nen Fighting Simulator Codes
The best way to get more codes is to join the Nen Fighting Simulator Discord to get updates from the developer as well as interact and play with the community. You can check back here, too, as we update this page regularly with new codes and let you know which have expired.
Why aren't my Nen Fighting Simulator Codes working?
Codes for Nen Fighting Simulator are made by the developer. The developer also determines how long they are active. Some codes may expire quicker than others, and some may not work with others. If a code does not work for you, check to see if there's a spelling error, if the code isn't active yet, or if it has already expired. To help solve that issue, bookmark this page and come back often to see if Nen Fighting Simulator has added new codes or if some are expired. If you notice that a code no longer works, let us know! We'll update the list accordingly once we verify.
What is Nen Fighting Simulator?
Nen Fighting Simulator is all about battling and increasing your strength. You will rank up and climb the leaderboards as you increase your Nen and fighting abilities. You can earn various titles and aura to show off your skills to friends and foes alike.
For more information on Roblox, check out Roblox Rebirth Champions X Codes and Roblox Military Tycoon Codes on Pro Game Guides.