Updated: September 11, 2023
We checked for new codes!
The Blue Blur speeds onto Roblox in this addicting simulator experience! Roblox Sonic Speed Simulator Codes is the official collaboration between SEGA and Roblox that features Sonic and his pals. But you won't go fast at the start of the game. Like any simulator, you have to work for your speed, and the grid is long.
With our Sonic Speed Simulator codes, we'll help you break the sound barrier with free Sonic Speed Simulator boosts and skins. Some of these freebies are simply cosmetic, but the boosts will shave some of the grind off your day. Because at some point, you gotta go fast!
All Sonic Speed Simulator Codes List
Working Sonic Speed Simulator Codes (Active)
RidersBundle—Redeem for 50 Race Tickets (New)
race2win—Redeem for 100 Race Tickets (New)
GottaGetRedRings—Redeem for 500 Red Star Rings (New)
thefinalfanspt2—Redeem for a free Chao
thefinalfanspt1—Redeem for a free Chao
1morefanpt1—Redeem for a free Chao
1morefanpt2—Redeem for a free Chao
forthefans—Redeem for a free Chao
Hooray50k—Redeem for 30 minute Speed Boost
thumbsup—Redeem for a Bloxian Chao
thankyouchao—Redeem for a Gratitude Chao
40kThankYou—Redeem for free rewards

Amazing35—Redeem for free rewards
25k—Redeem for a Boost
Expired Sonic Speed Simulator Codes
ILive4Adventure—Redeem for Adventure Sonic (New)
MyValentines—Redeem for Valentines Amy
soniccentral—Redeem for the Amy Chao
RIDERS—Redeem for the Sonic Riders Skin
How to redeem Sonic Speed Simulator codes
Redeeming Sonic Speed Simulator codes for free boosts is a simple process. To do so, follow the instructions below.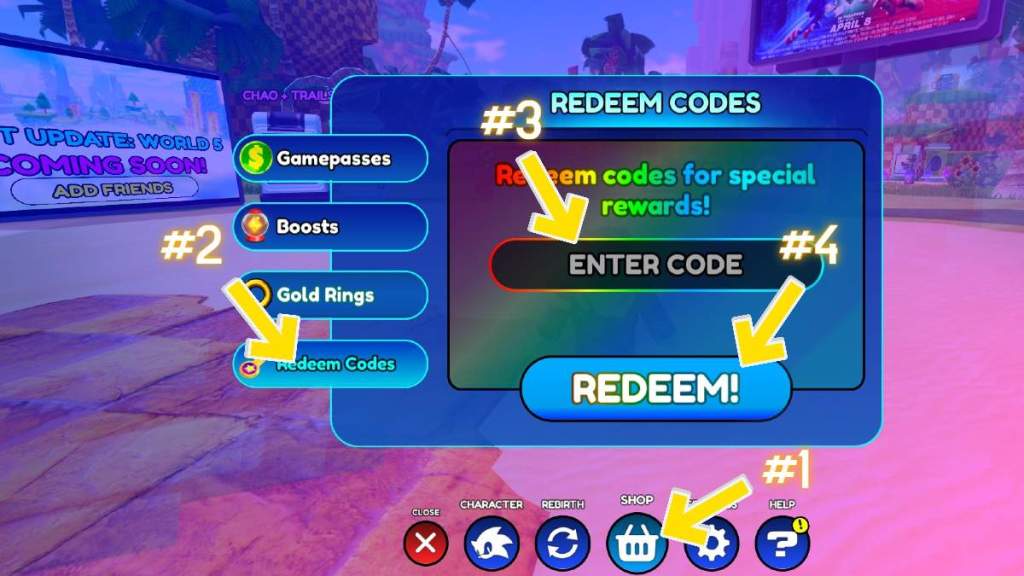 Once you've launched the Sonic Speed Simulator, select the Shop button on the bottom of the screen.
In the Shop window, select the Redeem Codes tab on the left.
In the text box, enter the code exactly as it appears in the list above.
Press the Redeem! button to claim your reward!
How to get Sonic in Roblox Sonic Speed Simulator?
If you're just starting Sonic Speed Simulator, we bet your first question is: how do I get Sonic? To get Sonic, you have to pick up a floating Sonic card that is situated on a rail. Follow these steps: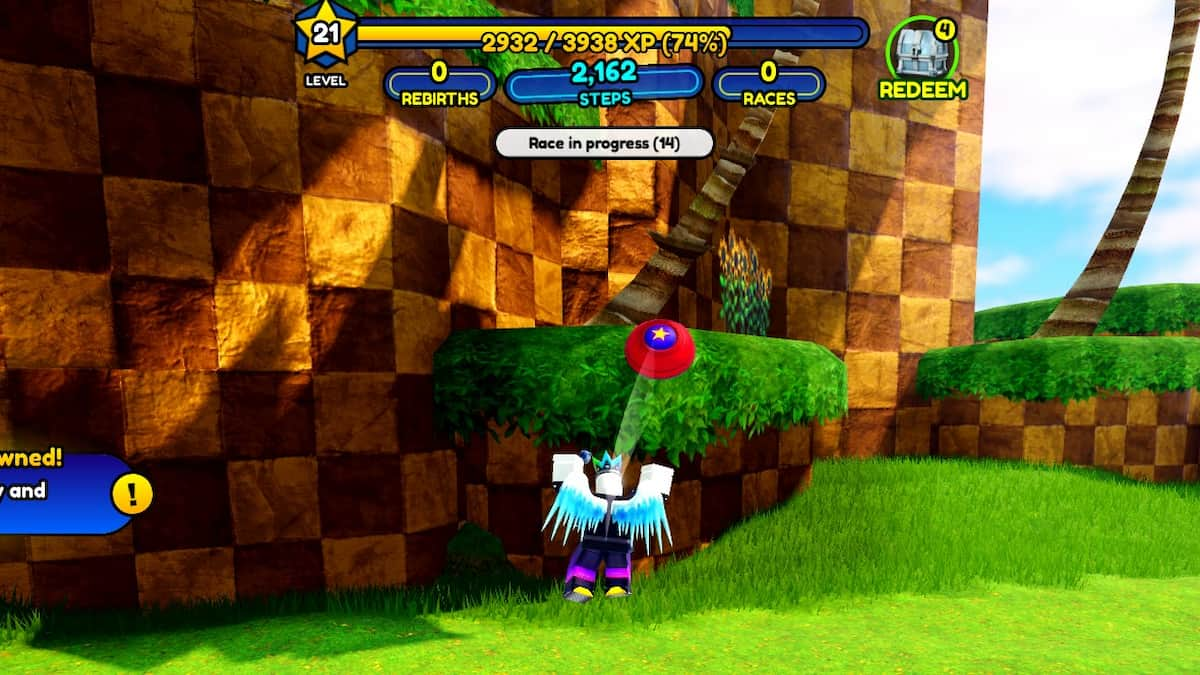 Launch into Green Hill Zone, aka the main world in Sonic Speed Simulator
Situate yourself at the hub area and look for the World 2 portal
Run past the World 2 portal until you reach the big green loop and a floating robot. The robot says This loop requires a high level to make it through!
Ignore the robot and look for a red jump pad
From the bottom of the loop, jump toward the red jump pad. While in the air, press jump again to target the jump pad.
This will launch you into the air toward a rail. Ride the rail until you pick up the floating Sonic card.
And that's all there is to it. We achieved this around level 22, so you might have to collect shards and coins until you reach a similar level. Once you've collected the Sonic card, you can permanently play as Sonic in Sonic Speed Simulator. Just click the Character menu option and select Sonic.
Where to find more Sonic Speed Simulator Codes?
If you're looking for more places to find Sonic Speed Simulator codes, we suggest following developer @GameFamStudios on Twitter. You can also join the Sonic Speed Simulator Discord server where you can receive frequent code updates and hang out with fellow Roblox/San fans! By using these sources, and checking back frequently with Pro Game Guides, you'll never miss out on a free Sonic Speed Simulator boost or skin!
Why aren't my Sonic Speed Simulator Codes working?
If your Sonic Speed Simulator codes aren't working, chances are you missed out while the developer still had them active. While we wish we could make new codes, all free Sonic Speed Simulator boost codes and skin rewards are released by the developer. We recommend bookmarking this page and checking back frequently for any new codes that arrive.
Another reason your codes may not work is due to inputting the codes with improper capitalization or misspelling. Codes are case-sensitive, so they must be copied and pasted exactly as written on our Sonic Speed Simulator codes list.
What is Sonic Speed Simulator?
Roblox Sonic Speed Simulator is a collaboration between SEGA and Roblox to create a unique Sonic simulator experience. Launched alongside the Hollywood film Sonic the Hedgehog 2, players start off as their Roblox avatar running around Green Hill Zone. Your speed is incredibly slow at first. But with diligence and collecting coins, you'll increase your speed as you earn more EXP. Players can also participate in unique obbies and collect skins to play as their favorite characters like Sonic, Tails, and Knucles. If that's not enough, you can set out on an adventure and clear familiar zones like Lost Valley and Emerald Hill to save Amy Rose from Eggman!
Here's how to get all characters in Roblox Sonic Speed Simulator. Why not check out these other Roblox simulator games known to be addicting? And we've got free rewards for all of your favorites. Check out Pet Simulator X Codes, Roblox Glider Simulator Codes, Roblox Pet Fighting Simulator Codes, Roblox Strong Pet Simulator Codes, and Roblox Anime Warriors Simulator Codes for free boosts like Sonic Speed Simulator X.
If you're looking for codes for other games, we have a ton of them in our Roblox Game Codes post! You can also get a bunch of free stuff via our Roblox Promo Codes page.