Updated December 5, 2023

We searched for the latest codes!
Are you ready to enter the arena and play Anime Ball? Imagine dodgeball turned up to 11, with added weapons and armor as well as special abilities! I've really been enjoying the frenetic fun, trying to stay in the round to win the most Yen. Not even when I fail (usually!), everyone gets rewards to go and spend in the store.
Anime Ball codes currently give you a nice amount of free Yen each, which you can spend on equipping your character or using it on random wheel spins (see below) or on a gacha-style system for new abilities. If you love PVP Roblox experiences, you should also check out Anime Battle Arena (ABA) Codes.
All Anime Ball Codes List
Anime Ball Codes (Working)
animeballiscool—Redeem for Wheel Spins (New)
400kgroupmembersyo—Redeem for Wheel Spins (New)
PROGAME!—Redeem for 1 Wheel Spin
VISITS20M—Redeem for Wheel Spins
85KLIKES—Redeem for 2 Wheel Spins
15MTHANKS—Redeem for a Yen Boost

newupdateyoo!—Redeem for 2 Wheel Spins
SORRY4DELAY—Redeem for 1 Wheel Spin
OMG10MVISITS—Redeem for 2 Wheel Spins
THISISNOTBLADEBALL—Redeem for 2 Wheel Spins
YOO45KLIKES—Redeem for a Yen Boost
WEHAVE5MVISITS—Redeem for Spins
BESTGAME2020—Redeem for a Yen Boost
Anime Ball Codes (Expired)
WEHAVE5MVISITS—Redeem for Spins
sadboi999—Redeem for 450 Yen
24KLIKED—Redeem a 15 minute Yen Boost
VISITED2MILLION—Redeem for 2 Wheel Spins
1MVISITS—Redeem for 450 Yen
2KLIKES—Redeem for 300 Yen
250KPLAYED—Redeem for 450 Yen
LIKED4KTIMES—Redeem for 450 Yen
SECRETCODE—Redeem for 200 Yen
THISISANIMEBALL—Redeem for 450 Yen
RELEASE—This code has expired.
Related: Anime Battles Simulator Codes
How to redeem codes in Anime Ball
Follow the instructions below to redeem codes in Anime Ball.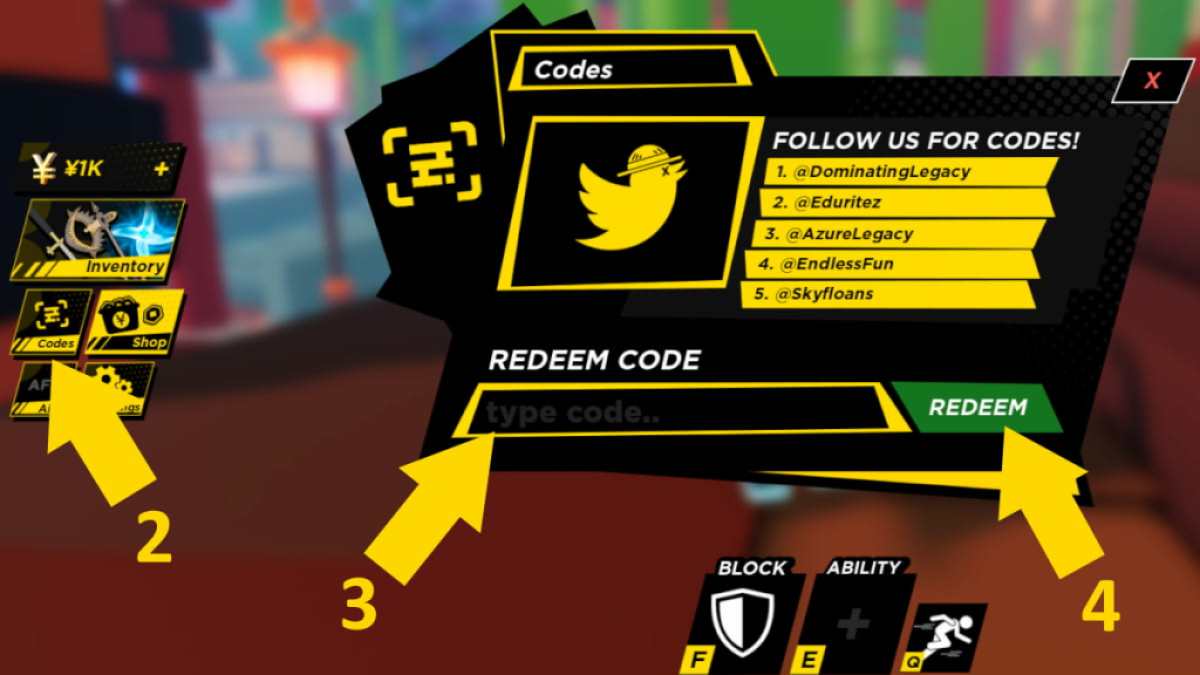 Launch Anime Ball on Roblox.
Press the Codes icon on the left of the screen.
In the text box saying Input Code, do so exactly as it appears in the list above.
Press the green Redeem button to claim your reward!
How can you get more Anime Ball codes?
A great place to start your hunt for Anime Ball codes is the Ewber Roblox Group. You can also head over to become part of the community at the official Anime Ball Discord Server. Once you verify there, you'll be able to check out a bunch of chat channels, including announcements, leaks, and updates, as well as one dedicated specifically for codes!
Why are my Anime Ball codes not working?
I always suggest checking for typos first if you have trouble with an Anime Ball code you find here at Pro Game Guides. Try to cut and paste it directly into Roblox from here to guarantee you have it correct, as even a missed capital letter can make them go awry. If that doesn't work, or if a code says it has expired, it has gone for good. Let us know in the comments; we'll upload the guide, then go look for new codes, so check back soon!
Other ways to get free rewards in Anime Ball
For a great headstart in Anime Ball, join the Ewber Roblox Group (linked above) and then log in to the game to receive 1,000 Yen for free! Also, when you arrive in the lobby area, click AFK and walk left until you get to the wheel. Walk up and into the yellow circle there, then click spin for a chance to get free Yen or powerful free items! Outside of this, just participating in each round gains you free Yen, no matter how well you do.
What is Anime Ball?
Anime Ball is a PVP Roblox experience that simulates a game of dodgeball but with a lot of extra trimmings, including weapons, armor, and special abilities. A new round starts regularly, and players use sprints, abilities, and blocks to try and deflect the ball and stay in the game. Use the Yen you earn in marches to buy items and increase your abilities.
If you're looking for codes for other games, we have a ton of them in our Roblox Game Codes post! You can also get a bunch of free stuff via our Roblox Promo Codes page. And in the meantime, take a look at the latest news to stay up-to-date on all things entertainment.