Our Roblox Anime Clash Codes has the most up-to-date list of OP codes that you can redeem for free content in the game. Whether you're just starting or you've been playing Anime Clash for a long time, these codes can give you a nice boost ahead of your opponents!
All Anime Clash Codes List
We'll keep you updated with additional codes once they are released. You should redeem these as soon as possible because you'll never know when they could expire! These codes have been tested on the date that this post was released. If you find one that is expired, please let us know the exact code in the comments below so we can remove it.
Make sure to enter the code exactly as it is listed or it might not work correctly! Note: If the code is for in-game currency, some amounts may be slightly off if the game has active multipliers.
Update Feb. 24
Anime Clash Codes (Working)
Here's a look at all the working Anime Clash codes.
20KWOW—Redeem for 5k Crystals (New)
OUAH15KLIKES—Redeem for 10k Crystals (New)
UPDATE1—Redeem for 15k Crystals (New)
LETSGO25K—Redeem for 10k Crystals (New)
UPDATE2—Redeem for 20k Crystals (New)
OMG1MVISITS!—Redeem for 15k Crystals
CRAZY10KLIKES—Redeem for 5k Crystals
LETSGO7500LIKES—Redeem 3k Crystals
OMG5KLIKES!—Redeem for 5.75k Crystals
2500LIKES!—Redeem for 2.5k Crystals
1KLIKES—Redeem for 1k Crystals
RELEASE—Redeem for 575 Crystals
Anime Clash Codes (Expired)
When a code is no longer working, it will be added to this list.
How to Redeem Anime Clash Codes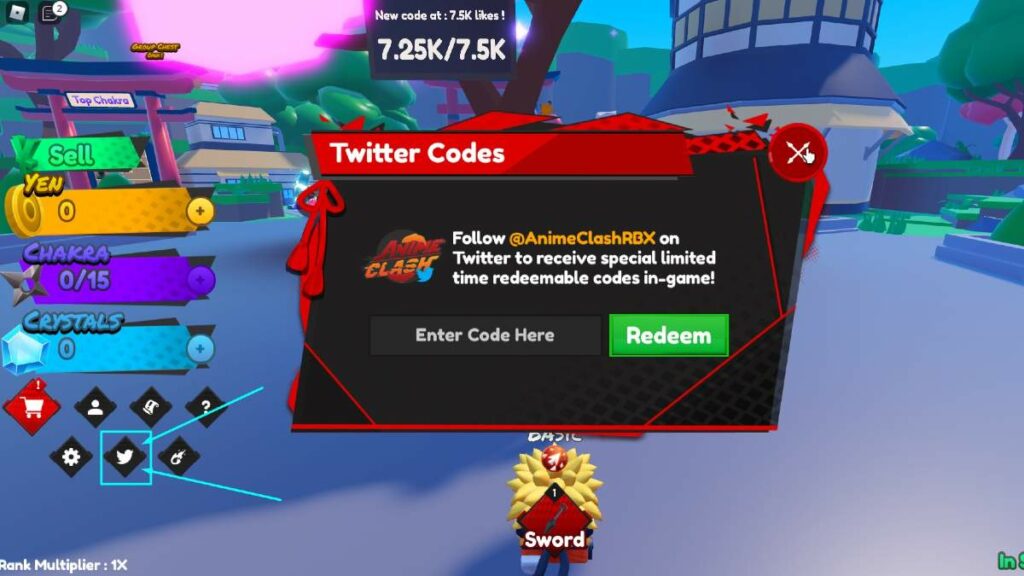 It's easy to redeem codes for free rewards in Anime Clash. When you're in the game, press the Twitter icon on the side of the screen. A window will pop up that says Twitter Codes. Type in the code exactly as it appears in our list above, then press the green Redeem button to receive the reward!
Game Description & Recent Update
Anime Clash is a training game inspired by multiple popular Anime shows with tons of worlds to explore and hundreds of unique pets!

⚔️ Slash your swords to train chakra!
💰 Sell chakra to earn thousands of yen!
🛍️ Buy new swords, scrolls, ranks with yen to progress faster!
😈 Defeat bosses to earn thousands of crystals!
📜 Hatch MYTHICAL pets like Naturo or Fluffy!
✨ UPGRADE your pets with different machines!
🔥 Collect HUNDREDS of unique pets!
If you're looking for codes for other games, we have a ton of them in our Roblox Game Codes post! You can also get a bunch of free stuff via our Roblox Promo Codes page.