Running a bakery is not all about pretty and cute toppings; you must get your hands dirty in Breadwinners. Go and farm the wheat in the fields to get all you need for your recipe, and then go into the kitchen and bake the cake yourself. It's hard work running a successful bakery, but once you have done the hard work, you can experiment with how cute you want your cakes to be!
The codes you can claim in Breadwinners will give you the in-game currency of Gems. Gems are used in the store to buy pets, sickles, and other gear to help you run your bakery better. Use these codes as a first-time player to get an extra boost at the start of the game.
Do you enjoy baking and making cute treats for your customers to buy on Roblox? We have a list of codes for these experiences that will help you make the sweetest treats! Claim these codes in Roblox Donut Bakery Tycoon Codes, Roblox Bakery Simulator Codes, Donut Factory Tycoon Codes, Roblox My Hello Kitty Cafe Codes, and Roblox Koala Cafe Codes.
All Breadwinners Codes List
Updated October 11, 2022
Added new info.
Breadwinners Codes (Working)
Here's a look at all of the working Breadwinners codes.
TWITTER@AdorableForest—Redeem for 100 Gems (New)
BETARELEASE—Redeem for 50 Gems
SUB2TBOUDREAU23—Redeem for 100 Gems
Breadwinners Codes (Expired)
These Breadwinners codes no longer work.
How to redeem Breadwinners codes
It's easy to redeem codes for free rewards in Breadwinners. Follow our guide below.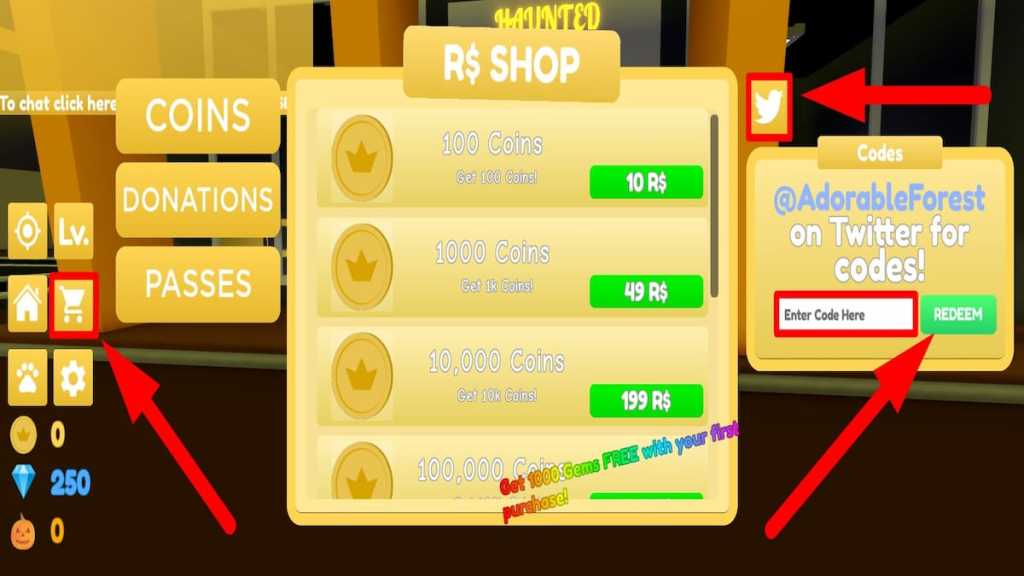 Launch Breadwinners on Roblox.
Click on the Shop button on the left-hand side of the screen.
A new window will appear, click on the Twitter Bird icon on the top right-hand side of the widow.
Enter the codes into the Enter Code Here text box.
Click the green REDEEM button to receive your free reward.
How to get more Breadwinners codes
To get the latest Breadwinners codes from the developer Adorable Forest, follow them on Twitter @AdorableForest and join them on their Adorable Forest Discord Server. Here at Pro Game Guides, we have all the latest code drops from the developer, so be sure to bookmark this page and often return to claim all the freebies for your game!
Why aren't my Breadwinners codes working?
There may be several things that are preventing you from claiming your Breadwinners codes. The codes may be expired; developers may expire codes when they choose to. Claim the codes from our working list as soon as possible to avoid disappointment in missing any free rewards. When typed into the text box, these codes may be misspelled or missing punctuation. Rather copy and paste the codes from our list.
What do pets do in Breadwinners?
Pets in Breadwinners are really useful. Equip pets to help you get a boost to the amount of coin you are receiving. This will help you get more cash and better recipes, machines, and farming sickles to help run your bakery and farming more efficiently. You can upgrade your pets, too, if you want to add a boost to other resources you can collect in the game.
What is a Breadwinners game?
Breadwinner is a tycoon farming game. Build your industrial bread-baking factory and farm the crops to make delicious bread for small wholesalers to big corporations. Collect wheat and make thousands of loaves to sell to customers, and with that money, you can upgrade your factory, farm, and distribution. Can you become the wealthiest bread factory in the game and bake your way to the top of the leaderboards?
If you're looking for codes for other games, we have a ton of them in our Roblox Game Codes post! You can also get a bunch of free stuff via our Roblox Promo Codes page.