Updated: September 12, 2023

Checked for new codes!
I've always wondered what it would be like to join the aviation industry and captain an aircraft. Flying through the skies has long been a dream of mine, and Cabin Crew Simulator let me live my fantasy of being a flight attendee. In the game, I work to create the best experience for my crew and passengers that all airlines will envy. The better my performance on each flight, the more I can unlock like bigger aircraft, better destinations to fly to, and better services to offer my passengers.
Let us help you take off with these Cabin Crew Simulator codes that will give you extra cash in the bank to start upgrading your airline to the experience you have always wanted on your flights. Economy class does not have to be a nightmare for your passengers anymore. The sky is the limit with these codes!
Suppose you want more thrills in the sky and are obsessed with aviation. We have the highest-flying codes lists for your favorite Roblox titles here. Roblox Airplane Simulator Codes, Roblox Airport Tycoon Codes, Roblox Work at an Airport Codes, Roblox Glider Simulator Codes, and Roblox Dream Island Tycoon Codes.
All Cabin Crew Simulator Codes
Working Cabin Crew Simulator Codes (Active)
galley—Redeem for 1.3k Skybux (New)
boba—Redeem for 1.3k Skybux (New)
jetway—Redeem for 1.3k Skybux
badge—Redeem for 1.3k Skybux
pilot—Redeem for 1.1k Skybux
landing—Redeem for 1.1k Skybux
snow—Redeem for 1.6k Skybux
captain—Redeem for 1.2k Skybux
turbulence—Redeem for 1k Skybux
paris—Redeem for 2k SkyBux
triple7—Redeem for 1.5k SkyBux
evacuate—Claim for 1.4k cash

airliner—Claim for 1.4k cash
cruising—Claim for 1k cash
mission—Claim for 1.5k cash
wheelsup—Claim for 2k cash
flying—Claim for 200 cash
takeoff—Claim for 150 cash
clouds—Claim for 100 cash
Expired Cabin Crew Simulator Codes
There are currently no expired Cabin Crew Simulator codes.
How to redeem Cabin Crew Simulator Codes
To claim your Cabin Crew Simulator codes follow our guide below.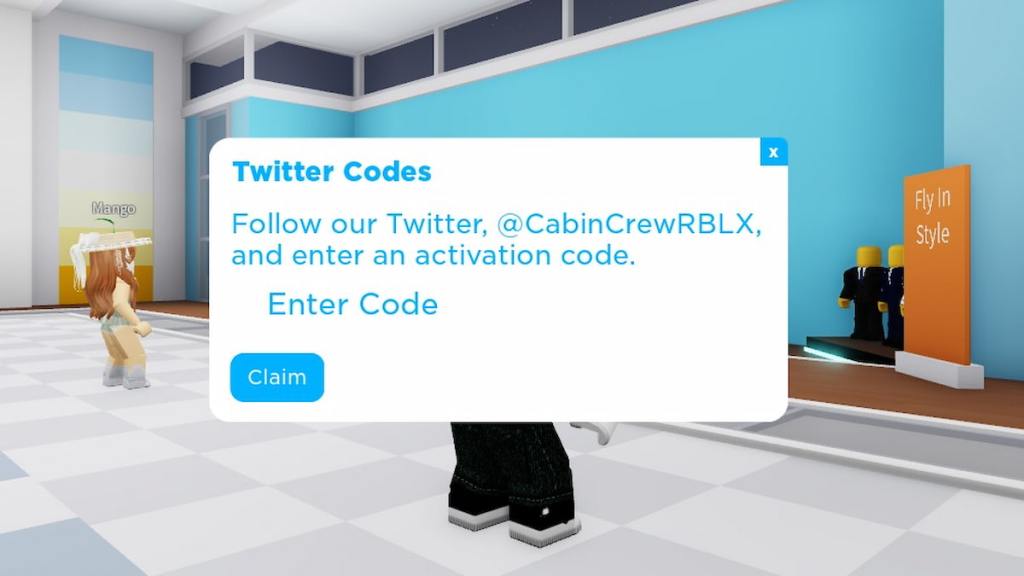 Launch Cabin Crew Simulator.
Click the gift button on the left of the screen.
In the text box that opens type the code in.
Redeem the code by pressing confirm.
How to get more Cabin Crew Simulator Codes
To get more Cabin Crew Simulator codes from the developer Cruising Studios, follow them on these social platforms. You can find them on Twitter @CruisingStudios and join their Cruising Studios Discord Servers. We also have you covered here at Pro Game Guides, so save this page and visit us often for all the codes you want for Cabin Crew Simulator codes.
Why aren't my Cabin Crew Simulator codes working?
There are only a few reasons why your Cabin Crew Simulator codes are not currently working. You could have typed your code into your redeem code box incorrectly. Always make sure that your spelling and grammar are correct. Our codes list will tell you whether or not your codes are expired or not but there is a chance that by the time you type, they could already have expired.
What is a Cabin Crew Simulator game?
In Cabin Crew Simulator, you will create your very own airline and become a flight attendant as you soar the skies. You will be put into real-world situations and will have to help passengers navigate hazards in the air like fires and water landings. Get your airline to compete with the best in these competitive skies.
You can also get more free codes to help you in all your Roblox adventures by going to the Roblox Promo Codes page. We have you covered when it comes to all things Roblox and Roblox Anime!