Kage Tycoon sees you setting up your very own Kage house! Build up your house (adding new levels) and income (by adding droppers), then fight powerful ninjas as well as other players as you become a powerful ninja yourself! Later, you can spend your coins to start your tycoon again, but with access to new powerful and exclusive techniques and items!
Kage Tycoon codes usually give you Rebirth Coins, which is one of the two main currencies in the game. You'll want to rebirth as soon as possible, but it costs 100,000 coins, so any free Rebirth Coins are a great bonus! If you love tycoon-style games that also have a strong element of combat, you should also check out Alien Tycoon.
All Kage Tycoon Codes List
Kage Tycoon Codes (Working)
These are all the working Kage Tycoon codes.
beReady!—Redeem for Money & Luck Boosts (New)
newSeasonSoon!—Redeem for $5,000 and a Rebirth Coin Boost
15kLikes!—Redeem for $10,000 and 1,500 Rebirth Coins
TenseiMode!—Redeem for Money & Rebirth Coin Boosts
NewNamikaze—Redeem for in-game rewards
1mvisits!—Redeem for 1,000 Rebirth Coins, a Rebirth Coin Boost, and an EXP Boost
600Kvisits!—Redeem for 1,500 Rebirth Coins, a Limited Money Boost, and an EXP Boost
season1!—Redeem for $10,000 and 2,000 Rebirth Coins
Kage Tycoon Codes (Expired)
These are expired codes for Kage Tycoon.
4000visits!—Redeem for 1,000 Rebirth Coins
800visits!—Redeem for 1,500 Rebirth Coins
Related: Cowboy Tycoon Codes
How to redeem codes in Kage Tycoon
Follow the instructions below to redeem codes in Kage Tycoon.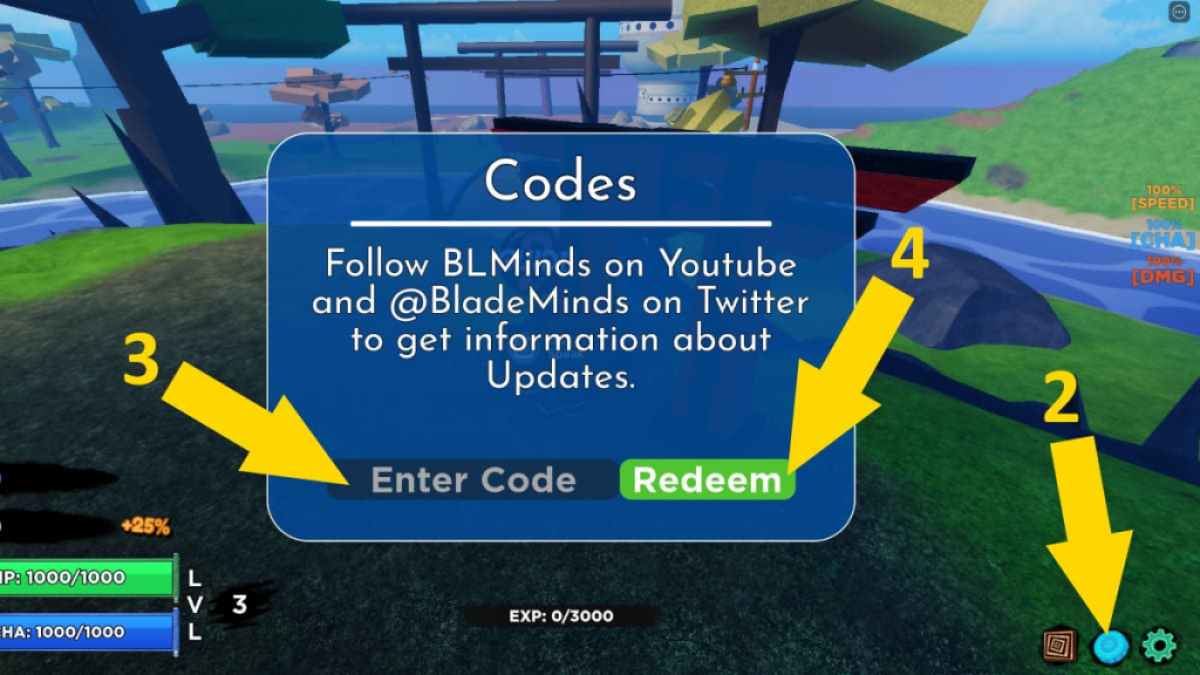 Launch Kage Tycoon on Roblox.
Press the circular blue button in the bottom right corner of the screen.
In the text box that says Enter Code, do so exactly as it appears in the list above.
Press the green Redeem button to claim your reward!
How can you get more Kage Tycoon codes?
The first thing you should do to keep up to date with Kage Tycoon codes and information is to join the BLMINDS Roblox Group set up by the developers. Outside of Roblox, you'll want to follow @BladeMinds on Twitter and subscribe to the @BLMINDS YouTube Channel. Finally, don't forget to become part of the BLMINDS Official Discord Server, where you'll find a large section dedicated to Kage Tycoon with channels including Game Announcements and Updates.
Why are my Kage Tycoon codes not working?
Kage Tycoon codes need to be entered exactly, so be careful to get any capitalization and punctuation correct, otherwise, the code may come up as invalid. If you've copied and pasted it from Pro Game Guides, so you know it was correct, but it still won't work, it has probably become invalid. This means it is likely to be replaced with a new code, so check back with us soon for more!
Other ways to get free rewards in Kage Tycoon
The easiest way to get more free rewards in Kage Tycoon is to join the BLMINDS Roblox Group and like the game on its Roblox home page (both linked above). Once you've done this, leave it a few minutes and log back into Kage Tycoon. Click the Free Bonus button at the top of the screen, and you'll get a free 50 percent money boost! Also, from the podium, you start the game and run over to the large Green Frog to get a daily reward every 24 hours! This includes boosts and free XP!
What is Kage Tycoon?
Kage Tycoon is an anime-inspired Roblox tycoon-style experience mixed with strong PVP and leveling-up elements. You set up your Kage house tycoon style, adding floors, helpers, and droppers to help improve your income. Then you can take on other ninjas, both player and NPC, to improve your level and fighting skills while collecting both normal and rebirth coins.
If you're looking for codes for other games, we have a ton of them in our Roblox Game Codes post! You can also get a bunch of free stuff via our Roblox Promo Codes page. And in the meantime, take a look at the latest news to stay up-to-date on all things entertainment.