Updated August 24, 2023

Checked for new codes!
If you love to flaunt the amount of cash you have in Roblox, what better way than to put your dollar bills where your mouth is in the ultimate Money Race? I've found it strangely satisfying to roll up hundreds of dollars into a giant ball and then see how far they'll get me along the race track. Plus, the game has loads of cute pets as well as all the extras you need, such as rebirths, game passes, and even a VIP area.
Money Race codes have now been introduced to the game. At the moment, these give you lots of free studs, which is great when you start out, as it helps get you to that first rebirth. Personally, I love codes that also give cool, unique items, such as pets and cosmetics, but we'll see! If you love humorous Roblox race-clicker-style games, I suggest you also check out Muscle Race Clicker Codes.
All Money Race Codes List
Money Race Codes (Working)
ILuvMoney—Redeem for 250k Studs
Money Race Codes (Expired)
There are no expired codes for Money Race
Related: Marble Race Clicker Codes
How to redeem codes in Money Race
Follow the instructions below to redeem codes in Money Race.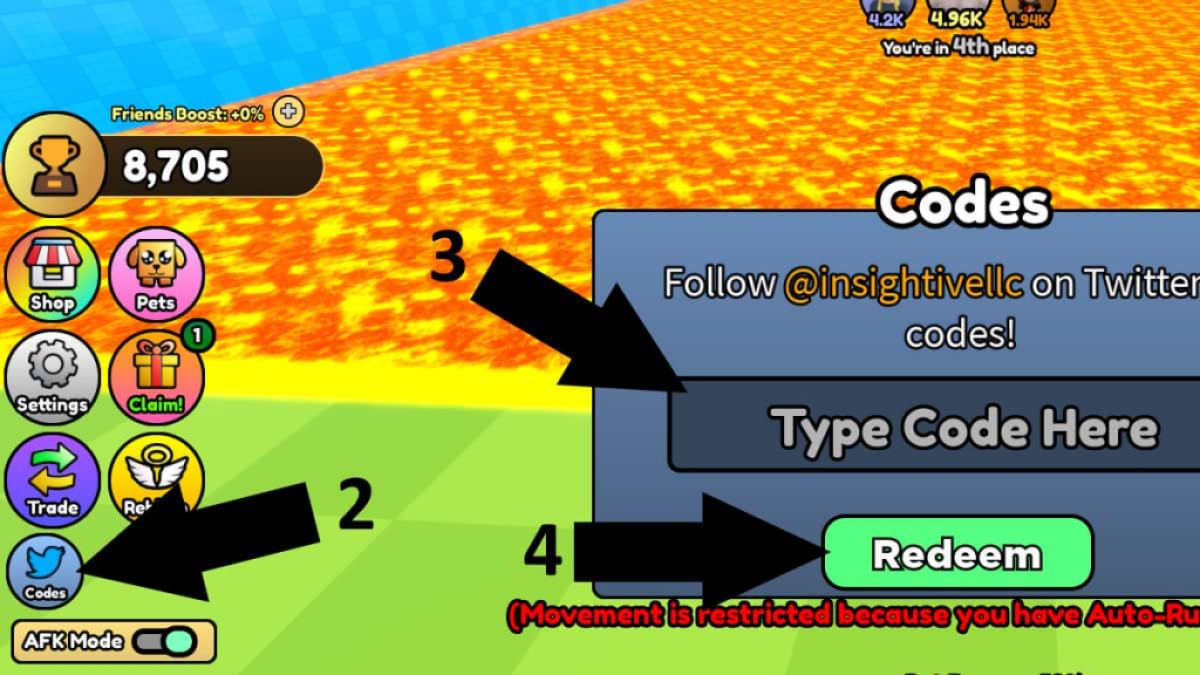 Launch Money Race on Roblox.
Press the Twitter Bird Codes button on the left of the screen.
In the text box saying Type Code Here, do so exactly as it appears above.
Press the green Redeem button to claim your reward!
How can you get more Money Race codes?
The fast world of Money Race codes can be hard to keep up with up, but you should start by joining the Funnest Games Around Roblox Group. After checking thee, you can try following @insightivellc on Twitter and signing up over at the official Money Race Discord Server. Once verified there, you'll have access to a bunch of content, including channels dedicated to announcements, updates, and trading.
Why are my Money Race codes not working?
If you're having trouble with one of our Money Race codes, perhaps you raced too quickly to input it. Check it for typos, as even a tiny error will make a code appear to be invalid. Try to cut and paste it directly from here if you haven't already. If that doesn't work, it is likely the code has expired, meaning it was removed from the game. Tell us in the comments but make sure to bookmark us and visit again soon, as we're constantly updating our code guides!
Other ways to get free rewards in Money Race
There's plenty of free money to be had in Roblox Money Race! Between races, be sure to set yourself to AFK mode. This will allow your character to hoover up free dollars, money bags, and stars to collect loads of free cash! In addition, you can collect up to nine freebies over your first two hours of play on the Claim Icon, including free pets and studs. Afterward, you can relog to restart the timer! Finally, remember to rebirth as often as you can (the first is at 25k Studs). Each rebirth gives you a permanent increase in the studs collected.
What is Money Race?
Money Race is a Roblox idle race game in which you collect money in the lobby by rolling it into a large ball. You can then roll the ball down the track, and the further it takes you before running out, the more studs you get. Use studs to rebirth and buy pets, giving you permanent bonuses on collection speed and wins.
If you're looking for codes for other games, we have a ton of them in our Roblox Game Codes post! You can also get a bunch of free stuff via our Roblox Promo Codes page. And in the meantime, take a look at the latest news to stay up-to-date on all things entertainment.