Updated December 1, 2023

Checked for new codes!
Your parents are out for the evening, and your Nanny now wants you dead in Roblox Nanny [HORROR]. Crawl out of the house and find the quickest way to escape your killer, Nanny! Simply running will not let you escape. You will use your hiding skills and stealth skills to the test as you escape a night of horror.
Our Roblox Nanny [HORROR] Codes have the most up-to-date list of codes that you can redeem for free Cash in the game. Whether you're just starting or playing Nanny [HORROR] for a long time, these codes can help you buy traps and skills to escape the Nanny for longer.
Do you want to avoid being killed for just a second longer so that you can escape being killed? We have the best Roblox Horror games and their codes, so you can get that extra time on the clock to start climbing the leaderboards sooner. Try these codes for Escape the Darkness Codes, Roblox Guesty Codes, Roblox Flicker Codes, Roblox Ben! Codes, and Roblox Piggy: Branched Realities Codes.
All Roblox Nanny [HORROR] Codes List
Roblox Nanny [HORROR] Codes (Working)
GetMeCashPLS!—Redeem for Cash (New)
NewUpdate!—Redeem for 500 Cash
Roblox Nanny [HORROR] Codes (Expired)
IwantCash!—Redeem for 250 Cash
Roblox Nanny [HORROR] Frequently asked questions
Here's everything you need to know regarding Roblox Nanny [HORROR] codes.
How to Redeem Nanny [HORROR] Codes
It's easy to redeem codes for free rewards in Roblox Nanny [HORROR]. To do so, follow the instructions below.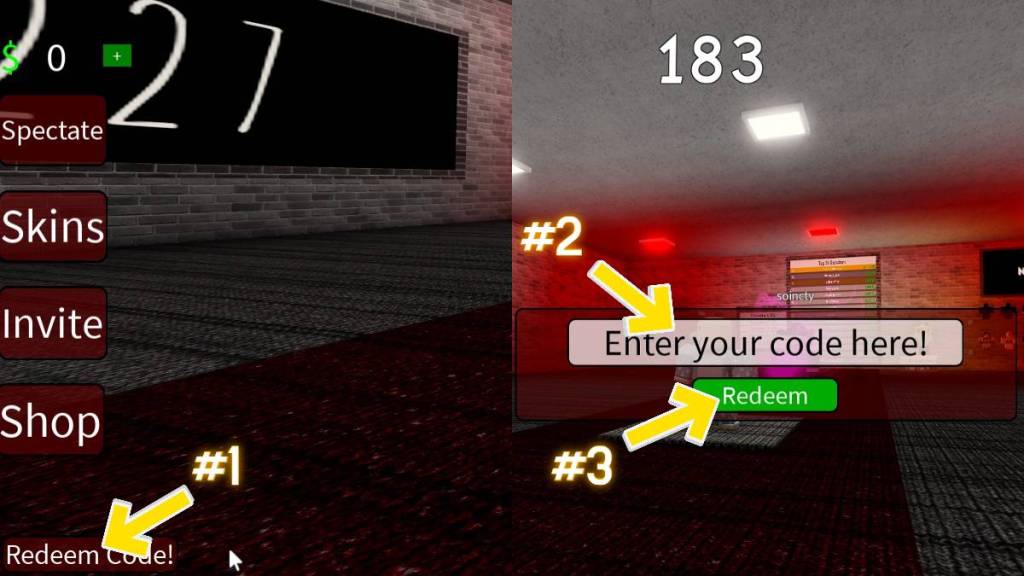 In the game, press the 'Redeem Code!' button in the bottom left corner of the screen.
In the 'Enter your code here!' box, enter the code exactly as it appears in the list above.
Press the Redeem button to claim your reward!
How can you get more Roblox Nanny [HORROR] codes
Follow the latest from Developer ECB Studios on their Nanny Official Discord Server. We here at Pro Game Guides have the latest codes for Roblox Nanny [HORROR] so make sure you save this page and visit us regularly!
Why aren't my Roblox Nanny [HORROR] codes working?
Codes for Roblox Nanny [HORROR] can expire fast, so ensure you redeem the codes as soon as you see them on our list. These codes are case and punctuation sensitive, so when you are typing the code into the text box, you get all of that correct or copy and paste the code from our list to make sure the code is correct.
What is a Roblox Nanny [HORROR] game?
Roblox Nanny [HORROR] is a survival horror game where you must escape a killer Nanny and find the exit. Survive for long enough to gain points and climb to the top of the leaderboard.
If you're looking for codes for other games, we have a ton of them in our Roblox Game Codes post! You can also get a bunch of free stuff via our Roblox Promo Codes page.