Roblox game Ben! is renamed to Dog!, so that's why you can't find it anymore through search. But it's still very much the same game, with the same focus on evil pets chasing unsuspected owners around the house.
This Roblox Ben! codes page (actually Dog! codes) has the most up-to-date list of OP codes you can redeem for free Coins in the game. Whether you're just starting or playing Dog! for a long time, these codes can give you a significant boost.
If you want to be successful in scary Roblox games, check out guides like How to get the Scary House in Roblox Adopt Me and How to get Coins and Gems fast in Roblox Survive the Killer. Also, be sure to play some of the Best Roblox survival games, and if you need help, check Pro Games Guide for walkthroughs and codes.
All Ben! Codes List
Updated June 20, 2022

Added new code for you to enjoy while escaping scary pets.
Ben! Codes (Working)
Here's a look at all the working Ben! codes.
200kmembers—Redeem for 100 Coins
150kmembers—Redeem for 100 Coins
100klikes—Redeem for special rewards
RetroTweeter—Redeem for Pierre skin
distom—Redeem for the Tompus skin
danzlua—Redeem for 100 Coins
flamingo—Redeem for the Cleetus skin
discord0101—Redeem for Coins
Ben! Codes (Expired)
These codes are no longer valid.
5klikes—Redeem for 100 Coins
10klikes—Redeem for 100 Coins
15klikes—Redeem for 100 Coins
25klikes—Redeem for 100 Coins
100kmembers—Redeem for 100 Coins
50klikes—Redeem for 100 Coins
35klikes—Redeem for Coins
release—Redeem for 100 Coins
Roblox Ben! FAQ
Here's everything you need to know regarding Ben! codes (now known as Dog! codes).
How to Redeem Ben! Codes
It's easy to redeem codes for free rewards in Ben!. To do so, follow the instructions below.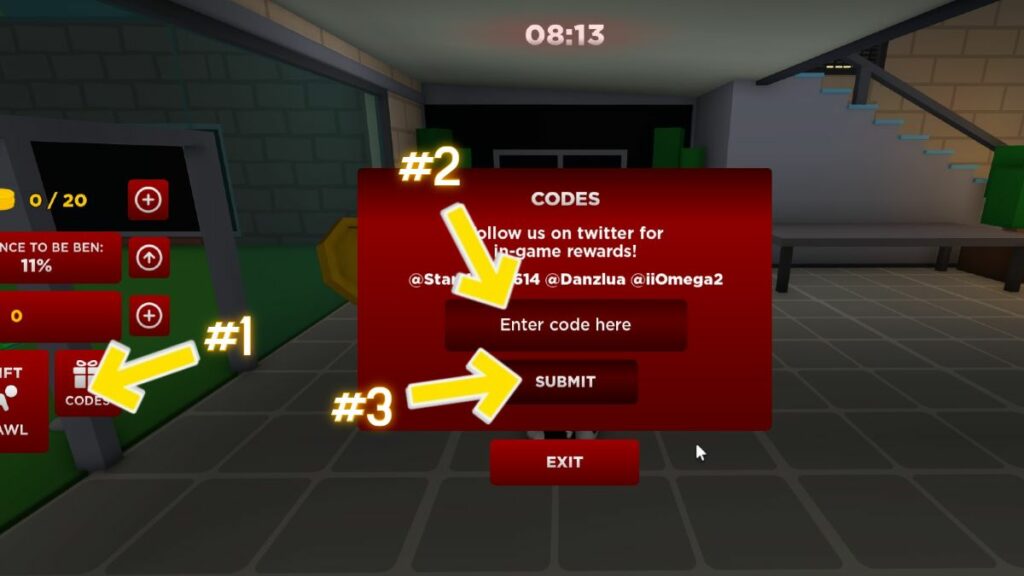 In the game, press the Codes icon on the left side of the screen.
In the text box, enter the code exactly as it appears in the list above.
Press SUBMIT to claim your reward!
How can you get more Ben! Codes?
The best way to get more Ben! codes is to visit often Roblox Dog! Codes page on Pro Game Guides. Click on this link, bookmark it, and visit it frequently for any updates. You can also check out developers' Twitter and Discord pages. Don't forget that game is now called Dog!, but everything else is practically the same.
Why aren't my Ben! Codes working?
Although the Ben! game is renamed to Dog!, all active codes are still active. The reason for some code not working can be simply a typo, so make sure to enter them precisely as they appear in the list above. The best way to do that is to copy and paste the code into the redeem text box.
Another reason for invalid codes can be an expiration date. Most of the codes are active limited time, so make sure to claim them quickly. Otherwise, you'll miss some valuable freebies.
What is Roblox Ben?
Roblox Ben! is an asymmetric survival-horror game where the killer is chasing his victims. You can play as Dog, the killer, or try to run for your life and survive. You can increase your chances for victory with Ben! codes (now Dog! codes, after the developers have renamed the game).
If you're looking for codes for other games, we have many of them in our Roblox Game Codes post! You can also get a bunch of free stuff via our Roblox Promo Codes page.