Updated: September 1, 2023

Added one new code.
Piggy: Branched Realities is a Roblox experience developed by Branched Realities. In Piggy: Branched Realities, the player attempts to avoid being caught by an evil Piggy that searches the whole house for him. In order to fix the house and protect themselves from the evil Piggy, the player must use keys, hammers, and wrenches around them. The goal is to get a passcode and escape the area where Piggy is chasing you.
You can have a much easier experience by using the codes below. Although it may seem unfair to use them at first, everyone has an equal chance of gaining these benefits, and training can be challenging. The sooner you get this boost, the better. You will spend a lot of time grinding either way, so you should make it as easy as possible. It is incredibly easy to start using codes and was intentionally programmed into the game. See our codes below to enhance your experience in Piggy: Branched Realities.
For more articles on Roblox games like Piggy: Branched Realities, check out Roblox Piggy Codes don't exist, here's why, Is Roblox Piggy ending? | Piggy's final chapter to be released soon, How to get Piggy Tokens in Roblox Piggy, Roblox Piggy Chapter 1 Guide (House), or How to get the Phenna Skin in Roblox Piggy. The Roblox Piggy games are all horror games, so if you like one, you might like another.
All Piggy: Branched Realities Codes List
Piggy: Branched Realities Codes (Working)
ThankYouFor10K—Redeem for 100 Coins (New)
summerboost—Redeem for 100 Cosmic Coins (New)
PBR1ANNIVERSARY—Redeem for a Special Skin
HollyJollyRealities—Redeem for 350 Chocolate Coins, 350 Cosmic Coins, and 25 Orbs
100KMEMBERS—Redeem for 100 Cosmic Coins and 10 Orbs
5MVISIT
ch2delay—Redeem for 250 Cosmic Coins
Piggy: Branched Realities Codes (Expired)
These Piggy: Branched Realities codes no longer work.
SPART2—Redeem for 555 Cosmic Coins
5MVISITS—Redeem for 5 orbs
BUDGEYBUTBLUE—Redeem for an in-game reward!
Roblox Piggy: Branched Realities FAQ
Here's everything you need to know regarding Roblox Piggy: Branched Realities codes.
How to redeem Piggy: Branched Realities codes
Redeeming codes for free rewards in Piggy: Branched Realities is easy.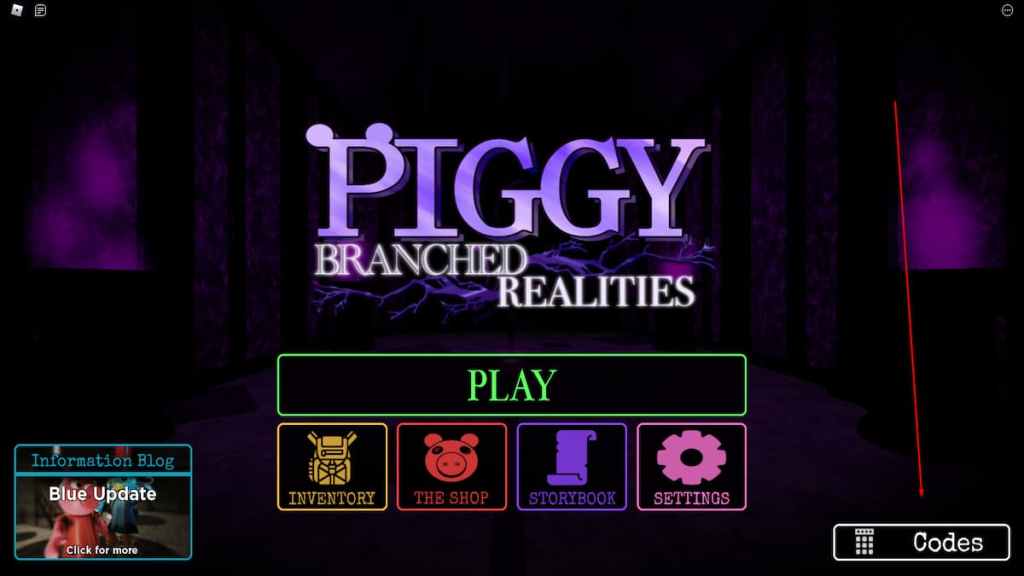 When you start up Piggy: Branched Realities, you'll be on the Main Menu
From the Main Menu, press Codes on the bottom right
In the text box, enter the code exactly as it appears in the list above
Press the Redeem Code to claim your reward
How can you get more Roblox Piggy: Branched Realities codes?
There are several methods for staying up to date on new codes when they are released, but some are better than others. Without a doubt, the most effective way to keep updated on Roblox Piggy: Branched Realities codes is to return to this page regularly. We will continue adding and double-checking codes to ensure that Piggy: Branched Realities is working properly. Please let us know about any new codes we don't have by leaving a comment. Whenever a quick-thinking reader points us to a code, we are grateful and add it to the working section if it works.
Your next step should be to join the Piggy: Branched Realities Discord. This community is for players who enjoy the game to hang out and talk to others who share that hobby. Developers will post codes on Discord for players to use. Developers usually post new codes, or the developer will point out that a new one is on Twitter. Since the developers do not have other games, this Discord is dedicated to the game itself, so you do not need to search for other channels.
Last but not least, players can stay informed by following the game's official Twitter account. Twitter is usually the first place where new codes are announced. The developers often use their Twitter accounts exclusively to announce new codes since they want you to stay up to date. Once you follow, you can be notified whenever a new one becomes available by pressing the bell icon.
Why can't I redeem any codes for Roblox Piggy: Branched Realities?
Check out our list of possible reasons and solutions if you ever have trouble redeeming codes in Roblox Piggy: Branched Realities:
You must enter the codes exactly as they appear above. If you alter the code in any way, it will be invalid.
To decrease the risk of entering the code incorrectly, we recommend copying the code from the list above and pasting it into the game. This eliminates the possibility of any letters or numbers entering the code box by accident.
Sometimes a blank space is left over after the copying process. Double-check after pasting the code in to ensure the code's ending doesn't have an extra space.
That code is no longer valid. If this happens, please let us know in a comment. Each expired code will be taken seriously and tested before being updated. If the code does not work after testing, it will be moved to Expired.
You've already redeemed the code. You cannot redeem a code more than once. You will not be able to enter another code if you have already entered one and received rewards. These rules do not apply to codes that expire and begin working again since they will affect all users.
What is Piggy: Branched Realities?
Players are thrust into games already in play, but if they last long enough, they can vote on their map, and each map has its own story. You'll have to play the game several times before knowing how to tackle it correctly, so be prepared to die often.
Piggy can be stunned and temporarily killed by characters on each map and weapons. You can hire characters by giving them an item they need to stun Piggy for 20 seconds. A gun and a crossbow are the two weapons you can use to kill Piggy. Once you get enough keys, you get a passcode, and you use the passcode to win each map and get tokens. By winning games, you gain tokens that you can use to buy more skins.
If you're looking for codes for other games, we have a ton of them in our Roblox Game Codes post! You can also get a bunch of free stuff via our Roblox Promo Codes page.