Updated November 1, 2023

Checked for new codes!
Nerf Strike is an official Nerf Roblox game where you'll have a chance to shoot your way to victory by using blaster toys available in real-life. This is a first-person shooter where your options depend on your skills and the quality of your weapons. To improve your chances, make sure to get your weapons upgraded.
Use Roblox Nerf Strike Codes has the most up-to-date list of promo codes you can redeem for new Blaster cosmetic skins, Gems (in-game currency), crates, and other freebies. These rewards will allow you to improve your Nerf blasters and be more competitive. If you like Roblox shooter games, you'll need Roblox Shoot Out Codes to be the best in the game.
All Nerf Strike Codes List
Nerf Strike Codes (Active)
blast150—Redeem for 1.5k Gems and a free Skin (New)
Raconidas—Redeem for two skins
Russo—Redeem for two skins
blast125k—Redeem for 1.5k Gems
megatime—Redeem for Mega Magnus
blast100k—Redeem for Gems and a Common Dragon Crate
10m75k—Redeem for Gems
blast50k—Redeem for 1k Gems
Nerf Strike Codes (Expired)
NERFTIME - Redeem for Ultra Amp Blaster
blast30k - Redeem for 1K Gems
blast20k - Redeem for 1K Gems
15k1m - Redeem for a rare case
Raconidas - Redeem code for Red Concentric skins
blast10k - Redeem code Elite 2.0 Codes
5000likes - Redeem code for 25,000 Coins
release - Redeem code for 2 Red Lightning skins
How to Redeem Nerf Strike Codes
It's easy to redeem codes for free rewards in Nerf Strike.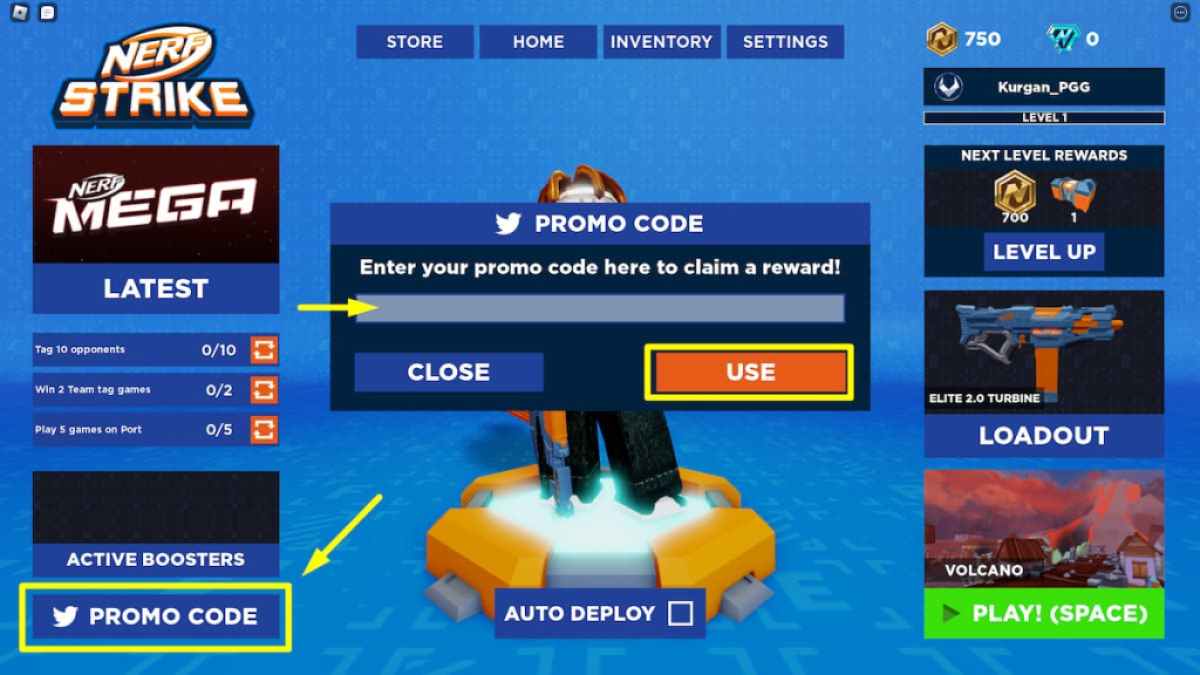 Launch the Nerf Strike on Roblox.
Press the Promo Code button on the bottom-left corner of the screen.
Enter the working promo code into the text box.
Press the Use button to receive your free prize.
How to get more Nerf Strike codes
The best way to get more Nerf Strike codes is to bookmark this page and visit it often. We'll keep you updated with additional promo codes once they are released. You can also join the developer's Metaverse Team Roblox group and Nerf Strike Discord Server. Here you can find information regarding game updates, new codes, and other players!
What to do if Nerf Strike codes don't work?
You should redeem Nerf Strike promo codes as soon as possible, as you never know when they could expire! If you find one expired, please let us know the exact code in the comments below so we can remove it. Another reason why some codes may not work is a grammar error. Enter the code into the text box exactly as it's listed in the active codes list above, or it might not work correctly.
Other ways to get free rewards in Nerf Strike
Besides the Nerf Strike promo codes, the best way to get rewards is to play the game regularly. Each day you'll get free rewards for logging in. Also, you'll earn rewards each time you level up. The fastest way to get the experience needed for leveling is to win the matches. By combining these activities, you'll have a chance to get better weapons which will increase your chances in combat.
What is Nerf Strike?
Nerf strike is a first-person shooter similar to Counter-Strike, where your goal is to defeat opponents. How you're going to do that depends on the type of matches. Here you can play Domination, team matches, or free-for-all. Be careful if you get shot, as you're out of the match!
If you're looking for codes for other games, we have many in our Roblox Game Codes post! You can also get a bunch of free stuff via our Roblox Promo Codes page.