Power Fighting Tycoon is an experience developed by Jolly Games Studios. In Power Fighting Tycoon, you choose an anime power and build a game centered around that power to make money. By spending money, you can buy powers and use them to attack other players. A session lasts as long as Roblox is open, so if you accidentally close out, you have to start over. Eventually, you can rebirth, which helps you build a stronger base and gain even more powers. Keep in mind that rebirths are a big part of this game, so if you hate repeating the process of building a base, you won't like this game.
The following codes will give you more cash. It can be collected by pressing the green button in the center of your base. Even though it may seem unfair initially, these benefits are available to everyone equally. It makes sense to get this boost as soon as possible since you will spend a lot of time grinding either way. The developer intentionally built these codes into the game, so they are not unfair. We've listed our Power Fighting Tycoon codes below, so check them out!
For more codes on Roblox games like Power Fighting Tycoon, check out Roblox Military Tycoon Codes, Roblox Port Tycoon Codes, Roblox Slime Tycoon Codes, Roblox Millionaire Empire Tycoon Codes, Roblox Anime Ninja War Tycoon Codes, Roblox Prison Tycoon Codes. Use our codes to keep your gaming experience at its peak.
Power Fighting Tycoon Codes List
Update June 14

This guide has been updated.
Power Fighting Tycoon Codes (Working)
Here's a look at all the working Power Fighting Tycoon codes.
Rebirth—Redeem code for 500 Cash (NEW)
Gear—Redeem code for 500 Cash (NEW)
1K—Redeem code for 500 Cash (NEW)
Welcome—Redeem code for 500 Cash (NEW)
Power Fighting Tycoon Codes (Expired)
These Power Fighting Tycoon codes no longer work.
There are currently no expired codes in Power Fighting Tycoon
Roblox Power Fighting Tycoon FAQ
Here's everything you need to know regarding Roblox Power Fighting Tycoon codes.
How to Redeem Roblox Power Fighting Tycoon Codes
It is very easy to redeem codes in Power Fighting Tycoon: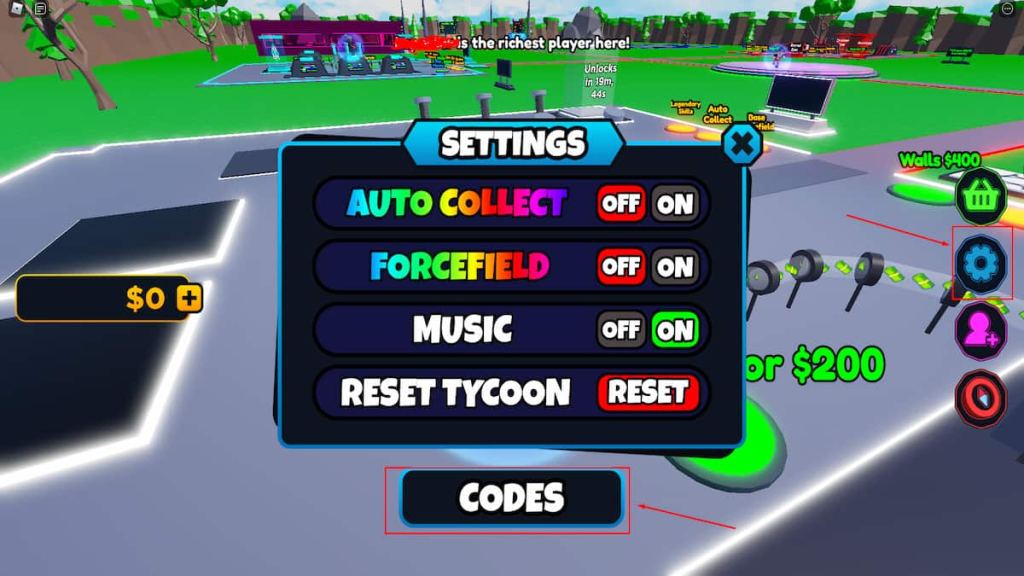 Launch Power Fighting Tycoon on your device.
Tap on the gear icon on the right.
Press the Codes button at the bottom of the screen.
Enter a working code into the code redemption box.
Press the REDEEM button to redeem the code.
Enjoy your free in-game rewards.
How can you get more Power Fighting Tycoon codes?
Some methods are better than others for staying up to date on the newest codes when they are released. Hands down, the most effective way to keep updated on Roblox Power Fighting Tycoon codes is to return to this page regularly. As we continue adding and verifying codes in Power Fighting Tycoon, we will ensure that they work perfectly. Please leave a comment if you find new codes we do not have. Readers who quickly catch any code errors are always appreciated, and we will add the code to the expired section if it does not work for us.
Your next step should be to join the Power Fighting Tycoon Discord. In this community, players can build friendships with others who enjoy the game. Discord is where the developers will announce new codes for players to use. This Discord is for the game developers, not only for Power Fighting Tycoon, but you can find a channel for Power Fighting Tycoon in the Discord. There is no official Twitter account for Power Fighting Tycoon, so players must stick to the methods above.
Why can't I redeem any codes for Roblox Power Fighting Tycoon?
Check out our list of possible causes and solutions if you have trouble redeeming codes in Power Fighting Tycoon:
Be sure to type the codes exactly as they appear above. If you enter the code in any other way than what is shown above, it will be invalid.
It is recommended that, whenever possible, you copy the code from the list above and paste it into the game to reduce the chances of entering it incorrectly. You are more likely to inadvertently enter the code incorrectly if you enter it manually.
You accidentally left a blank space at the end of the code. This happens whenever you copy and paste some codes, and the game considers the space part of the code. Instead, ensure only the letters and numbers shown above are in the code input.
This code is no longer valid. If this does happen, please let us know. Whenever a code expires, we will thoroughly check to ensure it still works before updating the article. We will move the code to Expired if it does not work after testing.
The code has already been entered and redeemed. You can only redeem a code once. If you've already entered a code and received rewards, you cannot enter another. The only exceptions to this rule are previously expired codes that start working again since all users will be affected.
What is Power Fighting Tycoon?
The goal of Power Fighting Tycoon is to build a base dedicated to a specific anime power. The majority of these powers come from Naruto, but there are a few from Bleach and other popular anime. The more you grow your base, the more power you can use against other players.
Keep constructing your base until it reaches the second floor. Upon reaching the second floor, you must rebirth before reaching the third floor. You start over when you rebirth, but reaching the third floor gives you far more power to use against your enemies.
The other players on your map are your enemies. Each player will have a different power to use against the other players. There are about nine players in total. When you leave the safety of your base and go to a chest in the middle of the map, you will get extra money to spend on your base. Usually, this is how players get into fights. Furthermore, the game shows who has the most money, enticing players to target the player at the top.
If you're looking for codes for other games, we have a ton of them in our Roblox Game Codes post! You can also get a bunch of free stuff via our Roblox Promo Codes page.