RoVille is one of the most popular casual Roblox games where your main focus is live your best Roblox life. Players can roleplay as normal citizens going about their day, or take aim to be as influential as possible, whether that's by accumulating mass wealth and prestige, or just be being the friendliest neighbor in town.
With our RoVille codes, you can accumulate a decent pile of cash to get you started in your second life in the Roblox universe. You can use this cash to purchase in-game content for your home or career to boost you into the spotlight amongst your community. The simple life you start with will be a thing of the past when you accumulate wealth with the couple keystrokes!
While you're using our RoVille codes, don't forget to check out our codes lists for other similar Roblox games! We have the latest codes to boost you up in other great casual games like Funky Friday, Friday Night Bloxxin', YouTube Life, and High School 2!
All RoVille Codes List
RoVille Codes (Working)
Here's a look at all the working RoVille codes.
100MVISITS—Redeem for 2k Cash
AVERAGE_ROVILLE_ENJOYER—Redeem for 1k Cash
RoVille Codes (Expired)
These RoVille codes no longer work.
100M_EXCLUSIVE
FEATURED
BOOST
How to Redeem RoVille Codes
Redeeming codes for free rewards in RoVille is easy.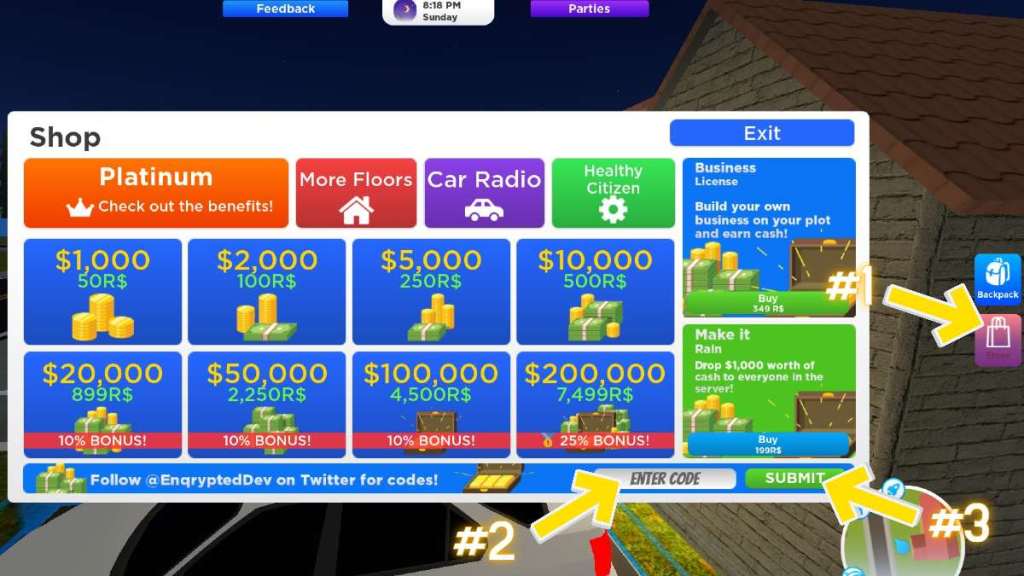 In the game, press the Shop button on the right side of the screen.
In the text box at the bottom of the shop window, enter the code exactly as it appears in the list above.
Press the Submit to claim your reward!
How can I get more RoVille codes?
RoVille codes are extremely rare. The last code provided by the developer was in December 2021, and it was expired soon after it was dropped. The best way to get the latest codes is to bookmark this page and check back periodically to see if any are added, so you don't have to go through the process of monitor for new codes that might never come.
However, if you want to get the codes immediately after they drop, you can follow the social media accounts for the game's developer, Team Crystal. Their Twitter account isn't active and almost never includes the codes they add, but you can follow their Discord channel for the latest updates!
Why aren't my RoVille codes working?
Few RoVille codes have been added to the game, and most of them are expired within a few weeks after their release. If you enter a code and the game states it is expired, let us know so we can remove it from the list! If it doesn't say it is expired, it means there is some other issue.
The most common cause of invalid codes is that they were entered incorrectly. To avoid this problem, copy and paste the codes directly from our site into the game, rather than enter them manually. Remember: codes in RoVille are case sensitive!
What is RoVille?
RoVille is a casual life-simulator game where you can roleplay in a town full of other Roblox players just trying to make their way in a virtual world. You can explore a world full of customized houses made by players like you to meet new friends and enjoy the serenity of a suburban lifestyle. Or, if you have always wanted to feel you're on top of the world, you can pursue a lavish lifestyle of money, power, and fame!
If you're looking for codes for other games, we have a ton of them in our Roblox Game Codes post! You can also get a bunch of free stuff via our Roblox Promo Codes page.