Saga Piece puts players in either a Pirate or Marine faction, and players must fight the other side to the best of their ability. As they raise their level and gather Beli, the currency of the game, players will be able to unlock more Devil Fruit. Devil Fruit is used to get more abilities and become more powerful in the game. The ultimate goal is to be able to sail the sea to find more islands to travel to.
The codes below will give you Beli, Devil Fruit Spins, EXP, and notifiers. These will make the game much easier and keep you safe from enemies who try to kill you. This can help you get to the point where you can travel the sea and find other islands to fight more players.
For more codes for games like Saga Piece, check out Anime Fighting Simulator Codes – Free Chikara Shards & Yen, A Hero's Destiny Codes, and Dio Dio's Bizarre Sleep Codes. These codes will give you an edge against the competition.
All Saga Piece Codes List
Updated July 28, 2022

Added new Saga Piece Codes.
Saga Piece Codes (Working)
Here's a look at all of the working Saga Piece codes.
50KBeli!—Redeem this code for 50,000 Beli (NEW)
3Spins—Redeem this code for three Devil Fruit spins (You need to be level 50 or higher) (NEW)
SuperNotifier—Redeem this code for a 90 minute notifier and 10,000 EXP (NEW)
Update2—Redeem this code for a 35 minute notifier (NEW)
shutdownWow—Redeem this code for a 10 minute notifier (NEW)
Saga Piece Codes (Expired)
These Saga Piece codes no longer work.
UPDATE1—Redeem 50K Beli & Notifier
Woo700Likes—Redeem for 15K Beli & Notifier
Thankyou—Redeem for 100K Beli
ShutdownApology—Redeem for 30 Minute Notifier
AnotherStatReset—Redeem for stat reset
RELEASE!—Redeem for 30 Minute Notifier
StatReset—Redeem for stat reset
Sub2Dessi—Redeem for 30 Minute Notifier
NewStatReset—Redeem to Reset Stats
1KLikes—Redeem for 50K Beli
Saga Piece frequently asked questions
Here's everything you need to know regarding Saga Piece codes.
How to Redeem Saga Piece Codes
It's easy to redeem codes for free rewards in Saga Piece.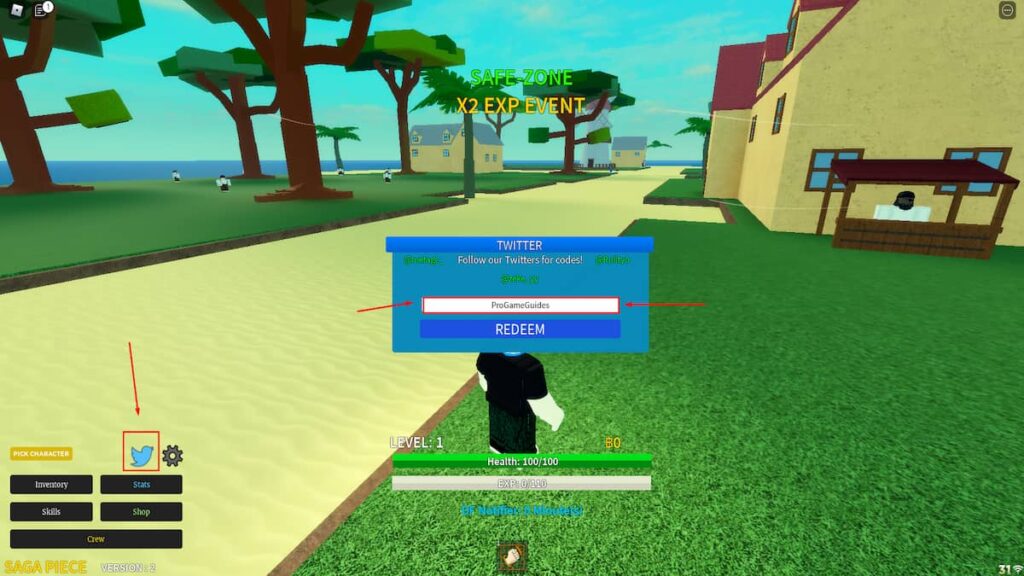 Launch Saga Piece on Roblox
Press the Twitter button on the left side of the screen.
Write the code above into the text box.
Press Redeem to receive your free reward.
How can you get more Saga Piece codes?
The best way to stay up to date on Saga Piece is to bookmark this page and return often so you can see if any new codes have come. We do the hard work of searching for codes and post them here for you to find easily.
Alternatively, you can always join the developer's Discord, where they post codes in their Game-Information channel. The Discord is also great for finding other players who like playing the game and forming crews.
Why aren't my Saga Piece codes working?
When you enter codes for Saga Piece, you'll get a message about why they don't work. The game will tell you whether it's been entered before, expired, or invalid. To avoid invalid codes, copy them from above and paste them into the text box. If you have done this and keep getting an expired or invalid code, let us know in the comments and we'll check it.
Why can't I use my Devil Fruit in Saga Piece?
Getting Devil Fruit isn't the only thing you need to do to get abilities. You also need to ensure you've raised your Devil Fruit stat to match the amount of Devil Fruit abilities you want. If you can't get another ability from Devil Fruit, you most likely need to raise your Devil Fruit stat.
What is Saga Piece?
You must first choose your faction, Marines or Pirates, and fight your opponent. Then, you do quests for everyone around you to get money to buy swords. You can also get demon fruit to unlock new abilities. The biggest goal of Saga Piece is to be able to get on a boat and travel the world as the strongest Pirate or Marine around.
If you're looking for codes for other games, we have many of them in our Roblox Game Codes post! You can also get some free stuff via our Roblox Promo Codes page.