Totems are an important part of moving forward in the game of Islands aka Skyblock. If you're looking to automate a farm, mine/quarry, and make some big money then you're going to want to know how to use totems. We'll explore what they do and how you can utilize them to continue forward building up your island.
Where to Get Totems
Totems can be purchased from the Totems Vendor through the purple portal that you can access via your island. You need to build a bridge over to it, and once you enter it you will see a Crop and Seed Vendor. To the left of those two you will find the Totem Vendor. It's important to note that Totems are pretty expensive, particularly if you just started the game. Here's a look at the prices:
As you can see, the cheapest one is the Stone Totem at 2,000 Coins. This is a totem you shouldn't bother purchasing because stone is pretty easy to come by due to it being pretty easy to mine and already part of your island. The one you'd probably target first would be the Iron Totem, because mining for iron can be annoying due to competition for it. You will also need quite a bit of it to create some of the second tier items.
To get money, you should really just do a lot of wheat farming. You start off with wheat and when you harvest it you have a pretty good chance to get additional seeds. It also grows really fast, so just keep planting it as much as you can and you should hopefully be expanding your farm relatively quickly.
What Do Totems Do?
Totems will spawn and collect the type of totem you purchased and placed. So, if you purchase an Iron Totem and place it somewhere on your island, it will spawn iron ore deposits around it that you can mine. If the spots around it are full, it will automatically collect some of the iron ore and keep it in storage. The storage is limited, so you can't rely on this for very long. Totems have a range of 7x7 blocks, so make sure you give them enough room to spawn and harvest things.
How to Use Totems
Once you got yourself a totem, what should you do with it? Well, place it somewhere you would like the particular item to spawn. Once you do, it will start spawning that item! You can then collect it or allow the totem to collect some of it in its inventory. This allows you to quickly and easily farm a particular item for crafting or for profit!
When you get deeper into the game, you can set it up where your totem will feed directly into a conveyor belt. This can be connected to an Industrial Smelter to automatically put Clay or Iron Ore through it to create their heated forms. Here's an example (credit to CaptainJackAttack):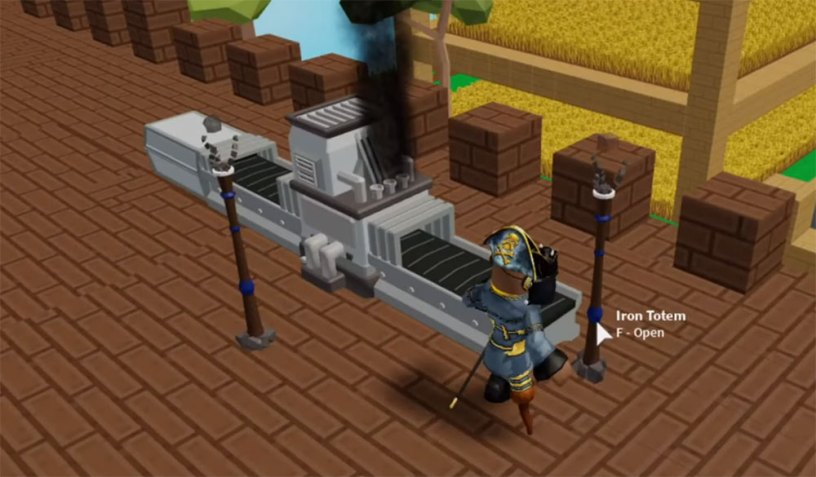 You just need to place down your totem in front of the Conveyor Belt, have the smelter in the middle (or don't have one at all), then another conveyor belt that leads right into a chest! This will automatically pulled Iron Ore from the totem onto the belt, smelt it into Iron, and then store it in the chest for you. You can create automated systems like this with just about all of the totems!