Our Speed Champions Codes has the most up-to-date list of codes that you can redeem for coins and gems. These codes will give you a nice boost and get you ahead of the game if you're just starting out or help level you up faster if you've been playing for a while!
How-to Redeem Codes in Speed Champions
It's a very simple process to redeem your codes in Speed Champions. Look on your screen for the Twitter icon on the left. Hit that button and you will get the following pop-up: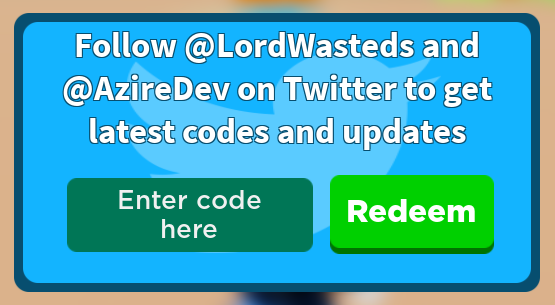 Click on the area that says "Enter Code Here" and enter one code from below. Once you've got it entered correctly, you'll just need to hit the Redeem button and you will be given the reward!
Speed Champions Codes List
Here's a look at all the currently available codes in Speed Champions, as well as some you might have missed out on. Check back often because we'll be updating this post whenever there are more codes!
Updated May 2

Added new codes
Speed Champion Codes (Working)
Here's a look at all of the Speed Champions working codes.
Emerald—Redeem for Hybrid Charms (New)
Luck—Redeem or Hybrid Charms (New)
AutoSell—Redeem for an Auto Sell Boost (New)
MoreCharms—Redeem for free rewards (New)
RebirthUpdate—Redeem for a Coin Boost
RandomPet—Redeem for a random Pet
SpeedyGang—Redeem for 500k Coins and 250k Gems
Coinsss—Redeem for 5m Coins
Gemsss—Redeem for 5m Gems
LuckCharms—Redeem for a Luck Boost
AutoTrain—Redeem for 10 minutes of Auto-Train
QuestUpdate—Redeem for free rewards
SpeedyBoi—Redeem for a 10 minute Speed Boost
UpdateWednesday—Redeem for 10 minute auto-train
MegaBoost—Redeem for a 30 minute Coin Boost and 30 minute Gem Boost
NewUpdate—Redeem for a 60 minute Coin Boost
SpeedChampions—Redeem for a 60 minute Gems Boost
TrainingMode—Redeem for an Auto-Train Boost
Pets
FreeCharms—Redeem for free rewards
FreeCoinBoost—Redeem for a 10 minute Coin Boost
AustinChallengesYT Pet: Sub2AustinChallengesYT
GrumpyGravy Pet: Sub2GrumpyGravy
Fraser2TheMax Pet: F2TM
SnugLife Pet: Sub2SnugLife
TheCookie Pet: Sub2TheCookie
DefildPlays Pet: Sub2DefildPlays
SchizelPops Pet: Sub2SCHIZELpops
RazorFishGaming Pet: Sub2RazorFishGaming
CDTV Pet: sub2cdtv
RussoPlays Pet: Sub2RussoPlays
Speed Champions Codes (Expired)
Therse Speed Champions no longer work.
Coins & Gems: FridayUpdate
Free Gems: FreeGems
Coins & Gems: Frosty
Coins & Gems: Godly
Coins & Gems: Release
10k Likes Pet: 10KLIKES
If you're just starting out, make sure to grab the pets first and equip them. Once you've equipped them, then use the coins and gems codes because you'll get an increased amount due to the multipliers. If you've been playing the game at all and already have pets, you won't really need the starter pets because they have relatively low multipliers.
If you're looking for codes for other games, we have a ton of them in our Roblox Game Codes post! You can also get a bunch of free stuff via our Roblox Promo Codes page.