Updated: December 4, 2023

We drove around looking for new codes!
*Whistle* Taxi! Pick up these codes as fast as you can and deliver them into your Taxi Boss experience to receive some awesome freebies! Along the way, pick up Robloxians with various backgrounds, lifestyles, careers, and more to earn tons of money and raise your overall taxi-driver rating.
Each Taxi Boss code listed below unlocks a heavy chunk of change, sometimes upwards of $1,500! If you're looking for even more freebies, be sure to check back with this article regularly—we update this list as soon as new codes come out! If you find a code in the Working Codes section that seems expired, please let us know so we can remove it as soon as possible. Keep in mind, also, that you'll need to enter each code exactly as it's written or the experience won't accept it!
If you're looking for more Roblox content to browse while you wait for new codes, check out our list of the Best Roblox Car Games, or some of our other code lists including Roblox Car Dealership Tycoon Codes or Roblox Driving Empire Codes!
Taxi Boss Codes List
Taxi Boss Codes (Working)
LETSGO—Redeem for $1,500 Cash (New)
XMAS—Redeem for $1,500 Cash
HIGHWAY—Redeem for 1k Cash
matrix—Redeem for $700 Cash
test

—Redeem for $100 Cash

start—Redeem for $1k Cash
Taxi Boss Codes (Expired)
These codes are no longer available and can't be redeemed!
ONEYEAR—Redeem for 1k Cash
OFFICE—Redeem for 1k Cash
update—Redeem for $1,000 Cash
COMPANY—Redeem for $1,500 Cash
time—Redeem for $1.5k Cash
race—Redeem for $1k Cash
hundred—Redeem for rewards
code—Redeem for $1k Cash
thanks—Redeem for $1k Cash
money—Redeem for rewards
boss—Redeem for $1k Cash
like—Redeem for $1k Cash
taxi—Redeem for $1k Cash
How to Redeem Taxi Boss Codes
It's easy to redeem codes for free rewards in Taxi Boss! To do so, follow the instructions below.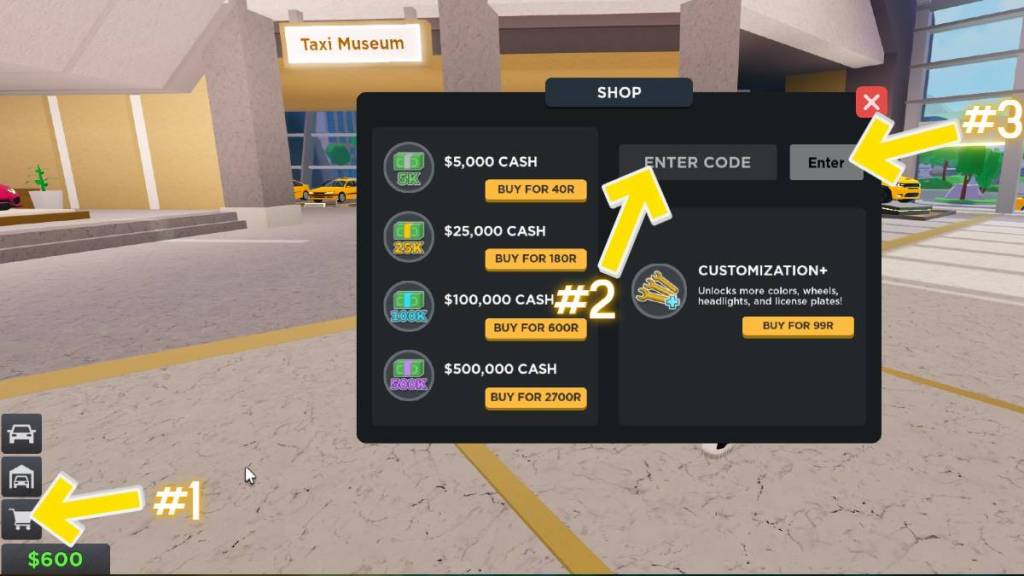 In the game, press the Shopping Cart icon in the bottom-left corner of the screen.
In the box that says 'ENTER CODE', enter the code exactly as it appears in the list above.
Press the gray 'Enter' button to claim your reward!
How do I get more Taxi Boss codes?
The best ways to stay up-to-date on Taxi Boss codes are checking back with this article, following the official Taxi Boss Twitter account, joining the Taxi Boss Discord server, and by joining the Taxi Boss Roblox group. Codes typically aren't released there, but you could also subscribe to the Taxi Boss YouTube channel for more trailers, behind-the-scenes info, and sneak peeks!
Why aren't my codes working?
Not all Roblox codes are active for the same amount of time, meaning some expire exceptionally quickly and may even become inactive after 24 hours or less! If you attempt to enter a code and it says Code Expired, that code is no longer active and, unfortunately, can no longer be redeemed. There's nothing that you can do to fix this issue, the code is simply unobtainable. If you attempt to type in a code and it says Invalid Code, however, this means that you've likely mistyped the code or neglected to use the correct capitalization. If this happens, try to retype and re-enter the code once more, being sure to copy it exactly as it's written!
What is Taxi Boss?
Get behind the wheel and go in this taxi-driving simulator! Pick up and transport a variety of clients across the Taxi Boss city to earn money, increase your own personal rating, and earn even better clients. The faster you drive, the more money your clients will give you! As you earn more money, you can begin to purchase new cars and upgrade them and so on and so on! When you're off the taxi-driving clock, explore the outskirts of the city, race with friends, or decorate and upgrade your own garage! Become the fastest and best taxi driver in the city in Taxi Boss!
If you're looking for codes for other games, we have a ton of them in our Roblox Game Codes post! You can also get a bunch of free stuff via our Roblox Promo Codes page.