Updated: October 16, 2023

Checked for new codes today!
In Type of Die, you want to build up blocks by typing in as many long-word answers as possible and avoid getting caught by the rising lava. The more blocks you can build and the further you can survive in the competition, the more coins and ranks you will earn to purchase fun new block styles and cosmetics to stand out from the crowd.
You can also instantly earn prizes, like free coins, by using in-game codes. Developers give out codes to help players earn free items that can get them a headstart in their experience.
You can earn more exciting rewards with codes on Pro Game Guides for other great games like this one, such as Race Clicker Codes, Roblox But You Get Smarter Every Second Codes, Mine Racer Codes, Clicker Run Codes, or Jump Clicker Codes.
All Type of Die Codes List
Working Type or Die Codes (Active)
The code redemption spot is currently disabled. We will update this post if the developers bring back codes!
Expired Type or Die Codes
BOOST—Redeem for 10 Blocks (New)
Brendo250—Redeem for 250 Coins
thankyou—Redeem for 500 Coins
20000LIKES—Redeem for 200 Coins
enjoythiscode—Redeem for 200 Coins
EASTERBUNNY!—Redeem for 200 Coins

whatthehell—Redeem for 200 Coins
sickneing—Redeem for 200 Coins
snowman—Redeem for 200 Coins
35000LIKES—Redeem for 200 Coins
200COINS—Redeem for 200 Coins
HAPPYHOLIDAYS—Redeem for 500 Coins
20000LIKES—Redeem for 200 coins!
FREECHRISTMAS—Redeem for free coins!
FREECOINS—Redeem for free coins!
HAPPYNEWYEARS—Redeem for free coins!
HAPPYNEWYEAR—Redeem for free coins!
GGONWINNING—Redeem for free coins!

MERRYCHRISTMAS—Redeem for free coins!
MSMLOVER—Redeem for free coins!
30000Likes—Redeem for free coins!
25000Likes—Redeem for free coins!
How to redeem Type or Die codes
Redeeming Type or Die codes is a quick and easy process.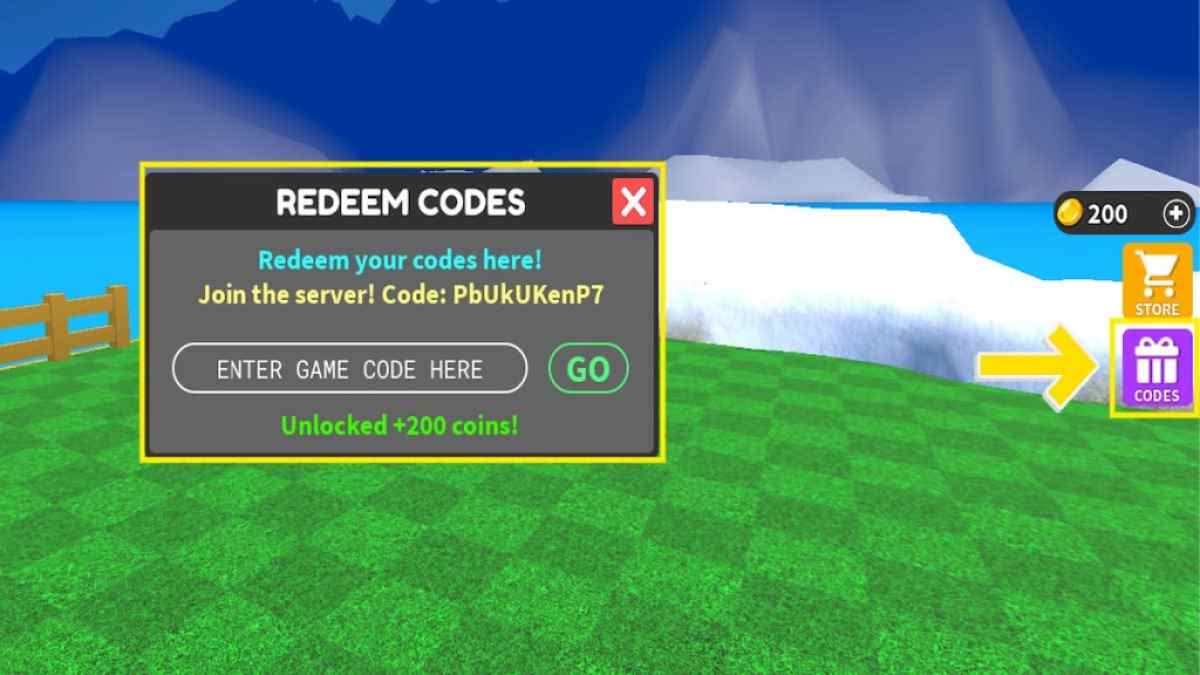 In the game, open the Codes menu symbolized by the gift icon on the right side of the screen.
Type your code in the text box exactly as shown in the list above.
Press Go to enjoy your rewards!
How can you get more Type or Die codes?
Developers usually give out codes during an update, event, or as a goal is met, such as a specific number of likes reached. Some developers will place them directly in the game's description or image to notify players when they are available. However, other developers may require you to follow them on their social media accounts, like Twitter or Discord, to stay updated. You can follow this experience on their Discord, Type or Die! For your convenience, you can also bookmark this page and check back whenever to see when new codes are added.
Why aren't my Type or Die codes working?
There are various reasons why your codes may not be working correctly. The main reason is that codes may have already expired. Since codes are regularly cycled in and out of the game, they can expire with little to no notice. We try to keep our lists updated, but if you notice a change before us, feel free to leave a comment below, and we will try to fix it as soon as possible.
It is also important that you double-check the spelling when entering codes. They are almost always case-sensitive, meaning the slightest typo could make them appear invalid. Ensure you are entering them exactly as shown in the list above, or if the game allows, copy and paste to avoid any issues.
What is VIP in Type or Die?
VIP is a special game pass you can buy for Type or Die that gives you benefits during the game, such as double points for difficulty votes, a personalized VIP name tag, and a gold chat color. You can purchase the VIP pass in the Store on the game page or within the game in the Shop for R$ 150. This is a one-time-only purchase, so you can reap the rewards every time you play.
What is Type or Die?
Type or Die is a fast-paced, challenging experience where your typing and word skills will be tested. Go head to head against other players as you try to answer each consecutive question with the longest word answer to build up your tower of blocks and avoid the rising lava. Players who fail to think of long enough words will be consumed by the lava and booted out of the round. If you're the last person standing, you win! Try on different difficulties to challenge yourself. You can earn ranks and coins the more blocks you build up and the further you get in each round. Coins can buy fun cosmetics such as different colored blocks for your personalized twist.
If you're looking for codes for other games, we have a ton of them in our Roblox Game Codes post! You can also get a bunch of free stuff via our Roblox Promo Codes page. And in the meantime, take a look at the latest news to stay up-to-date on all things entertainment.