Whether you are jumping into the game now or later, you are likely wondering how to build your card collection in LoR, and how it may differ from other games, such as Hearthstone or Magic the Gathering: Arena. In this Legends of Runeterra Card Collection Guide, we will cover how to get Wildcards, Weekly Vaults, Region Progression, and Expeditions that will allow you to build up your collection, and ultimately construct a deck that will rake in wins against other players.
Riot Games has opened up their new League of Legends based card game, Legends of Runeterra (Beta Trailer), for one final round of Beta testing before the game is set to permanently go live later in 2020. This is the first open beta, so if you want to check out the full game yourself, be sure you register to play on Riot's official Legends of Runeterra website here.
Wildcards
One of Riot's most interesting alternative approaches to card collecting is doing away with purchasing randomized card packs. Paying for random cards where you may not get what you want is not something Riot believes is healthy in the long term, and as such will instead be using a Wildcard system, similar to that of MtGA. The key difference being that you generate Wildcards in MTGA buy opening randomized packs, whereas in LoR, Wildcards are generated just by playing the game, or can be directly purchased in the in-game shop, in limited quantities.


In the image above you can see the cost in coins of directly purchasing additional wildcards. You may also notice that there is a limited stock of wildcards available in the shop. Riot has stated that they don't want players to feel disadvantaged if they do not want to put a lot of money into the game. Thus, wildcards are available currently at 3-6 at a time for purchase, restocking each week. Other wildcards can be generated as rewards from the Weekly Vault, Region Progression, or Expeditions. Coins on the shop are currently priced as such:
475 Coins = $4.99
1,000 Coins = $9.99
2,050 Coins = $19.99
3,650 Coins = $34.99
5,350 Coins = $49.99
11,000 Coins = $99.99
If this is your first time using wildcards, they are essentially a blank card with a specified rarity, and can be redeemed for a copy of any card you want that falls within that rarity. The rarity of any card is signified by the stone at the bottom of the card. You can see at the bottom of this Jinx card there is a golden gemstone, identifying that this is a Champion Card, the rarest in the game.
Weekly Vault
Although purchasing randomized packs is not something Riot is offering in Legends of Runeterra, they have acknowledged that opening something to see what randomized rewards you get is fun, it's just the paying for it that sucks. Thus, Legends of Runeterra features the Weekly Vault, which is completely free and is comprised of 3 chests full of random cards, wildcards, and shards.
Each chest ranges from Bronze, Iron, Silver, Gold, Platinum, or Diamond. You level up your weekly vault (and thus, the chests inside of it) simply by playing the game each week. The more you play, the better rewards you will receive when the vault unlocks at the end of the week.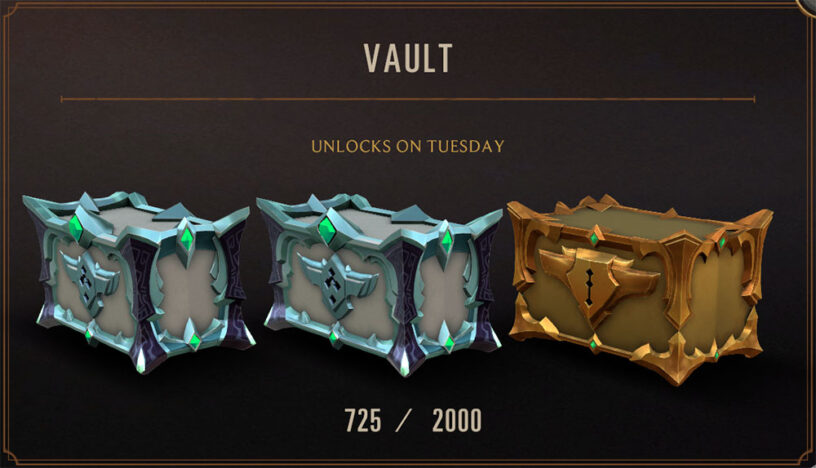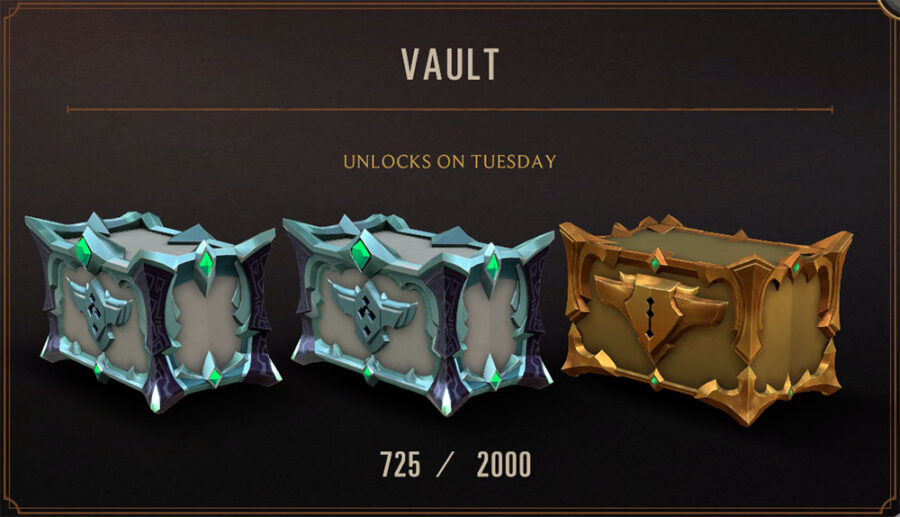 Pictured: Weekly Vault containing 2 platinum chests and one gold chest
Region Progression
Region Progression is the most consistent way of unlocking cards for Legends of Runeterra, and you can choose which region you are unlocking cards for. This is another completely free method of unlocking cards, simply set your region and get into game to start earning daily experience toward your rewards.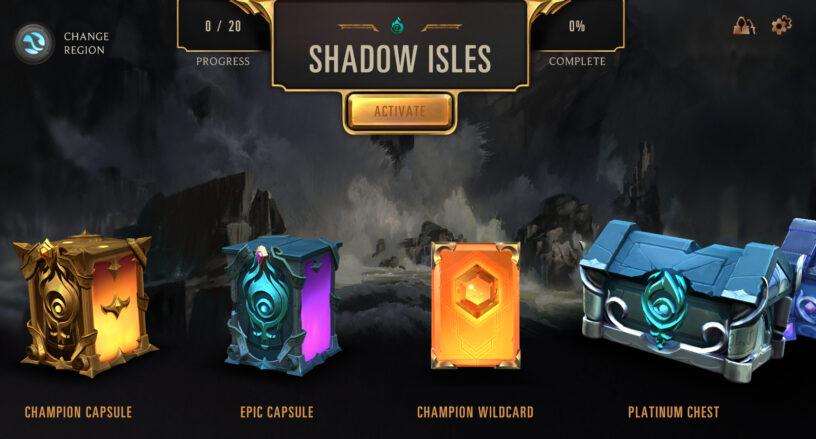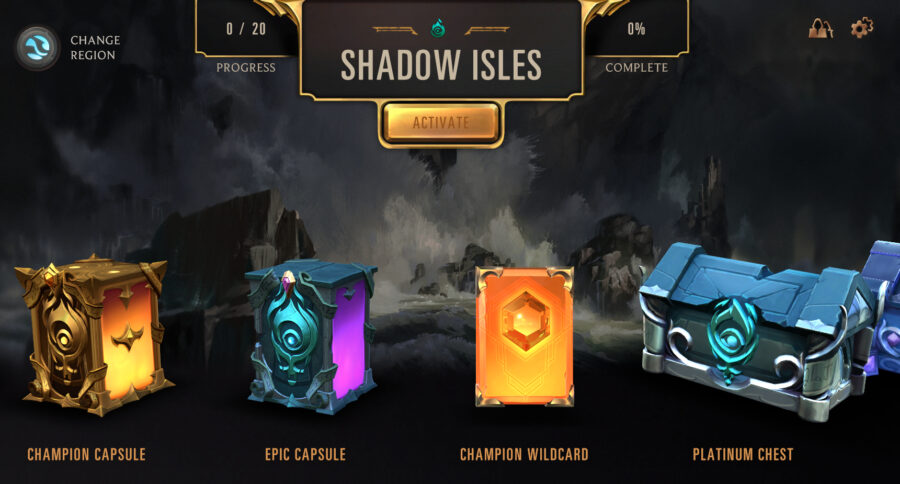 Rewards are structured similarly across all regions, the only difference is the actual region that the card rewards will come from. You won't be setting your region to Shadow Isles if you are hoping to unlock Garen, set your region to Demacia for that.
Expeditions
Expeditions are the Legends of Runeterra take on Draft Mode from other card games. This is a mode that you can participate in up to 3 times each week for rewards. Only one Expedition each week is free. After that, you can pay for another Expedition with 3000 Shards (gathered from chests/capsules and Expedition rewards) or with 300 Coins, which is around $3.
During each Expedition, you play until you lose twice in a row, up to 7 rounds. If you win all 7 rounds (that is, winning 7 games while never losing more than once in between), your shard rewards will be enough to cover the next Expedition. Meaning if you perform well, You could do your 3 Expeditions each week without spending a dime!
Your rewards for Expeditions will always include a Champion card. Important note: This is a specific Champion card, and not a Champion Wildcard. Keep in mind that the experience rewards for Expeditions are very, very high. Because experience is what pushes your Region Progression forward, and levels up your Weekly Vault, Expeditions are a keystone for anyone who wants to grow their card collection and create a few strong decks ASAP.
Overall, Legends of Runeterra is a card game that allows you to grow your collection for little-to-no cash investment, especially when comparing to other games currently occupying the genre. Simply logging on and playing casual, ranked, or challenge (vs friends) games, you can start unlocking a slew of cards to build decks you enjoy playing. And if that isn't quick enough, you can always sink a bit of cash in to get individual Wildcards or an extra Expedition or two. Whatever route you end up taking, be sure to have fun and let us know what your first impressions are for Legends of Runeterra!